On-board infotainment: enhancing the rail passenger experience
Global Railway Review travels on Eurostar's new e320 train to experience its on-board infotainment service and finds out why good content and passenger information will help enhance the passenger experience.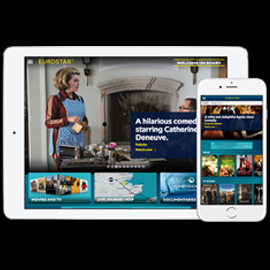 Operators are under pressure to maintain a good passenger experience; this increasingly includes delivery of fast, efficient on-board connectivity which subsequently improves satisfaction and ridership. With a growing number of passengers trying to connect to on-board WiFi via mobile devices – and expecting the same level of connectivity as they receive at home or in the office – the service can at times not match such high expectations. In order to resolve this problem many operators are taking a collaborative approach by investing in on-board infotainment solutions.
Focusing on the introduction of Eurostar's on-board entertainment service, developed by infotainment provider GoMedia and delivered in conjunction with wireless connectivity and ICT solutions supplier Nomad Digital, this article discusses operator benefits of implementing such a platform.
Joined by Matt Seaman, CEO of GoMedia and Jean-Philippe Tissot, General Manager EMEAI of Nomad Digital, aboard Eurostar's new e320 train from London to Paris, I access the infotainment system via the on-board WiFi and Eurostar App and find out why 'connected trains' with good content and passenger information will help operators compete in an increasingly liberalised European rail market and help improve the passenger experience.
Motivations for Eurostar
In March 2016, Eurostar launched its passenger WiFi and on-board media and infotainment system on a new fleet of e320 trains. The introduction followed a £50 million investment by the UK government to ensure Wi-Fi is available on selected rail services from 2017.
Prior to the development stage, the operator requested a world-class entertainment and information service that delivered a future-proof service platform allowing business passengers to remain connected whilst travelling. Furthermore, Eurostar sought long-haul style travel entertainment delivered to passengers own devices without loss of connectivity. Additional motivations for implementing the platform included, provision of good content, improved passenger experience; i.e. passengers are less disgruntled with delayed services when presented with various content options, retention of passengers viewing on-board content rather than accessing external sources such as emails and social media, and local delivery of service via a content server hosted on-board the train.
Commenting on the introduction Neil Roberts, Head of Digital at Eurostar, said: "The launch of our state-of-the art e320 trains enabled us to take the customer experience to the next level with the inclusion of free wifi and on board entertainment. With over 300 hours of films, documentaries, drama and comedy easily accessible from the customer's own device, the system set a new benchmark for on board entertainment in short haul travel."
By downloading the Eurostar App and accessing the on-board WiFi, passengers can view a range of entertainment via GoMedia's digital rights management system including, films and TV programmes, a live journey map with points of interest en route, news and weather, a kids zone, digital newspapers and magazines and on board information such as available food and beverages, special offers and train information. Content is available in both French and English with further languages planned in due course.
In addition to hosting content, the service has incorporated digital advertising to generate supplementary revenue for the operator.
Furthermore, the platform collects anonymous data such as content watched and timescale. This can be then be analysed in order to develop future content. On average, the infotainment service usage on-board Eurostar is approximately 75 mins per person.
Nomad Digital and GoMedia have also worked with Virgin Trains to develop their on-board infotainment service. Unlike Eurostar, the operator decided to develop a separate complimentary entertainment app known as BEAM. Here, passengers are able to access 200 hours of TV and films as well as magazines and games.
Wifi connectivity
Nomad Digital led the design and development of Eurostar's on-board WiFi. The company's IP connectivity backbone utilises WiFi infrastructure to integrate hardware needed to host the infotainment and media portal.
At present, several hundred passengers per train can access the service at a time with 80-90 percent connected to an access point. Half of this number are able to stream.  Whist on board the service to Paris, 130 active sessions were recorded at one time.
In order to ensure connectivity, a fairness policy has been devised limiting data consumption for each user. Moreover, if there is a problem with WiFi during the service, the issue can be resolved remotely whilst the train is in operation therefore maintaining the passenger experience.
Eurostar's Neil Roberts added: "From a technical point of view, one of the key advantages comes from content being pre-loaded on to the train, rather than relying on the external wifi connection during the journey. This guarantees high-quality streaming of the entertainment we've selected, and preserves vital wifi bandwidth for passengers to use throughout their journey."
The on-board passenger experience: looking ahead…
With the rail industry said to be 10 years behind developments in airport passenger experience, providing additional services whilst on-board will become of increasing importance in the battle to win the customer.
According to Matt Seaman and Jean-Philippe Tissot, infotainment platforms are likely to become available to a greater number of passengers on commuter services offering various types of content. Furthermore, operators will be able provide up-to-date information on rail services via the platform. This can be used to advise the passenger on the next leg of their journey helping to improve passenger experience and flow.
This type of service platform opens up a host of possibilities to the operator including introducing video conferencing whilst on board. This is likely to benefit the business traveller. However, it alone may not be a prerequisite for choosing rail over other modes. 
Live television is also expected to feature on future services – this follows delivery of Nomad's live TV service on Austrian national train operator ÖBB's fleet of Railjet trains in July this year. This was achieved by upgrading the fleet's connectivity service and integrated media server. To overcome weak mobile signals, the system combines signals of several mobile providers offering a single network to various applications and the passenger. This, together with a slight delay in transmission reduces 'buffering' of the service.
Future opportunities of the service include the development of operator marketing strategies to build a platform that provides a personalised journey experience for the customer. This could be used to determine if the customer is a frequent traveller and provide bespoke on-board vouchers.
As demand for rail travel continues to grow, railway digitalisation will play a key role in maintaining the rail passenger experience. According to Eurostar, this is already been witnessed on its high-speed services. Commenting on recent customer feedback, Neil Roberts said: "Since the introduction of the e320, customer satisfaction scores have shown a marked increase with positive feedback on the train's new features. In fact, the latest survey showed that three-quarters of passengers positively rate the range and quality of entertainment available on board."

Related topics
Related organisations