Manufacturing quality in series
The new fleet programme of DB Netz AG (Deutsche Bahn's rail infrastructure company) demonstrates extraordinary quality standards. Simon Misar, Head of Content in the Advertising Department of Plasser & Theurer, explains that – for the first time – Plasser & Theurer has built track maintenance machines for DB Netz AG that meet the same technical requirements as track motor vehicles.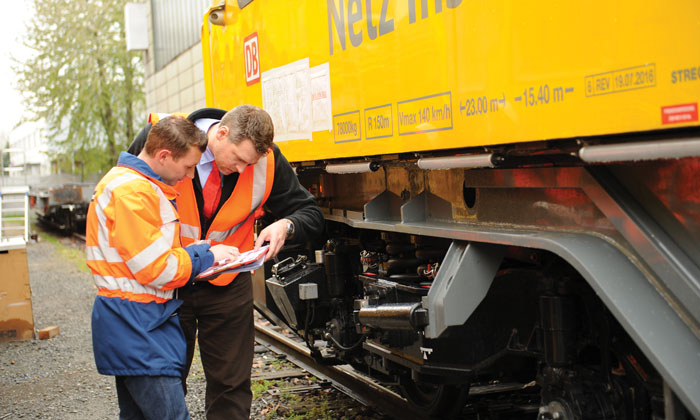 Five Plasser & Theurer machines under the framework contract with DB Netz AG have already been put into operation in Germany. Delivered on schedule, each of these machines contributes to the safety and quality of the German railway network. By successfully passing seven quality-gates, we were able to keep to the schedule.
In-sourcing: key to quality
The success of this project is down to the high degree of in-sourcing at our Linz factory (see Figure 1) which always starts in the early stages of our development phases for our products. For our contract with DB Netz AG, our engineers examined the comprehensive requirements and discussed the many differing technical solutions available. Only the best solutions were implemented. An intensive phase of collaboration between the departments and suppliers responsible for the mechanical design, the work and drive technology, as well as the cabin design, takes a lot of time.
It may be hard to believe but Plasser & Theurer manufacture the majority of components in-house in our Linz factory. In our welding shop we produce massive frame components. With high precision our welding robots join the bogies, which are then put together with the wheelsets and suspension gear in the assembly plant. While we build the cabins our software developers work simultaneously on the machine control system. In the final assembly plant in Pummererstraße in Linz, it all comes together.
However, there are some components that we do not manufacture in-house, yet we still expect top quality items. We therefore choose our suppliers carefully, opting for renowned manufacturers with many years of experience.
Testing supplied parts
By carrying out supplier audits and first sample tests, we ensure the high quality of components purchased from other suppliers. Among others, this applies to the glazing, which must withstand high stresses. We engaged an independent testing body to examine its quality, as the laminated safety glass of our front windows for machines must withstand a projectile force at 350km/h. Windows must not break; this stability can save lives when incidents occur.
Before they are used for the first time, other supplied components such as buffers, air conditioning units or cardan shafts are tested by our Quality Assurance Department, together with the respective department at DB AG. Regular supplies are tested by independent test bodies according to the applicable norms and standards. The quality inspection check list for each machine comprises a total of up to 1,300 items.
Testing our manufacturing quality
Plasser & Theurer sets great store by quality assurance. Every member of staff involved in the manufacturing process bears a lot of personal responsibility. Internal work instructions based on current norms and standards provide support in many fields. Engineers specialised in welding, adhesive and testing technology work in the Quality Assurance Department. Continuous further education and training ensure state-of-the-art production.
The Plasser & Theurer experts closely collaborate with the Quality Assurance Department of DB AG. On a regular basis they check and document the progress made in the individual plants in Linz:
Accuracy: the raw car body is checked
Welding quality: frames are checked and approved in the welding shop
Paint: during the painting process, the thickness of the layers is measured
Electrical system: the installation of the cable harnesses is checked
Impermeability: the finished vehicle travels through a sprinkling plant where the impermeability of the cabin and glazing is tested
Test runs: for approval, comprehensive test runs are required for the first vehicle of each vehicle type.
This is just a brief insight into the tests carried out during manufacturing. They are crucial to ensure that the vehicles supplied are fit for work and operation and can be approved by the Quality Assurance Department of DB AG.
Machine handover at InnoTrans 2016
At InnoTrans 2016 visitors were able to inspect one of Plasser & Theurer's latest maintenance vehicles for DB Netz AG: the TIF tunnel inspection vehicle, which is equipped with a total of three cranes with a radius of action up to 14.5m. Its spacious, sound-insulated cabin is mounted on an elastic suspension. Fitted with extendible railings, its roof can be accessed. All control instruments required to operate the machine are located in the crane cabin, which is also used as an additional driver's cabin. This is the second vehicle of this series acquired by DB Netz AG. The TIF tunnel inspection vehicle was handed over to DB Netz AG during InnoTrans 2016 (see Figure 2).
Also on display at InnoTrans 2016 was the Unimat 09-32/4S Dynamic E³. The machine acquired by Krebs Gleisbau (and handed over to them during InnoTrans on 21 September 2016 (see Figure 3) travels and works with the new hybrid drive car. It enables ecological turnout maintenance in record time. The E³ technology stands for 'economic – ecologic – ergonomic'. The machine offers:
Perfect maintenance of all turnout designs thanks to 3-rail lifting and 4-rail tamping
Lower energy and logistics costs
Reduced pollutant emissions
Reduced noise emissions
Suitability for urban areas and night-time operation.
Biography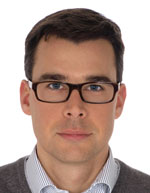 Simon Misar is Head of Team Content of the Advertising Department at Plasser & Theurer, Vienna. Since 2000 Simon has been involved in advertising and corporate communication at Plasser & Theurer, mainly focussing on event management (2000–2005) and audio-visual media (2005–2015). Since 2015, he has been in charge of content creation.