Rolling stock – where is it heading?
Regular Global Railway Review blogger Graham Ellis provides a general overview of rolling stock developments and highlights the importance of renewing infrastructure in order to keep up with locomotive advances.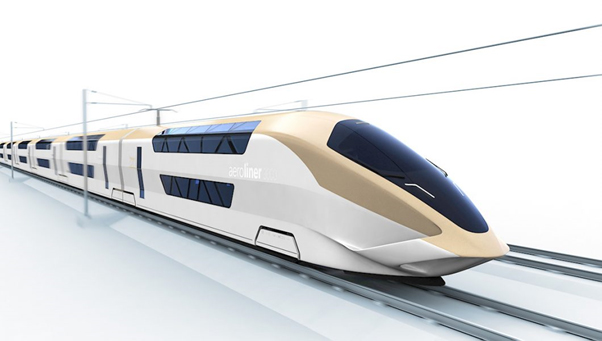 Aeroliner 3000 drawing
Over the Christmas and New Year period I had the luxury of catching up on my reading, in particular I got to read a number of fiction books on railway related stories. These books were by Edward Marston telling the stories of Robert Colbeck of Scotland Yard  "Railway Detective" based in the 1800's, one by Andrew Martin telling the story of Jim Springer the steam detective in the Edwardian era and finally Stephen Done's Inspector Vignoles series set in the late 1940's and based on the Great Central Railway.  One thing that all of these books have in common, is that they contain very detailed descriptions of both the rolling stock and its supporting infrastructure.
In the books there are descriptions of the very earliest steam locomotive and carriages, moving through to some of the technical advantages that developed in the late 1880's and early 1900's and looking at the austerity forced on the railway companies by the two world wars and the need to continue austerity for far longer than anyone had previously anticipated.  At the same time I was enjoying my reading, the BBC published a report prepared by the Press Association looking at the age of the rolling stock in the UK and decrying the fact that average age of this was 21 years. This made me think about where our railways and its infrastructure are heading and to start looking at what the rest of the world were doing.
My research about European rolling stock showed some discrepancies in the data produced; the EU believes that the average age of UK rolling stock is only 15 years compared to the European average of 30 years. I have spoken to a rail vehicle design specialist and director of innovative transport technologies and he tells me that he would be looking for a 30-35 year lifespan of the primary structure, with a number of refurbishments throughout that period.
That is therefore the benchmark most people are looking at but, this seems to apply more to Diesel and Electrical multiple units rather than locomotives. Looking at diesel locomotives it is clear that some are of significant age, the Class 37 locos used by DRS are well over 50 years old and the HST125's used across the UK are all over 40 years old and with the delay in electrification of the Great Western Mainline it is likely that these power cars will be in service for at least another 10 years. There is no problem with this as long as people realise that these are expensive assets to buy and maintain and you cannot just lease them for three years like a car and then give them back, the lease need to be at least 10 years long to get a reasonable lease hire rate. Taking a look at electric locos I found that the East Coast Class 91 (HST225) is also fairly elderly in that the youngest is 26 years old and the most elderly is 29 years old.
Looking at passenger rolling stock, it is clear that major investment is going into this area of the business. According to industry figures, at least 940 train sets are being purchased consisting of 5,580 individual cars. These trains are being purchased for various franchises such as ScotRail, Trans Pennine Express, Great Western Railway, South West trains etc. In fact on a recent visit to London I took a photograph of the latest series 707 train stabled at Clapham Junction prior to the completion of driver training and installation onto the Windsor line.
What is surprising though is the number of units that are still going to be diesel powered, all of the Great Western Intercity Express Programme (IEP) trains are now being specified as bi-mode rather than a mix of electric and bi-mode due to delays in completing civil engineering works along the Great Western Line, in fact I reported on this delay in my last blog of 2016. As an engineer my all-time hero is Isambard Kingdom Brunel; who built the Great Western Mainline; and I am sure that he would be appalled that in this day and age we still cannot get our engineering act together to meet operational requirements. Without the infrastructure in place new rolling stock just cannot operate, this was experienced some years ago by South West Trains when the then "new" Desiro stock was introduced and it was found that the electrical supply could not meet the required loads. A massive investment programme was needed to upgrade the power supply to cure the problem, now we are ordering bi-mode trains instead of full electric because the infrastructure is not going to be built in time. This sounds like a slight problem but, with train replacement delayed the cascading of older stock to other train operating companies is also delayed and rolling stock far beyond its planned operational life is having to be retained as well as the extra cost of having to order bi-mode trains instead of the original electric units.
The Great Western was always going to have to operate some bi-mode units as the track to the West Country from Westbury and Bristol was not in the electrification programme. The track is however likely to suffer from higher wear and damage as the bi-modes are heavier than their pure electric counterparts and the HST 125's, it is expected that in diesel mode they will probably be slower than the forty year old HST125 stock they are replacing, causing timetable problems and possible extended, rather than shortened journey times.
What we need to do now is to diarise the fleet replacement programme for the future along with the necessary infrastructure works so that we do not have to face the shall we/shan't we decisions that have been forced on the industry this time around.
One idea that I have not yet talked about is the double-decker concept that is widely utilised on the continent. There is a proposal floating about from THJV, which is a joint venture between TSP Projects and CH2M, to introduce a double deck train that could work the outer London and further afield routes. The train has been designed by Jan Plomer who works as a train designer but, I think that there may well be a problem as he needs to achieve a cleared height of 4500mm when the largest gauge I can see, which is issued by the Rail Standards Safety Board, only allows a maximum height of 3910mm. This means major infrastructure alterations have to be undertaken to achieve the desired operating height and this ignores overhead wire clearances etc.
I would be interested to hear from Jan how he thinks we could achieve this in a cost-effective manner whilst still maintaining our intense daily train operations. Perhaps this is something I can come back to in a later blog.
I am not against double-deck trains as I often use them in Europe and get a fantastic view of the countryside form the upper deck but, they are running at much higher gauge clearances than the UK, however I have found a picture of a Southern Region double deck train, Class 49 that was in service from 1948 to 1971.
I am also aware that another double-decked train was exhibited at InnoTrans in Berlin and this was produced within the UK loading gauge. This design is the Aeroliner 3000 designed by Andreas Vogler Studios of Germany for the Rail Safety and Standards Board. A full scale 9 metre long demonstration carriage was on the stand of the German Aerospace Centre (DLR). DLR is currently doing welding probes of the body construction with TU Dresden. Vogler are looking for partners to help bring the idea on the UK market, next step should be built a running prototype, even by converting an existing coach.
On a recent visit to London I spotted one of the new Siemens class 707 trains stabled at Clapham Junction. The class 707's are due to be introduced into service on the Waterloo to Windsor line relieving older stock for other uses, there are 30 sets due for delivery and each is a five-car rake. I did however get a whisper from train staff that not all is going smoothly and that the first set was vandalised whilst at Clapham Junction.