Getting TOCs on-board with on-train Wi-Fi
Harjit Badesha discuses the popularity of train passengers browsing the internet and the benefits of TOCs working with Wi-Fi providers.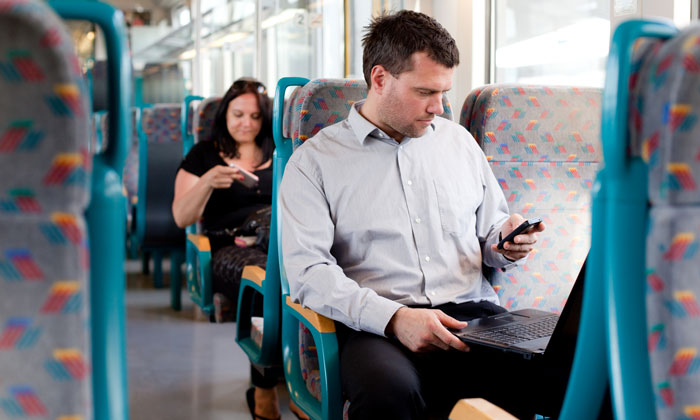 For Global Railway Review, Harjit Badesha, CEO and co-founder of KBH Digital, discuses the popularity of passengers browsing the internet while travelling on trains and the benefits of TOCs working with on-train Wi-Fi providers…
Consumer demand for on-train Wi-Fi is thriving. More than half (52%) of train users interviewed have used train operating companies' (TOCs') free Wi-Fi to connect to the internet while on the train (source: Dipsticks Research). Encouragingly, 83% of those who used the services deemed connectivity to be excellent, good or okay.
Free on-train Wi-Fi has been put at the top of the agenda by the government. Last year the Department for Transport (DfT) put £50m funding into selected services, including Southeastern, Arriva Trains Wales and Chiltern. The government is now forecasting that almost 100% of train travellers will have access to Wi-Fi services by 2020, and a number of TOCs are already setting the standard.
When you walk down a train carriage you will see laptops, tablets and smartphones showing countless pieces of information and entertainment content. The way people connect to the internet has changed significantly over the past five years. More website are now loaded on smartphones and tablets than desktop computers, with over 51% of pages being loaded on mobile devices at the end of 2016. And two thirds of people now own a smartphone, using it for nearly two hours every day to browse the internet, access social media, bank and shop online.
Making the most of on-train Wi-Fi
TOCs can benefit greatly from working with on-train Wi-Fi providers, as they can deliver a fully connected service from the time passengers enter the station, throughout their journey on the train and then when they reach their destination.
Providing a service that allows passengers to be seamlessly connected throughout their journey goes a long way in helping TOCs improve passenger satisfaction levels. We recently saw this when looking into shopping behaviour of commuters and found that, while travelling, constantly switched-on consumers are viewing downtime, such as travel, as a crucial space in the day where they have time to make important purchases.
TOCs will have the ability to access first-party data gathered from passengers when they sign up to free Wi-Fi services. This presents operators with a huge advantage, as they have access to data that companies can utilise to enhance a passenger's experience further, such as welcoming them back to a station, putting the right information in front of them at various stages of their journey and ensuring that they are up-to-date with offers directly relevant to them.
The development of free Wi-Fi also enables TOCs to better connect brands and/or advertisers with passengers through new advertising solutions. KBH Digital's advertising platform, Union Street, means brands can target specific audiences while they are on the move, taking information including location, behaviour, lifestyle and context to build a detailed picture.
Advertising via free Wi-Fi services can be served according to who people are, where they've been, and where they're going, taking contextual targeting to the next level.
Smart advertisers are also aware of the unique mind-set of rail users, who have the time and inclination to carry out tasks – including browsing and shopping online. Research by Zapp/Cebr has shown that a fifth of all UK online shopping sales take place during the daily commute, accounting for £9.3 billion each year. The peak morning rush (7am-9am) sees the biggest spike, when 1.5 million commuters are estimated to be shopping.
In addition to this, some train operating companies are also providing on-board 'infotainment' systems for passengers. This content is stored within servers on the vehicles and passengers can stream video content including regular news and weather updates to their own devices. This brings the concept of in-flight entertainment to these commuters. There is the added benefit for advertisers to serve video advertising around this content as part of the value exchange to passengers who get to watch a free programme or movie.
Increased consumer connectivity whilst on-the-move, improved quality of connectivity from TOCs and technology innovation are creating a plethora of opportunities for TOCs, transport users and advertisers. We are already seeing a number of train operators getting on-board with on-train Wi-Fi, but don't be surprised if you see it continue to rise to the top of the agenda as more and more TOCs recognise the changing expectations of their passengers.
Related topics
Related organisations