The Swiss way to capacity optimisation for traffic management – Q&A with SBB
On 23 August 2017, Global Railway Review hosted a webinar in association with Swiss Federal Railways (SBB), which showcased their innovative Rail Control System (RCS) and the benefits it can offer to other infrastructure managers. Here Daniel Achermann, Senior Expert on Traffic Management Systems at SBB, responds to some key questions from the webinar.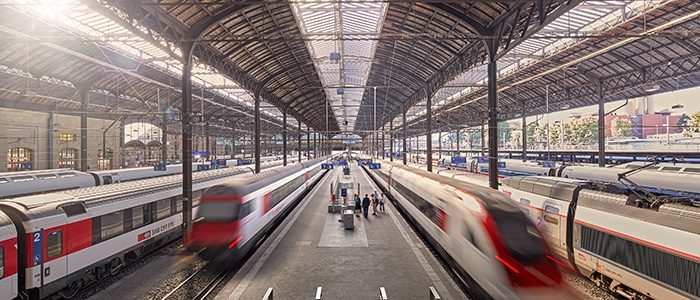 Is RCS only used in Switzerland?
Infrabel in Begium is the first non-Swiss infrastructure operator to opt for RCS and the project that introduced it was launched in late-2013. SBB drew on its own system and railway experience to support Infrabel as required. Infrabel successfully completed implementation in mid-November 2016, and the company now uses RCS to manage the 5,000 trains a day that operate across Belgium's rail network. RCS allows busy hubs such as Brussels to be navigated more efficiently. In Germany the DB network plans to use it from 2020. We are providing both railway companies with support in introducing and developing the system.
SBB has been using the RCS to control its rail traffic since 2009. Infrastructure operators BLS and SOB have also been using the system developed by SBB since 2014.
What is the rationale behind RCS-ADL?
Travelling by train uses four times less energy than driving a car – and uses 90% hydropower at that. Today SBB is already making a major contribution to sustainable mobility and will continue to do so in the future. SBB aims to save 20% of its anticipated annual energy consumption by 2025 – equivalent to 600 gigawatt hours. For this purpose, SBB has implemented a comprehensive energy saving programme. Adaptive control (ADL) holds great savings potential. This software calculates an energy-optimised driving profile for all trains that also has a positive effect on timetable stability and punctuality.
At present, RCS-ADL is used to control more than 1,500 trains per day, with savings of 136,000 kilowatt-hours. With over 467,000 train journeys, SBB reduced its energy consumption in 2016 by approximately 50 gigawatt-hours, which is the equivalent of the total annual electricity consumption of a small Swiss town with 12,500 households.
What might tomorrow's traffic management look like?
Digitalisation enables us to develop entirely new forms of mobility and to further the automation of railway production. For example, one could imagine a needs-based timetable without fixed intervals. The question also arises whether customers will even need to purchase rail tickets in the future and how we can integrate public individual transport such as self-driving vehicles into a collective public transport network.
SBB exploits the diverse digitalisation, automation and technology potential off ered by timetable creation, rail operations and train control while also exploring the possibility of increasing remote train control. The future of traffic management could focus on systemically supported, continuous timetable creation, further development of management and control systems for rail operations, new digital signal boxes, a reduction in equipment variety with safety installations, roll-out of the ETCS cab-signalling system throughout the network, expansion of data transmission capacity and precise detection of trains in the station throat and finally allow automatic train operations.
Interested to learn more?
The webinar with SBB's Senior Expert on Traffic Management Systems is available to watch now on demand. Simply click here to watch it in your browser.