Issue #6 2017 – Digital version
Issue 6 of Global Railway Review includes articles on the digitalisation of the rail industry, innovation on the London Overground and the funding of railway infrastructure.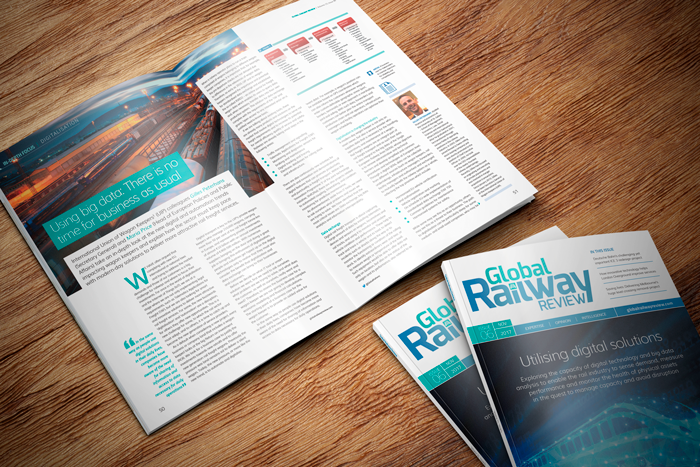 Included in this month's edition:
LEADERS' SERIES: Keeping rail together and on the right track
Jean-Pierre Loubinoux, Director-General, UIC
INFRASTRUCTURE: Rail Baltica: Making a real difference to the region
Baiba Rubesa, CEO, RB Rail AS
THE PASSENGER: Innovation is the future for the London Overground
Matt Bromley, Innovation & Business Excellence Manager, Arriva Rail London
IN-DEPTH FOCUS: Rolling stock developments
SAFETY: Melbourne's huge level crossing removal project: saving lives and improving journeys
Kevin Devlin, CEO, LXRA
TRACK MAINTENANCE: Harsco Rail advances technology in track maintenance and repair
Chris Larsen, Product Manager, Harsco Rail
SUSTAINABILITY: From energy management to power management
Raimund Feldmann and Andreas Fuchs, Swiss Federal Railways (SBB)
IN-DEPTH FOCUS: Digitalisation
NOISE & VIBRATIONS: Influence of rail and wheel roughness on rolling noise: Measurements and analysis
Jesús Otero Yugat, Field Test Engineer, CETEST
The digital version of Issue #6 2017 is restricted to logged-in members. Login or subscribe free to read it.