Harsco Rail advances technology in track maintenance and repair
Track maintenance in North America is similar to the rest of the world, in that many functions can be quite labour intensive and subject to countless variations. Over the past 10 years, track maintenance machines have become increasingly automated, but certain areas still require the strength and attention of trained operators. Chris Larsen, Harsco Rail Product Manager, writes about their progress in track maintenance automation, providing information about their machine vision system; the functions it performs and plans for future development.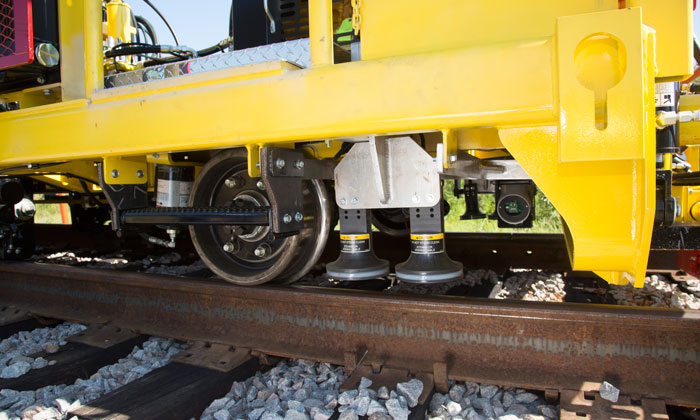 Harsco Rail's camera sensor and Tie Finder probes mounted under a Drone Anchor Spreader
Particular tasks related to track maintenance, such as spike/fastener application or removal, or spot tie removal, are examples of work that still require the trained eye of an operator to accurately find the area to be worked on. Not only does the operator have to move a machine weighing over 20 tonnes from tie to tie, but then they must finely move a workhead to within a fraction of an inch of a spike to be pulled. Such work requires precision, strength and concentration, allowing little room for error and so its automation would be of great benefit to rail companies.
In the past 20 years, in much the same way as many other equipment manufacturers, Harsco Rail has researched and worked with various vision systems. Typically, the available systems failed in four main areas: the time required to process the data would slow the machine's production; the cost of the system was too high to bring any value to the project; the system components were not able to withstand the harsh working environments; or satisfactory rates of accurate functionality couldn't be reached.
For the past year, Harsco Rail has worked with a railroad partner to develop a complete system that can help machines find a specific tie to be worked. With this technology, it automatically moves a machine to a work location, determines if fasteners are present and performs the work with little or no human interaction.
Harsco Rail's machine vision system combines a microprocessor and camera sensor to analyse a video stream and detect track features. It is a single compact module that can process a video frame in real-time using an integrated video pipeline. It includes computer vision algorithms that manage challenging environmental conditions to extract track features from video images. The track features detected are identified and communicated to the Jupiter Control System via industry standard CAN bus protocol.
In addition to finding specific track features like rail anchors, tie plates or spikes, the same vision system is also capable of identifying colours. Through the colour identifying features of this technology, work areas – such as ties to be replaced – can be marked with a certain colour paint weeks or months in advance of the work. A machine equipped with the vision system can then locate those paint marks and move the machine to that location.
The vision system is being coupled with our Tie Finder product, the Jupiter CAN bus control system. This incorporates distance measurement and Ethernet machine-to-machine communications with powerful software that allows data to be collected from a lead machine and shared with each subsequent machine behind it. In so doing it develops a map of the work required and directs each machine to automatically perform the proper function at the right location. Harsco Rail and its railroad partner will be commissioning the first four machines equipped with this new technology in late-2017. It is anticipated that these machines will help improve production, reduce the overall number of machines required as well as the number of people needed to do the same work. These promise to be the first of many machines featuring the vision system and other advancements.
Rail Tie Finder Technology
Harsco Rail's Tie Equipment features an expanding line of high-quality products to meet varying track maintenance needs. The efficiency and precise control of Harsco Rail's tie machines deliver the highest levels of quality throughout the industry. With continuous improvements to the tie product line, Harsco Rail delivers modern machines that meet customers' needs. The Tie Finder Technology equips machines with intelligent automatic indexing, thereby increasing productivity while reducing operator fatigue. The combination of probes designed to detect the location of either wood or concrete ties with a machine's previously existing automatic cycle enables fully automatic work.
An improved production rate and maximised track work window has the following benefits:
Maximises performance by allowing workheads to launch as traction stops
System doesn't suffer from stamina loss and distractions
System can 'see' through ballast and inclement weather conditions (poor track visibility)
Jupiter Control System Jupiter II Control System is an intelligent distributed I/O system developed by Harsco Rail. It excels by genuinely distributing application intelligence and processing to the nodes of its control network in a way that completely sidesteps issues of network bandwidth. Built from the ground up to deliver unsurpassed diagnostic capability, the system provides the following highly valuable functions and benefits for modern railroad maintenance operations:
Delivers accurate, repeatable results
Effective operator interface for computer controlled applications
Reduces risk of electrical malfunction and operational downtime
Component commonality between other Jupiter II equipped machines.
Issue
Related organisations