New Silk Road rail freight service cuts costs and transit times
Just three months after launching a rail freight service connecting destinations across the New Silk Road, Tigers customers are already benefitting from shorter transit times and lower costs. Eric Ou, General Manager, Shenzhen and Xiamen at Tigers, explains more.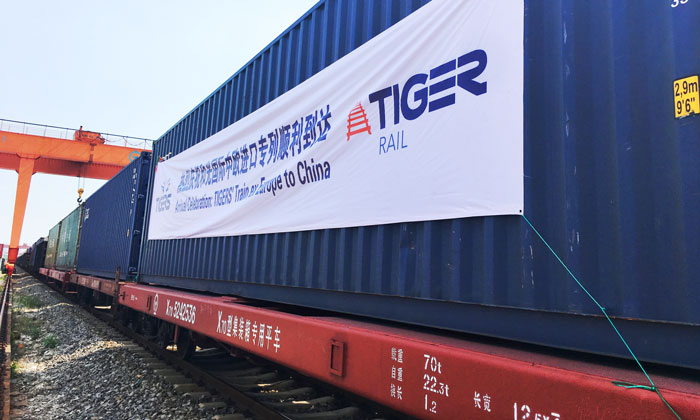 The new service, called Tiger Rail, is our response to China's national strategic development of the 'One Belt, One Road' initiative, offering customers shorter, more efficient transit times than ocean freight and lower costs than airfreight, creating a greener transport solution.
Tiger Rail offers customers a 16-day transit time both east and westbound, between Tilburg, the Netherlands; Duisburg, Germany; and Lodz, Poland, and over 15 main railway sites in China, including Hefei, Chongqing, Chengdu, Zhengzhou, and Changsha to name a few.
We are currently preparing test shipments for Business-to-Consumer (B2C) parcels importing from the European Union (EU) to China to expand our rail freight capabilities and provide a cost-effective service along the New Silk Road.
Our recently launched online marketplace, eShop, offers a full enterprise solution to customers wishing to enter the world's largest e-commerce market, Asia-Pacific, creating an additional incentive.
We currently operate an eShop in China and Malaysia, covering two of the world's fastest growing online retail regions, and we are planning for further expansion in Europe, Australia, and the United States in the new year, to further strengthen our e-commerce offerings.
We seized the opportunity to provide integrated logistics to our customers, offering a comprehensive door-to-door railway service for both Full Container Load (FCL) or Less than Container Load (LCL) shipments, in addition to Customs clearance, and China Inspection and Quarantine (CIQ) services.
We have already supported several customers to transport over 500 TEUs as FCL and 1,500 cubic meters (CBMs) as LCL along the New Silk Road.
One of our customers, a global leader in ceiling, wall, and suspension system solutions, was seeking an alternative way to transport consignments of mineral fibre ceiling tiles from Germany to China at the beginning of 2017.
In response, the Tiger Rail team created a tailored door-to-door railway solution based on the customer's specific requirements and a trial shipment was successfully received in March.
We are very happy to have been able to provide a total transit time of 25 days, which saved 20-25 days from ocean freight, resulting in the customer changing the majority of their subsequent planned shipments from ocean freight to rail freight in April 2017.
By using Shipper's Own Container (SOC), we significantly reduced shipping costs for the customer and improved lead times to fulfil orders in China.
Another of our customers, a leading automotive manufacturer, was looking for an alternative and faster way to transport consignments of conveyor systems from China to France. The cargo was required to tackle the customer's urgent production requirements.
We were able to provide the perfect solution with Tiger Rail, offering a faster and more efficient service than the long transit time of ocean freight, while also reducing shipping costs by empty container return at Switzerland.
We also operate a Central Asia Express service, offering a total transit time of five days between Chengdu, China and Alma-Ata and Altynkol, Kazakhstan.
The Central Asia Express service despatches in container and carload combined marshalling, and upon arrival in Kazakhstan goods can be distributed to other countries in the region in a timely manner.
Tiger Rail customers can track and trace their freight shipments using our Tiger Trax platform. Tiger Trax automatically sends customers a daily update, in addition to information on two important milestones, which are the confirmations that the shipment has crossed the Chinese and the European Union borders.
We cover a wide range of industries including outdoor and active lifestyle, fashion and beauty, wine and perishables, technology, healthcare and pharmaceuticals, automotive, mechanical and electrical equipment, and building materials.
Headquartered in Hong Kong, with offices and facilities throughout Asia, Europe, the United States, Australia, and South Africa, we specialise in e-commerce fulfilment, transportation and supply chain solutions.
We are always happy to provide insight into our services and create bespoke solutions fitting to customer requirements, to assist with increasing efficiency and improving lead times at a reduced cost.