Overcoming the legal challenges to 'One Belt, One Road'
One Belt, One Road (OBOR) is a global project seeking to deliver China's ambition of co-ordinated trade routes on both rail and sea, spanning 65 countries. When completed, it will provide freight access to over 60 per cent of the world's population by rail and sea whilst creating significant trade opportunities. Alan Woolston, Partner at Fladgate LLP tells Global Railway Review about the varying legal challenges involved in the project…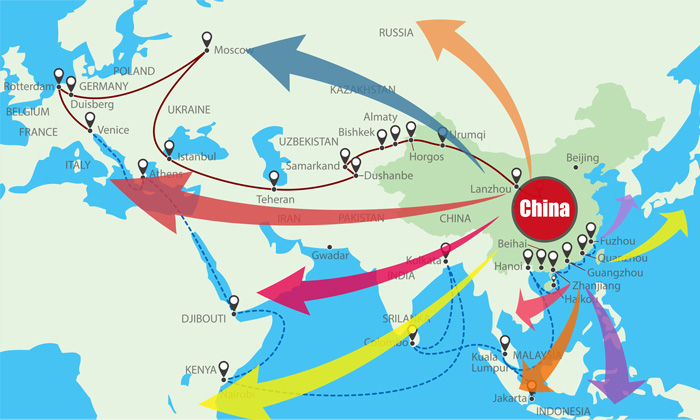 The initiative is already backed by $100 billion of funding from the newly formed Asian Infrastructure Investment Bank and an additional $40 billion from China's Silk Road Fund. Over $150 billion of OBOR projects have already been committed and new rail services are emerging along the route between the UK and China as nations embrace the OBOR vision.
With over $900 billion worth of projects in total, planned or underway, many involve rail or associated infrastructure and some have described OBOR as "the world's biggest project since putting man on the moon". The opportunities are bound to capture the imagination, but a project of this magnitude is not without its difficulties.
The most immediately obvious challenges are technical. The proposed network combines existing rail routes with upgraded and new connections across many countries, with varied geographies and conditions, on a previously unseen scale. This will require complex interfaces to be carefully managed.
However, the challenges go beyond the technical:
The pioneering nature of this vast project requires an equally far-reaching approach to managing the legal issues in the creation and operation of OBOR, driven by a thorough understanding of the project as a whole.
Cross-border issues
Cross-border operations inevitably give rise to legal issues and OBOR will be no different. The physical infrastructure can only achieve so much if immigration and fiscal regulation are a barrier to the practice of trade.
On issues as wide ranging as border control and customs, to track access arrangements for infrastructure, every jurisdiction involved will need to consider how best to ensure that there is an integrated approach, in some cases from quite diverse starting points.
Contract models
The legal risk associated with technical interfaces already mentioned is often managed by aggregating the risk to a single point of responsibility; wrapping all interfaces under one provider using well-established contract models such as a Build-Operate-Transfer structure.
However, OBOR is not a single project. It will involve multiple projects of different types, many essential for OBOR to operate as an integrated network but with each one being delivered using one of many different procurement and contract models.
The critical interfaces for OBOR are not just those within a project but also the 'project-to-project' interfaces.
A new collaborative contracting model will be needed to ensure this can be managed.
Currency
The approach to currency risk is an often overlooked issue for projects of this scale and complexity.
Projects may be funded in one currency, built in another and operated in yet more currencies across different parts of the project, with revenues also being generated in yet more.
Currency risk hedging arrangements are common but also complex. They are notoriously fertile ground for dispute and will require careful structuring.
Fundability
The substantial reserves already made available will not fund the schemes in their entirety. Considerable amounts of additional private finance will be required.
Even in the UK, financing arrangements for public-private funded (PPP) structures are often said to have become more complex than the technical delivery, even against a typical PPP risk profile.
Many OBOR projects will additionally be affected by political instability, concerns over the sovereign country's ability to meet its obligations or long lead times from the point of inception to operation at planned capacity (which may itself be contingent on other projects also completing). These are all risks which would traditionally be prohibitive for a PPP transaction and more innovative structures will be needed.
Choice of law and dispute resolution
OBOR projects will be truly international, involving participants from many countries. Deciding which law will govern a project will be critical, not least to ensure the fundability of the venture. Both commercial and political influences may well be at stake and issues such as certainty of law and the speed/effectiveness of enforcement procedures will be important considerations.
Similarly, should disputes arise, the best forum in which to resolve them is one which is familiar with OBOR. A number of jurisdictions are already seeking to establish themselves as the 'go-to' centre for OBOR dispute resolution.
Wider influences
The legal challenges to OBOR do not stop at infrastructure. A global project requires a global approach and experience has shown that harmonisation of infrastructure also requires harmonisation of international agendas.
For example, in 2016 the EU refused to endorse OBOR because the proposals did not include commitments to social and environmental sustainability and transparency.
A project of this scale is about more than just putting the building blocks in place. OBOR's success will require a broader alignment of regulations and legal principles, in a wider sense, where rights held in high regard in some jurisdictions must also be harmonised to remove barriers to progress.
Biography
Alan Woolston is a Partner at Fladgate LLP specialising in construction, engineering and major projects. Ranging from some of the largest procurements in Europe to specialist or niche projects they require high technical expertise or a strong commercially focused approach. As well as advising on rail infrastructure and operation matters, Alan has advised both private and public sector bodies on a variety of rail, energy, defence and social infrastructure projects (including PPP projects) both in the UK and Internationally.
Related organisations
Related people