MTR: Importing excellence from Stockholm to Shenfield
Population growth is a challenge facing major cities across the globe. The flow of people into urban centres puts an increasing strain upon transport networks, creating the need for new infrastructure in densely populated areas where space is at a premium. Jeremy Long, CEO at European Business of MTR Corporation, discusses the innovative ways that governments across the world are responding to this challenge; easing the burden on our transport systems.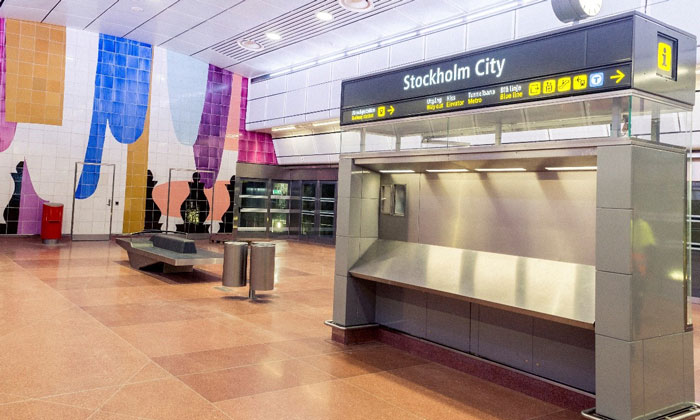 One method frequently used by governments to reduce strain on the transport sector includes the implementation of large-scale infrastructure projects, which provide both additional capacity and make more intelligent use of existing networks.
In Stockholm, the experience of commuting through the city has been transformed by 2017's introduction of Citybanan, a new 6km tunnel beneath the city's central rail station, resolving a major bottleneck on the crowded network.
In London, the Elizabeth line will soon deliver the new east-west services through the capital – the first of its kind in half a century. TfL Rail services are already operating between Liverpool Street and Shenfield on the eastern section of the Crossrail route.
Both projects are delivering significant improvements for passengers by relieving pressure on their respective transport systems. Introducing new infrastructure to an existing network is a major logistical challenge however, and both projects have required close collaboration between MTR Corporation, as the shadow operator, local governments and rail authorities to ensure a successful delivery.
Tackling the 'wasp's waist'
The Citybanan tunnel was designed to resolve a longstanding problem in Stockholm known as the 'wasp's waist', a double-track line south of Stockholm Central station along which every train travelling south had to pass. With more than 550 trains passing through each day, even the smallest of delays was capable of triggering disruption across a significant proportion of the country.
The new tunnel was built between Stockholm South station and Tomteboda to provide much-needed additional capacity, as well as two new stations. MTR, in its capacity as a shadow operator, successfully partnered with the governmental organisations to oversee the opening of Citybanan, ahead of schedule, in July 2017.
This success was built on a close partnership between MTR and local rail authorities ahead of the tunnel becoming operational, resulting in a smooth introduction of services and customer satisfaction reaching its highest-ever peak of over 80 per cent in the first month. Currently, MTR runs 16 trains per hour in each direction during peak times, which considerably eases the pressure of rush hour.
MTR was awarded the £1.85 billion contract to run the Stockholm commuter trains in December 2015 and commenced operations in December 2016. During the seven month period between MTR taking control of the operation and the opening of the Citybanan line, over 760 members of staff were retrained – including train attendants, drivers and station hosts – all according to schedule, despite delays in construction. This, in turn, minimised any potential teething problems and helped ensure that Citybanan trains achieved the punctuality target, hitting a total of 98.6 per cent in the first month of operation.
MTR was also tasked with the maintenance and operation of the two new stations: Stockholm City and Stockholm Odenplan. These have now become the first mainline stations in Sweden to be equipped with platform screen doors and new roles, such as 'Station Duty Officer', have been implemented by MTR to manage the transition successfully. MTR has also worked alongside its maintenance subcontractor to train its staff.
Interchanges are now smoother because the new stations are located close to bus routes and metro lines, allowing improved connectivity for passengers on onward journeys. The tunnel and two stations also take into account the environment, boasting clean air, sound-attenuating tracks and purified waste water.
The introduction of Citybanan has had a significant impact on the transport network, helping to ease the considerable strain on the capital city's busy rail service, where eight in every 10 rail trips in Sweden either begin or end. The tunnel's opening has now doubled the track capacity of Stockholm and it is estimated that over 10,000 passengers have now switched to travel through the Odenplan station, with many continuing their journey via the Citybanan route into the city centre.
Parallel lines
There are clear parallels between the transport infrastructure challenges in Stockholm and in London, which is already the most densely populated city in Europe and forecasted to grow to a population of 10 million by 2030.
The solution to these challenges is similar to Stockholm's answer: A new 110km east-west railway beneath London, easing the strain placed upon the London Underground network. Once the £15 billion line is fully-operational in December 2019, it will be able to carry over 200 million people a year, adding 10 per cent to Central London's rail capacity. At eight times the cost, with 41 accessible stations – 10 of which are newly built and 30 newly upgraded – the infrastructure has been dubbed 'Europe's largest construction project'. Crossrail is set to boost the capital's economy by £42 billion and create 55,000 jobs.
In London, as well as Stockholm, MTR is working with the Government and local transport authorities, bringing its global experience of integrating new infrastructure into existing rail networks to help anticipate and overcome challenges ahead of services being opened.
The eastern section of the line between Liverpool Street and Shenfield is already in operation – branded as TfL Rail – and enjoyed a smooth start thanks to close collaboration and intelligent forward planning between MTR and its partners. After one year of MTR operating the section, there had been a 25 per cent reduction in Network Rail delay minutes and over 45 per cent reduction in fleet cancellations compared to equivalent periods for the previous year.
MTR will begin running services on the Elizabeth line between Heathrow and Paddington in May 2018; Paddington and Abbey Wood in December 2018; Paddington and Shenfield in May 2019; and full through services (including to Reading) in December 2019.
MTR Corporation has been working in a shadow operator capacity with the Government on the Crossrail route since 2015 and so has a longstanding partnership. This partnership will be vital to the delivery of Crossrail but MTR's experience of delivering Citybanan with its Swedish partners provides a blueprint for success.
Much like Citybanan, Crossrail will have a major impact on commuters in London over the coming years.
Biography
Jeremy Long is CEO– European Business of MTR Corporation and leads MTR's European business development activity; overseeing the business interests in Europe. MTR Corporation operates MTR Crossrail and also jointly operates South Western Railway. MTR began operating the Stockholm Commuter Railway, Pendeltag, in December 2016 and in Hong Kong, MTR is the operator of the rail and metro services.