Middle East Rail returns for the 12th edition with a boom in repeat exhibitors
$16 billion of rail contracts planned to be awarded in 2018 under spotlight…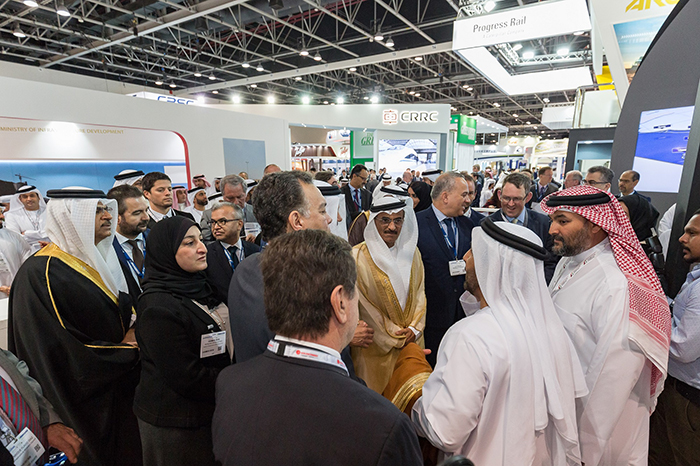 Middle East Rail, the largest railway industry event across the Middle East, North Africa, South and Central Asian region, will take place on 12-13 March at Dubai International Convention Centre.
The show will be held under the patronage of His Highness Sheikh Mansour Bin Zayed Al Nahyan, Deputy Prime Minister, Minister of Presidential Affairs, UAE and in partnership with the Ministry of Infrastructure Development and the Federal Transport Authority – Land & Maritime.
Middle East Rail recorded 64 per cent repeat exhibitor bookings for 2018 edition, bringing over 290 regional and international railway operators, suppliers and contractors to present their services to potential buyers and nurture professional networks.
Etihad Rail, X Rail, Greenbrier, Virgin Hyperloop, CAF, AECOM, Progress Rail and the Department for International Trade, UK, are back in full force to showcase their plans for future railway systems.
Commenting, H.E. Dr. Abdulla Belhaif Al Nuaimi, Minister of Infrastructure Development and Chairman, Federal Transport Authority – Land & Maritime, UAE said: "Middle East Rail continues to attract global innovators, decision makers and industry influencers, which clearly demonstrates the show is an unmissable annual gathering to analyse the visions, technologies and partnerships needed to develop efficient railway operations. We are proud to play a leading role in providing a platform to the industry to identify problems, propose solutions, promote collaboration, develop and harness innovative technology in transportation infrastructure. This will also help us build regional railway networks on a par with the highest standards of quality, safety and efficiency."
Keeping up with the industry trends and to accommodate increased interest, the show has expanded in scope for the 2018 edition. The organising committee has introduced two new streams that will feature Passenger Information Systems and Transport Ticketing Systems that cater for the needs of modern passengers.
A series of interactive sessions have been designed to introduce technological disruptions and provide updates on rail contracts, worth $16 billion, which are to be awarded in 2018 in the MENA region – according to MEED Rail Report 2018.
Jamie Hosie, General Manager, Terrapinn Middle East, organiser of the show, said: "The railway supply market in the Middle East and North Africa region is expected to grow at over 3 per cent annually for the next four years on the back of several big-ticket projects in pipeline. The UAE has the second largest transport pipeline in the Middle East, with 15 ongoing and upcoming railway projects worth $13.9 billion as of November 2017. The regional governments are pressing ahead with their domestic rail projects and stalled projects are going to regain momentum. Middle East Rail is the place to learn, network and discover new business opportunities."
Industry experts from Europe, India, Middle East and Asia will share insights on privatisation, digitalisation, modernisation and pioneering the future of Mobility 4.0. throughout two days of keynotes, open discussions and research sharing sessions.
An August roster of informative keynote speakers include: H.E. Dr. Abdulla Belhaif Al Nuaimi, Minister of Infrastructure Development, Chairman, Federal Transport Authority – Land & Maritime, UAE; H.E. Julio Gomez-Pomar, Secretary of State, Ministry or Infrastructure, Transport and Housing, Spain; Rolf Hardi, Chief Technology Officer, Deutsche Bahn, Germany, Henrik Holoei, Director General, European Commission, Belgium; AlWalid AlEkrish, VP – Programs & Projects, Arriyadh Development Authority, Saudi Arabia & Ahmed Jasem al Mansoori, Acting CEO at Etihad Rail, UAE.
Related topics
Related organisations