Infrastructure quality is key for improved passenger satisfaction
Veysi Kurt, Director General of TCDD Taşımacılık A.Ş., discusses how Turkey's railway transport infrastructure has evolved over recent years and how the operator is now focusing on enhancing a number of services to achieve high quality passenger satisfaction.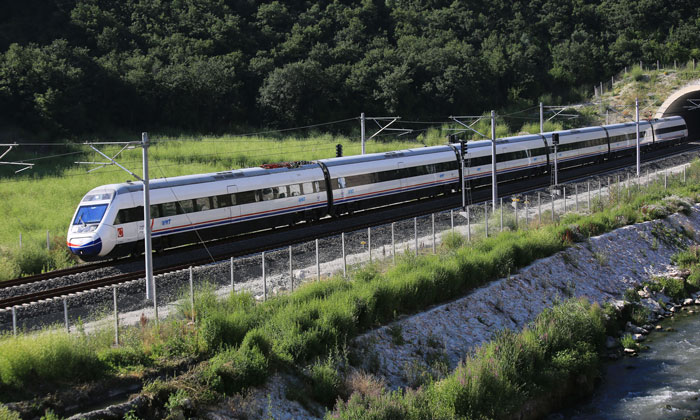 Since 1 January 2017, TCDD Taşımacılık A.Ş. has been responsible for Turkey's railway operations following the governmental restricting decision of Turkish Railways. The business segments of our company include passenger and freight transportation, logistic services, ferry operation and rolling stock supply and maintenance. Within the scope of our business segments, TCDD Taşımacılık A.Ş. is also responsible for the operation of high-speed and conventional trains as well as the Marmaray line which currently operates between Ayrılık Çeşmesi and Kazlıçeşme Stations.
Over the past year we have conducted our activities with a new approach and perspective to management whilst serving approximately 25,000 high-speed passengers, 45,000 conventional train passengers and 200,000 Marmaray passengers per day. There has been a recent increase in passenger numbers and satisfaction rates, especially among high-speed rail and Marmaray passengers. This is a significant step in the right direction for improvement because between 1950 and 2002 the story was quite different. During those years, the Turkish railway system was plagued with underinvestment, with highways benefiting from priority improvement projects.
Owing to the fact that the railway network of approximately 11,000km was based on single-line operations and the existing railway lines could not be modernised, travelling by train took a long time, resulting in decreased public interest towards train travel and the perception of an undesirable mode of transport.
A milestone year for the Turkish railway sector was in 2003 when the government initiated policies that aimed to prioritise the railways in an attempt to establish a balanced and reliable transportation infrastructure. Following the actioning of those policies, Ł60 billion has since been invested in the Turkish railway sector.
The railway has become the most dynamic and innovative sector of our country, thanks to high-speed train projects, the renovation and modernisation of the existing railway infrastructure, the development of the national railway industry and the restructuring of the Turkish Railways sector. Along with this evolution and transformation, the nation's perception of trains has markedly improved; satisfaction and interest from passengers toward train travel has dramatically increased, with high-speed rail technology, comfort, speed and safety playing a huge role.
When the Ankara-Istanbul High Speed Train (HST) service commenced between Ankara and Eskişehir in March 2009, the nation began to experience advanced railway technology and the economic, social and cultural lives of the destinations, along with their surroundings, began to prosper.
Today there are 19 HST sets operating on the approximately 1,213km-long high-speed railway lines between Ankara and Konya, Ankara and Istanbul and the Konya-Eskişehir-Istanbul route, with 52 journeys per day.
Our company has now served nearly 36 million passengers on these lines and 11 cities (inhabited by 40 per cent of Turkey's population) have gained vital access to comfortable, safe and fast travel.
Following the introduction of high-speed rail operations, the share of the railway sector in passenger transport has increased dramatically.
On the Ankara-Eskişehir route the shares have increased from eight per cent to 72 per cent, on the Ankara-Konya route the increase goes from zero per cent to 66 per cent, on the Ankara-Istanbul route 10 per cent went up to 15 per cent and finally the Konya-Istanbul route rose from five per cent to 17 per cent.
Services for passenger satisfaction
Over the last year TCDD Taşımacılık A.Ş. has launched a number of services to meet passenger demands and expectations by focusing on improving, diversifying and regulating its service quality in order to increase passenger satisfaction and provide customer-focused services.
The e-Ticket app
Our e-Ticket app is very popular and allows passengers to travel without the need to purchase and plan their trips at station ticket counters. Seventy-three per cent of our ticket sales are now made via smart devices, with customers benefiting from different ticket sale options available via our mobile app and website.
Call Centre
Our Call Centre is open 24/7 and customers can receive a wide range of information related to our passenger, freight and port services, along with the option to find out ticket details and leave suggestions and feedback about our services.
The 'instant solution' app for various platforms
Our customers can send their requests and suggestions via applications such as WhatsApp, Twitter and Facebook. A GSM line is available 24/7 and we aim to answer requests or suggestions within 15 minutes.
Ticket sales for hearing-impaired passengers
In an effort to make the purchasing of tickets as easy as possible for hearing-impaired passengers, some of our ticket windows are occupied by staff who are experienced in sign language. Additionally, ticket sales or consultation services are available on our website or through the Call Centre using video call technology.
New tariff and passenger rights
Our 'New Passenger Tariff' has been effective since 1 January 2017 which was prepared in accordance with the European Union acquis and national legislation and covers changes in favour of passengers' rights on consultation, ticket return, petition and compensation.
HST entertainment system
Our passengers have access to the HST entertainment system during their travels, via which they can access content such as movies, music, e-books and games from their seat-screens or by connecting the system to their own smart device.
We are also in the final stages of uploading a unique audio book into the HST entertainment system which will be accessible for our visually-impaired passengers.
Increased demands towards 'HST+Bus' or 'HST+DMU' combined transportation
Combined transportation with high-speed train connections (HST+Bus and HST+Train) significantly reduces travel time for cities in close and medium distances. The HST service is preferred for reaching cities with airport connections. Combined transportation with HST connections is available for many routes across the country including Ankara-Kütahya, Ankara-Bursa, Ankara-Karaman, Ankara-Antalya/ Alanya/Manavgat/Isparta as well as Ankara-Denizli routes. Passenger satisfaction regarding combined transportation is steadily increasing.
Passenger satisfaction surveys
We conduct a 'Passenger Satisfaction Survey' twice a year with our HST passengers and at our stations to analyse passenger profiles, measure their satisfaction levels, determine their expectations, propose necessary strategies to meet passenger demands and evaluate the service quality of our high-speed service and station staff.
From our surveys we know that the profile of our high-speed train passengers comprises of 22.5 per cent students, 7.9 per cent business travellers and 15.4 per cent career professionals; indicating that nearly half of our high-speed train passengers are highly-educated people.
The proportion of our passengers who reside in another city but travel daily in order to continue their education or business life reaches approximately 16 per cent.
In addition, 97 per cent of our passengers stated that they are satisfied with the high-speed service and they will use it again on their next trip, and 99.3 per cent said they would recommend the high-speed train service to others.
Discounted travel facilities and promotions
For high-speed, mainline and regional trains, there is a three per cent discount available for passengers who purchase their tickets via our mobile app or website.
Furthermore, there is a 20 per cent discount available for the youth, teachers, military passengers, small groups, passengers aged 60 and over, domestic and foreign press card holders and passengers who purchase round-trip tickets. A 30 per cent discount is available for large groups (more than 100 people) and a 50 per cent discount is available for children aged between 7-12.
We also periodically organise a 'promotion exercise' for different groups of passengers on important days and weeks with the aim of offering different options for customers.
Free travel for passengers with reduced mobility
We offer free travel for passengers with reduced mobility on high-speed and mainline trains, and in some circumstances, they can be accompanied by a companion who can also travel free-of-charge.
Utilisation of information and communication technologies
Our company manages all its assets and resources effectively and efficiently with an Institutional Resource Management (IRM) System which shortens business processes, increases productivity, manages relations with suppliers and maximises passenger satisfaction.
The vehicle fleet inventory is tracked, plus the maintenance and repair of the vehicle fleet is planned and monitored via the IRM. In addition, material acquisition processes, human and financial resources, domestic and international freight transportation can be managed, and business intelligence reports of these activities are produced.
We are able to manage all business processes of HST services, mainline and regional passenger trains with the implementation of an Electronic Passenger Ticket Processing System (EYBIS). EYBIS allows our company to provide 24/7 uninterrupted service for ticket sales, returns, changes to bookings and reservations from our ticket windows, authorised agents, call centre, website and mobile applications.
We have integrated our international ticket sales system with 12 European countries in order to increase our international passenger transport capacity and enhance the brand awareness of TCDD Taşımacılık A.Ş. Domestic and international passenger tickets can therefore be purchased through the ticket sales systems of integrated European countries.
Furthermore, internet services are provided on our HST services to increase the comfort and satisfaction of our customers.
Marmaray passenger services
The Marmaray service attracts approximately 200,000 passengers a day between the two continents at a travel time of just four minutes. In accordance with the passenger density, Marmaray makes 333 journeys a day; during peak hours it runs every five minutes and then every seven minutes in off-peak periods.
Marmaray is fully integrated with Istanbul's urban transport systems including the subway, tram, ferry and bus services. Our passengers can travel on more than one transport mode with a single ticket.
2023 goals
TCDD Taşımacılık A.Ş. aims to be a world leading brand operating at a world-class standard. Passenger satisfaction will increase further as the quality and quantity of infrastructure, which is a prerequisite for this, is further improved and developed. It is expected that the existing system will be fully renovated and modernised by 2023. In accordance with this goal, the existing railway network will be extended to 25,000km and therefore 15 per cent of the total freight and 10 per cent of the total passenger transport in Turkey will be made on the railways with private train operators.
Biography

Veysi Kurt graduated from the Department of Industrial Engineering within ITU Sakarya University. In 1987 he started to work at the General Directorate of TCDD at various levels including Head of the Movement Department (which was responsible for freight transportation) between 2003-2004. He has been the Chairman of the Founding Board and General Director of TCDD Taşımacılık A.Ş. (TCDD Transport JSC) since 2016.