GrumpNow, the first real-time aggregator of rail complaints
Nick Schutz, Founder of GrumpNow – a new mobile app to collect rail complaint data and give passengers a collective voice – believes that by enabling passengers to constructively complain about their train journey, it will help rail operators make informed decisions and lead to positive change.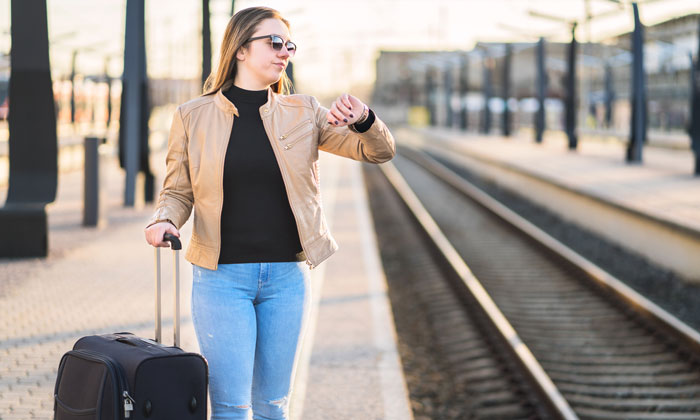 Why use GrumpNow?
The purpose of the GrumpNow app is to give passengers a quick and easy way – in real time – to collectively vent their frustration about poor public transport.
Unlike other channels such as Twitter, GrumpNow forces the user to select from pre-defined dropdowns, not only making it intuitive to use but also ensuring the data is consistent and remains relevant. This is particularly useful as many complaint channels either capture too little detail or are in free-text form which often constitutes of unhelpful and inappropriate language.
Building a robust database of bad journeys across all common transport types, initially focusing on rail travel, over time the company will be able to share more data, analytics and insights with the sector.
Unlike other solutions, GrumpNow records detailed journey attributes such as date, time, from, to, complaint and impact, and consequently the company can identify unpopular journeys from the results, e.g. only standing room available on the 07:33 from Maidenhead to Paddington Station.
GrumpNow goes further and captures less familiar, more subjective complaints that can't be determined automatically, such as poor customer service, no seat reservation, dirty conditions, inadequate disabled facilities, antisocial behaviour and more. It is these types of complaints that passengers often experience but can't and won't be compensated for.
GrumpNow is the only 'aggregator' of poor public transport data; no other mobile solution records, collates and publishes statistics deeper than punctuality and reliability.
Is it making a difference?
With more and more commuters being blocked on Twitter by rail operators, people are beginning to see GrumpNow as an independent and impartial solution for complaining and a channel that can give them a voice. Clearly rail operators would prefer not to be named and shamed but GrumpNow believes timely submission and transparency of issues is as beneficial for the operator as is it for the passenger.
Recently, more carriages were added to key routes to and from London providing additional capacity. It may, or may not be, a coincidence that these key routes are three of the most grumped about journeys in 2018 with the main complaint being 'standing room only'.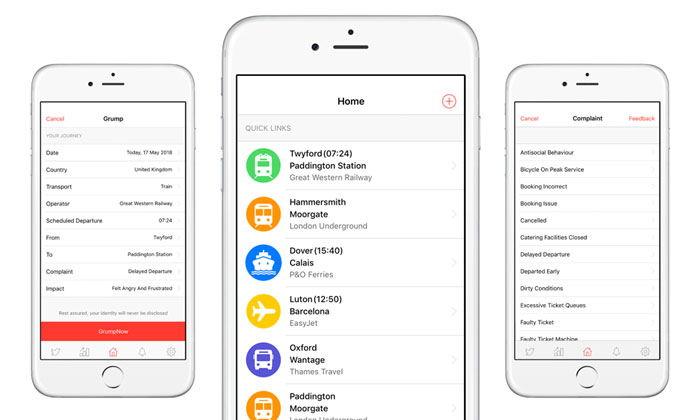 What are the benefits of using GrumpNow?
Passengers can quickly, easily and constructively share their experience by registering a complaint as it happens, unlike more traditional complaint procedures that require the passenger to fill in forms and wait for a reply. This immediate gratification seems to be more appealing to the modern-day commuter, as time is arguably more important than compensation.
What is interesting is that operators are active on Twitter and often engaging with users by replying to shared Grumps. This is good customer service and needs to be done, however, one rail operator recently confirmed that Twitter is an "informal channel" and therefore "does not influence formal statistics".
How does GrumpNow work?
Once the user has signed up to the free app, they enter their journey, reason for complaint and the impact it has had on them and then submit their 'Grump'. It's simple and the journey details are saved on their homepage as a quick link for next time.
Once submitted, the app also builds a message with all the relevant journey attributes, that can be shared via social media. This is optional, yet more and more people are taking advantage of this functionality and sharing their experience using their own social media accounts, exposing issues as they happen and helping operators better understand where recurring problems may exist.
Where is GrumpNow going?
Each day more and more users are following GrumpNow, as well as registering with the app. The dataset is becoming more robust and meaningful and the immediate focus during the first six month's pilot period remains on rail travel in the UK, which alone equates to 1.7 billion journeys each year, according to the Rail Delivery Group (RDG).
Over time GrumpNow aims to significantly ramp up its user base in the UK and abroad and 'open source' public transport complaint data.
Where to find GrumpNow?
GrumpNow's website is www.grumpnow.com and the app can be found on Google Play and the App Store.
Related topics
Related organisations
Related people