Elizabeth line train's put through their paces
The Elizabeth line rolling stock fleet is currently undergoing a number of trials and tests ahead of being put into passenger service in May 2017. Howard Smith, Operations Director for the Elizabeth line at Transport for London (TfL), provides an insight that includes tests for extreme weather conditions.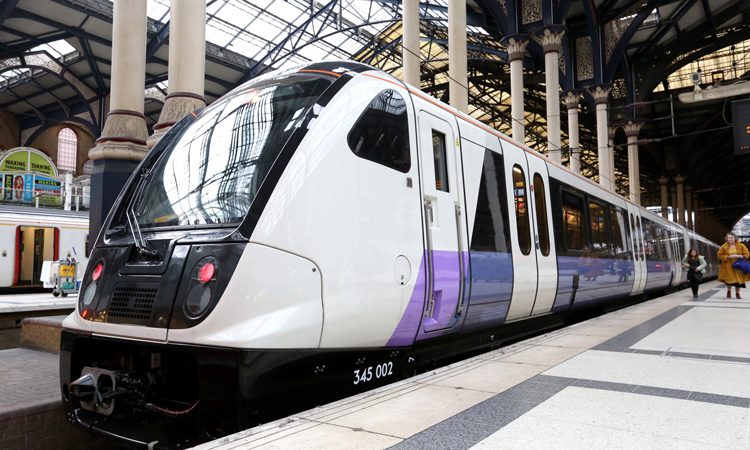 Stretching from Reading and Heathrow in the west across to Shenfield and Abbey Wood in the east, the Elizabeth line will transform the way people travel across London. Construction got underway in 2009 and is now over 80% complete with the central tunnels set to open in December 2018.
When the line opens through central London in December 2018 it will be called the Elizabeth line after the UK's longest serving monarch, who visited the new Bond Street station in February 2016 when it was still under construction. It will provide much needed extra capacity, carrying more than 200 million passengers each year. The railway will boost the UK economy by billions of pounds, supporting thousands of homes and creating new jobs countrywide.
Ultimately, the Elizabeth line will serve 40 fully-accessible stations, with up to 24 trains per hour in each direction, giving some 1.5 million people better access to the jobs and opportunities of London's main employment centres. As London's population continues to grow, it will be vital to the success of the Capital and provide major benefits to the UK economy.
Transport for London (TfL) will run the line using a fleet of 66 new trains that are being built by Bombardier at their factory in Derby. The Class 345 trains have been British-designed and built and are the first to be based on Bombardier's Aventra train.
From May 2017, the first brand-new Class 345 trains will enter passenger service between Liverpool Street and Shenfield, on the TfL Rail route which will become part of the Elizabeth line when the tunnels open.
The first set of Class 345 trains are being built with seven carriages at 160m-long and will be increased to 200m in length once tunnel operations commence. They will have full air-conditioning; walk-through carriages; a mix of longitudinal and bay seating; and four dedicated spaces for wheelchairs. There will also be CCTV; public address systems; and modern customer information displays offering real-time updates on other TfL services.
Putting trains through their paces
The first few trains have now successfully rolled-off the production line and are undergoing an intense schedule of testing.
In December 2016 the first test-train was delivered to the Ilford depot in East London. It is now undergoing overnight and daytime testing on the TfL Rail route between Liverpool Street and Shenfield. On 15 February 2017 it made its first daytime run into Liverpool Street station.
In addition to the train at Ilford, five further units are also being put through their paces. One train is at Network Rail's test track at Melton in Leicestershire and has now completed over 8,000km of running. The train has reached speeds of over 100mph, thought to be a new record for a TfL train.
In late-February 2016, a second train was delivered to London from Melton overnight. This train will be the first train passengers can board in May 2017, once the driver training is complete.
As well as the testing in London and Leicestershire, all of the trains are tested at the Bombardier site in Derby at their new 'V Shop' testing and commissioning facility. V Shop was opened in 2016 and can hold four 250m-long trains at a time for inspection, testing and maintenance. There is also a test track at the site for trains to do further dynamic testing. 
Testing on the full-length, nine-carriage trains will be undertaken on the western section of the Elizabeth line route later in 2017 before they enter service between London Paddington and Heathrow Airport.
Testing in extreme weather conditions
In late-2016, one carriage of a test train was transported to Austria from Bombardier's Derby production line to undergo three weeks of testing in a number of weather conditions in a special climatic wind tunnel with temperatures ranging from -25ºC up to +40ºC.
This is the first time that a Derby-built rail vehicle has gone to this facility in Vienna. The Rail Tec Arsenal facility is the only place in Europe that can carry out this level of testing on trains and is increasingly being used by the train testing industry.
Testing took place with data logging equipment and temperature sensors set up on the inside and outside of the carriage to check that the train systems still function in exceedingly hot or cold weather, beyond what they could ever expect to face in England.
Even with solar panels mounted on the walls of the test chamber blasting the train with sun-like rays at up to 1,000 watts per square metre on the roof and windows, the interior climate stayed at a comfortable level, which will be key for train crew and future customers.
The climatic wind tunnel produced wind speeds up to 110km/h blowing wind and snow, as well as simulating hot and foggy weather and sudden freezing and thawing conditions as trains will enter and leave tunnels.
The heating, ventilation and air-conditioning (HVAC) system; windscreen wipers and demister; train horns, doors and the traction motors were all subjected to these punishing conditions, and passed the test.
The economic boost that the railway will bring clearly demonstrates the power of investment in transport infrastructure. As the completion of the Elizabeth line draws near we must immediately turn our attention to building Crossrail 2 if we are to continue to meet the rapidly rising demand for travel across London and the South East.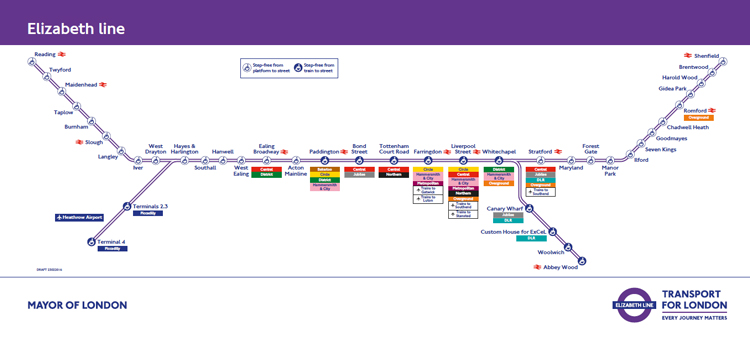 Timeline – Opening the Elizabeth line
May 2015
TfL Rail services opened between Liverpool Street Main Line and Shenfield.
May 2017
First new train enters passenger service between Liverpool Street Main Line and Shenfield.
May 2018
TfL Rail service opens between Paddington (National Rail) and Heathrow Terminal 4, replacing the existing Heathrow Connect service and part of the Great Western inner suburban service. First full-length, nine-carriage trains will run on the route.
December 2018
The Elizabeth line opens between Paddington and Abbey Wood; Liverpool Street to Shenfield; Paddington Main Line to Heathrow Terminal 4.
May 2019
The Elizabeth line through service extends from Shenfield to Paddington.
December 2019
The Elizabeth line is fully open, extending to Reading and Heathrow Terminal 4.
Biography

Howard Smith studied economics at LSE before managing train operations and stations in South and West London. In the 1990s he worked on Channel Tunnel services. Howard moved to London Rail as Chief Operating Officer at the end of 2004 with responsibility for operations as well as delivery of a £3 billion investment programme; creating London Overground and upgrades to the Docklands Light Railway (DLR) ready for the London 2012 Olympic and Paralympic Games. Howard was heavily involved in the planning and delivery of the Games. Following this, Howard joined Crossrail as Operations Director where he is responsible for the development of the Elizabeth line's operational and customer service strategy and defining the structure of the new railway's operating and maintenance organisations.