High-speed rail developments: Addressing the skills challenge
There is broad agreement in the UK that more must be done to position the rail industry as an attractive sector to work; offering a variety of roles suited to different skill types with scope to begin and build a long- term career. There is also recognition across the sector of an urgent need to diversify the sorts of people attracted to the industry so that the widest possible talent pool can be sought. This means engaging with a far greater number of women and people from under-represented backgrounds, as well as people qualified in technology or from other academic backgrounds, as much as those qualified in engineering. Director of High Speed Rail Industry Leaders (HSRIL) Ailie MacAdam addresses this skills challenge.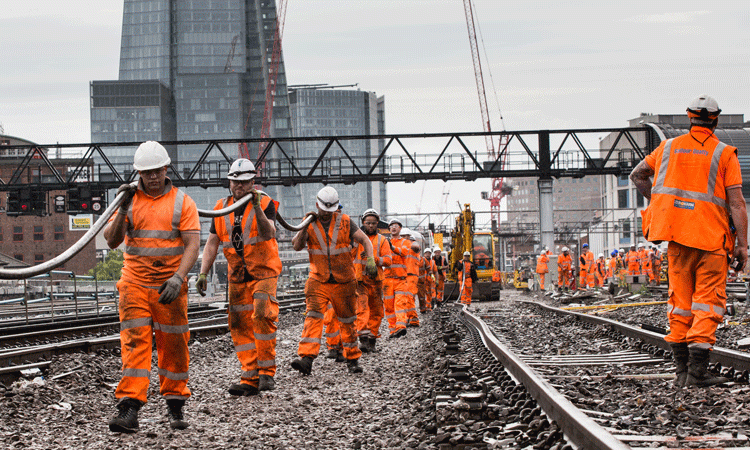 Credit: Network Rail
Over the past year the High Speed Rail Industry Leaders (HSRIL) group has published two reports – Poised to Deliver and Grasping the Opportunity – which explore both how the industry is ready and able to deliver large-scale schemes, as well as the economic and social opportunities presented by the High Speed 2 (HS2) project.
Both reports recognise that ensuring businesses have the right skills and resources is a fundamental part of delivering a project, with 25,000 people needed to work on HS2 at its peak, as well as thousands of apprentices. In recent months the Transport Industry Skills Strategy (TISS) and the Rail Supply Group (RSG) Sector Strategy have also highlighted this problem. It is not just about finding people with the right skill set but also those with a desire to develop a career in the UK, as the number of home-trained engineers choosing to pursue work overseas poses an ongoing challenge.
Exploring opportunities
Through fully engaging with projects like HS2 we can kick-start a renaissance in UK manufacturing and exporting and also invest in our skills base. In order to further discuss and finalise a clear industry-wide response to the skills challenge, as well as explore the opportunities that the HS2 project offers, HSRIL delivered a national conference in Birmingham in July 2016.
Attracting the Brightest and the Best brought together leaders from across the sector and right across the UK to explore how the industry could specifically address the skills shortage facing the rail industry. A series of speakers and panel-based sessions led the discussion providing an open and honest environment to explore the issue, as well as share best-practice.  A keynote speech from the former Secretary of State for Transport – Rt Hon Patrick McLoughlin MP – recognised that the HS2 project will not only improve connectivity and capacity, but also create thousands of jobs and be a major boast for jobs in the UK.
A session led by the Young Rail Professionals (YRP) proved to be particularly insightful, as they presented a number of ideas to make the industry more attractive to a wider and more diverse audience. The following four key ideas were put forward with the aim to transform the recruitment and retention process and are currently being considered across the industry:
Make rail exciting again, by promoting innovation and giving people the scope to explore new ideas
Take decisive steps to address the gender balance, through targeted schemes that encourage more women to enter the industry
Use new and groundbreaking methods to specifically target under-represented groups and those who would not previously have considered a career in rail
Promote rail to the next generation by using new technologies to make the work environment more flexible and fun.
As part of its ongoing commitment to the aims of the conference, HSRIL also announced a pledge to fund two higher apprenticeship places specific to the rail industry, targeted at those from low income backgrounds or individuals who may not have previously considered a career in rail. The initiative has been developed with the support of the National College for High Speed Rail (NCHSR), the National Skills Academy for Rail (NSAR) and Birmingham City Council (BCC). The group will also host a series of 'how to do my job' workshops aimed at parents, teachers, schools, colleges and young people, in order to build understanding about the roles and opportunities available in rail and create new advocates for the industry. The first workshop commences in Summer 2016.
It is important for organisations to look at ways to make it easier for people to access the rail industry via the apprenticeship route, as well as via universities. If we target people from a diverse range of backgrounds in this way, we will have a greater chance of addressing the skills gap and developing a wide range of expertise for the future.
Getting on track
High-speed rail is crucially important to Britain's future economic and social health and prosperity. Economically it will help rejuvenate towns and cities, interlinking businesses and markets and helping to re-balance our country. Socially it will create jobs across Britain, fostering innovation and skills amongst our current and future workforce while reaffirming our leading position in delivering cutting-edge infrastructure projects on the world stage.
The HS2 project specifically offers a unique opportunity to lead in the upskilling of the industry as a whole, through delivering secure contracts, supporting recruitment of talented people and ensuring long and varied careers for employees. Additionally, with the world class project likely to be the first of several in the UK over the coming years, our best engineers will no longer need to go abroad to find rewarding work.
The opportunity now exists, starting from the expected award of contracts to the start of construction in early-2017, to ensure the project benefits the nation as a whole and is used to deliver capability for the future.
High Speed Rail Industry Leaders
Its members have helped deliver major infrastructure projects in the UK and around the world, ranging from creating entirely new high-speed networks through to maintaining and improving the UK's existing rail network, giving a unique insight into both the shortcomings in the current network and the transformative capacity and connectivity benefits that high-speed rail can bring. Members collaborate to share expertise with the wider public to help to ensure that Britain's national high-speed rail network is delivered successfully to world class standards, leaving a lasting legacy for growth, jobs and skills.

As Managing Director, Europe & Africa of Bechtel, Ailie MacAdam is responsible for the business development, project execution, and profit and loss for all market sector work in the regions. During the 30 years she has worked for Bechtel, Ailie has led on major UK and US infrastructure projects, in addition to oil, gas and chemicals projects in Europe and Africa. Ailie brings to her current role an essential component – an award-winning, innovative background, with an excellent performance record of on-time delivery within budget whilst adhering to exemplary health and safety standards in engineering and project management on some of the world's largest projects. Her most recent roles include Managing Director – Rail for the Bechtel Infrastructure Global Business Unit (GBU); Project Director Crossrail; and Project Director High Speed 1. Ailie is also Director at High Speed Rail Industry Leaders (HSRIL).
Related topics
Related regions