Did you know that the average age of rolling stock in Great Britain is more than 20 years?
Rising passenger numbers, major capital investment projects and technological innovation are among many factors driving rolling stock growth.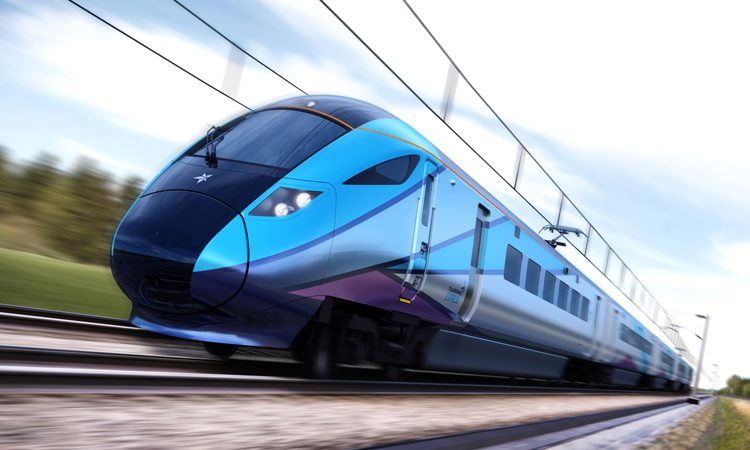 The average age of rolling stock1 in Great Britain has been edging upwards over the past decade – and for those who frequently travel in carriages that have seen better days, it's easy to believe it.
However, given the urgent need to boost rail capacity, as well as factors including technological innovation and rising passenger expectations, this is a progressive and exciting time for rolling stock. Orders are coming in thick and fast and so, the industry predicts, rolling stock's average age will start falling.
Paul Plummer, Chief Executive of the Rail Delivery Group (RDG), which represents Network Rail and train operators, last November told a rail industry conference in the city of Derby – one of Britain's rolling stock capitals, along with Newton Aycliffe, County Durham – that an average of 12 carriages per week are being built. He described this as a "far higher build-rate than just a few years ago", yet already since then the build-rate has increased to 17 carriages per week.
Looking to the years ahead, RDG Senior Media Officer Paul Prentice, said: "There are 4,500 new carriages expected to be in service on the UK network by the end of the decade. That amounts to a huge investment."
Olivier André, Commercial Director at Porterbrook, one of the three major rolling stock leasing companies in the UK, similarly said: "It's a story of growth but also a story of transformation – from diesel to electric trains."
Smorgasbord of activity
A perusal of large recent rolling stock orders gives a sense of the smorgasbord of activity.
One of the numerous orders confirmed since the RDG's table was published last November include Hitachi Rail Europe confirming that it will supply 19 five-car InterCity trains for FirstGroup's TransPennine Express2.
Looking ahead, High Speed 2 (HS2) obviously has the market particularly excited. The Department for Transport (DfT) published its 'Rolling Stock Perspective: Moving Britain Ahead' in July 2015 in which it says: 'HS2 Ltd continues to consult and engage worldwide with relevant rolling stock manufacturers to inform its procurement strategy. It is anticipated that the procurement will commence around the end of 2016 with high-speed services commencing in 2026'.
HS2 said that "market engagement for HS2 rolling stock will run throughout 2016". Specifically, Pre-Qualification Questionnaires (PQQs) for rolling stock are scheduled for Q2-2017; Invitations to Tender (ITT) for Q2-2018; and contracts awarded in Q4-2019.
Refurbishments looking good
It is important to point out that rolling stock refurbishments – as separate from new-builds – are an integral part of the story.
RDG's Prentice, commented: "A high-quality refurbishment can offer many of the benefits of a new train, at a considerably reduced cost, and at reduced cost to the fare-payer and taxpayer. The typical life-span of a passenger train is between 30 and 40 years, and a train might be refurbished and upgraded several times to meet the expectations of customers, for example, by recovering seats and installing real-time customer information systems."
The Department for Transport's 'Rolling Stock Perspective: Moving Britain Ahead' document (July 2015) makes a similar point, opining that 'good, high-quality refurbishment can deliver a passenger experience comparable with new rolling stock'.
Rupert Brennan Brown, Director of Derby-based engineering firm RVEL who also works as PR Consultant to the Rail Supply Group (formed in 2014), stated: "As well as offering better value-for-money, refurbishment of existing fleets also secures UK jobs in the burgeoning UK rolling stock after-market. Companies such as Wabtec, Knorr-Bremse, RVEL, Pullman Rail, Brodie Engineering and so on, undertake this work in UK facilities safeguarding British jobs as well as their own supply-chains."
He continues: "The shortage of UK rolling stock can be addressed providing that new trains result in a cascade of older fleets to other routes (rather than their withdrawal before they are life-expired). Clearly these 'mid-life' fleets will need refurbishment to the latest standards. Where refurbished trains have been introduced passengers often perceive them as new."
A refurbishment example is a project, known as 'Renatus', by Eversholt Rail Group for Abellio Greater Anglia and described by Eversholt as one of the largest refurbishment programmes ever.
Digital developments
As has already been alluded to, technological innovation is also driving rolling stock investment. From a passenger perspective this includes Wi-Fi and easy availability and access to electricity sockets.
The DfT's July 2015 publication references that 'the industry is moving towards being a digital railway and rolling stock must be a key part'. As examples it cites on-train intelligent services for track monitoring, maintenance self-diagnosis and regenerative breaking.
Rupert Brennan Brown, meanwhile, said: "Aside from safety systems, the most important technology being fitted to new/refurbished rolling stock is improved passenger information systems. Customers now expect these systems to be aboard their trains and free."
He also pointed out: "The biggest technological solution to the rolling stock shortage is the introduction of cab-based signalling (ETCS/ERTMS – European Train Control System/European Rail Traffic Management System) which will allow more trains to run on existing infrastructure. Network Rail is leading on the introduction of the system under its 'Digital Railway' programme."
RDG's Prentice concurred, telling us: "In terms of a future development, when deployed ETCS will probably be the most significant, allowing for capacity and performance benefits."
Another 'European' factor driving developments in rolling stock is highlighted by Porterbrook's Olivier André, who refers to EU requirements designed to benefit "persons of reduced mobility" (PRM) that will come into play in the UK on 1 January 2020. He tells European Railway Review: "PRM compliance means large investment is needed."
Political tensions
Inevitably, the international element to the rolling stock story is political in different ways.
In 2011 the DfT triggered a high-profile controversy by awarding a major Thameslink tender to Germany's Siemens ahead of Bombardier's Derby plant. The decision caused the city's paper to campaign to 'save train-building in Derby'. Fast forward to the present and Bombardier's Derby workers are working on mega-orders including Crossrail and London Overground.
The House of Commons Public Accounts Committee 18 months ago described it as 'extremely disappointing that Siemens will not be manufacturing the Thameslink carriages in the UK'. Committee Chair Margaret Hodge MP added that the DfT "must be more assertive in ensuring that the UK economy benefits from large public-sector capital investment programmes".
Brennan Brown observes: "Hitachi's decision to create a UK manufacturing facility at Newton Aycliffe [2015] is an acknowledgement that a UK presence can contribute to winning new train orders. This is encouraging and other manufacturers are taking notice, not least Alstom, which is exploring options for a proposed facility in Widnes."
International opportunities
However, rolling stock tenders will remain very much an international competition. Brennan Brown points out: "As well as the Thameslink fleet being built by Siemens in Germany, some of the new orders that have gone to Hitachi are being built in Japan and Italy. Also the [Spanish train maker] CAF trains ordered for the Caledonian Sleeper and new Northern Franchise will be built in Spain."
The international nature of the rolling stock business ensures it also featured in the UK Government's 'Review of the Balance of Competencies between the UK and the EU' (2012-2014). Its Transport sub-report says: 'Stakeholders consider that the expertise the UK [has] developed in rolling-stock leasing could be invaluable in exploiting gaps in other [EU] Member States' industries'. It continues that National Express had reported to the UK Embassy in Berlin that 'there was a real gap in the market for rolling stock companies (ROSCOs)'.
International opportunities were also referenced by Claire Perry MP, the Parliamentary Under-Secretary of State for Transport, in her Foreword to the industry's Long-Term Passenger Rolling Stock Strategy (published in March), pointing out that the InnoTrans fair in Berlin in September will enable UK firms to showcase their work internationally.
Money and numbers game
To address the question of what the future holds for the UK specifically, The Long-Term Passenger Rolling Stock Strategy gushes with data. This document estimates that Britain's train fleet could almost double by 2045 to meet growing passenger numbers. Specifically, it forecasts that growth of the national fleet will be between 51% and 99% over the next three decades.
It states that a train's average age is estimated to fall from 21 years to 16 years over the next five years; and the proportion of electrically-powered vehicles will rise from 70% to more than 90% by 2034.
The RSS's fourth edition also references that 'evidence has also emerged of some reductions in the costs of building and financing new rolling stock'.
Also, revealingly, the report suggests that those working in rolling stock could be in for an even busier future than is currently predicted, pointing out that 'forecasts for the number of new vehicles required have been revised upwards with each annual update of the RSS as additional commitments have been made by the TOCs, surpassing previous expectations'.
Reference:
ORR publishes tables for the average age of rolling stock by rail sector/train operator: dataportal.orr.gov.uk/browsereports/9