RSSB's role in helping to improve safety on the railways
Despite continual growth in usage, rail remains the safest form of land transport in the UK. George Bearfield, Director of System Safety at RSSB1 explains what the organisation is doing to improve safety on the rail network and its role in ensuring that the industry doesn't get complacent.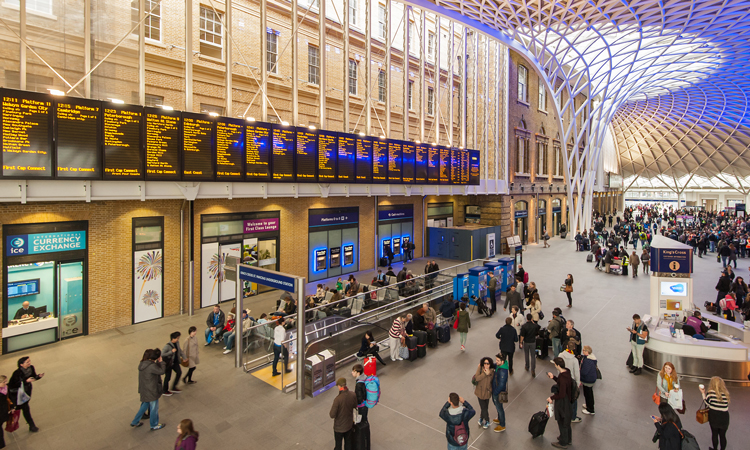 During 2014/2015 in the UK, slips, trips and falls in stations resulted in one fatality, nearly 200 major injuries and around 3,500 minor injuries
The UK rail industry's learning process began in its earliest days in 1840 with the first Railway Regulation Act establishing both a Railway Inspectorate and a requirement to report all injurious accidents to the Board of Trade. Within 50 years, block signalling, interlocking and continuous braking on passenger trains had been made mandatory.
The next century would see many more improvements made, ranging from continuous welded rail to automatic train protection systems – new technologies which often came out of the investigations.
The cycle of performance reporting has become essential to ensuring that this development continues. But whilst statistics show that the railway has got steadily safer over time, we know that good performance can breed complacency. It also makes it harder to spot trends and identify emerging issues, as there are fewer events to plot on charts.
To combat both these problems, RSSB tracks accident precursors – like signals passed at danger (SPADs) – and analyses risk (risk being a combination of the number of times something happens and its likely consequences). Together, RSSB's consideration of safety performance and risk helps the UK rail industry make informed judgements and take safe decisions.
2015 showed that despite continual growth in usage, our railway remains the safest form of land transport in the UK. The risk associated with train accidents resulting in passenger and workforce fatalities remains low, with last year marking no such accidents occurring for the seventh consecutive year in a row.
However, as an industry we know that there is no room for complacency and active prevention, monitoring, and learning all play a role. So what is the RSSB doing to improve safety on the rail network, and what is our role in ensuring that the industry doesn't get complacent?
RSSB (formerly known as the Rail Safety and Standards Board) was established in 2003 after the publication of the Review of Fatal Accident Inquiry Legislation report by Lord Cullen. We rely on our stakeholders trust to deliver tangible benefits for the industry, in our position as an expert, not-for-profit organisation which supports the rail industry to improve safety and performance.
We bring organisations together to help deliver clear benefits to passengers and businesses whilst providing value to the taxpayer. We have 68 members which include infrastructure companies, train and freight operators, rolling stock owners and suppliers to the industry.
Rail companies have to manage safety to comply with legislation and so they need access to reliable, high quality data to understand the nature of the issues they face. Likewise, funders and the regulator want to know that investment is leading to outputs and outcomes which reflect a well-performing railway, including its safety aims and an informed understanding of the risk.
Our members rely on us to produce the Annual Safety Performance Report (ASPR), the Learning from Operational Experience Annual Report (and associated regular reports and bulletins) as part of their evidence base for decision making. This is relied on by cross-industry groups to focus on the risk and avoid spending time, effort and money on areas that will yield little or no benefit.
The big picture is that 1.66 billion passenger journeys were recorded in 2014/2015 – a 4% increase from 2013/2014. There has been a 54% increase in passenger journeys, a 46% increase in passenger kilometres and an 8% increase in train kilometres over the past 10 years. Against these increases, the risks affecting those that travel or work for the railway have generally remained stable or have improved. This is the seventh year and the longest sustained period with no on-board passenger or workforce deaths in train accidents (derailments or collisions). Across Europe, Britain's safety performance for passengers, workforce and level crossing users ranks at, or near, the top.
This is all positive, but it is important to remember that you can have no accidents but still have risk present, and likewise situations where risk continues to be generally low even if a serious incident has occurred. Decisions about safety need to be risk-based and not based solely on past performance. Despite the fact that we have seen no passenger or workforce fatalities for eight years, we still continue to invest in their prevention.
So with such a substantial increase in passengers, what's happening to the risk they face as they use the railway?
In 2014-2015, there were three passenger fatalities. All occurred in stations, where the majority of fatalities occur at the platform-train interface. But thankfully these are not exactly everyday occurrences, and so we need to delve a little deeper into the numbers to understand the risk to passengers more generally.
A universal measure for harm and risk is 'fatality and weighted injury' (FWI). This is a way of measuring the level of harm or risk in a consistent way, by combining the fatalities, major injuries and minor injuries in one unit of measurement.
By way of example, a major injury – generally requiring more than 24 hours in hospital – is condensed to a tenth of a fatality. This is not equating these outcomes in any qualitative sense. It is done to provide a rational way of quantifying the total risk present.
By weighting non-fatal injuries by a lesser amount than fatalities, the industry can ensure that safety expenditure is directed in a consistent way; those accidents that have the potential for serious consequences are addressed, without ignoring the types of incident that generally have less severe outcomes.
When the number of non-fatal injuries is taken into account, the total level of harm occurring to passengers was 44.7 FWI, compared with 43.6 FWI for the previous year.
The area of slips and trips is particularly worthy of attention, as it is the main source of total harm to passengers, as measured in FWI. During 2014/2015, slips, trips and falls in stations resulted in one fatality, nearly 200 major injuries and around 3,500 minor injuries.
Over the last five years, the greatest proportion of harm from slips, trips and falls in stations occurred on stairs (37%), with platforms being the next most common location (27%).
Escalators typically contribute a lower level of harm but there are fewer escalators than stairs on the rail system. There has been one fatality resulting from a slip, trip or fall on an escalator in the last five years.
It's important to remember that the majority of incidents do not result in serious injury, and that those that do are still very small numbers in proportion to the 1.66 billion passenger journeys. But the rail industry still needs to manage the risk it faces. 
Opportunities for the railway to collaborate are structured usefully in a framework of cross-industry groups feeding into the RSSB Board. This includes the System Safety Risk Group (SSRG), which exists to understand the risk facing organisations with a legal duty to manage and cooperate on rail safety issues. The group identifies areas for improvement, facilitating collaboration across the industry including sharing good practice and horizon scanning to identify potential threats and opportunities.
The group includes representation from Network Rail, passenger train operators/ATOC, freight operators, infrastructure companies and on-track machine companies, suppliers, London Underground, rolling stock leasing companies as well as observers and associate members from the British Transport Police, the Office of Rail and Road (ORR) and trade unions.
Reporting into SSRG are a range of sector groups, project groups, regional/route-based groups as well as groups dedicated to specific risk areas. These groups provide the opportunity for industry to consider collective strategies for risk at stations, including slips, trips and falls. A key pillar is the Platform Train Interface Strategy published in early-2015, which while focussing on the risk from the gap between the platform and train, has also spawned benefits for broader station safety, such as slips and trips.
From the open reporting culture which we promote, the strategies we create and publish to the cross-industry groups we host; all of this culminates in our development of a solid evidence base for action and inspire cross-industry collaboration. From this we aim to help those that work or use the railway get home safe, every day, every year.
Reference
For further information about RSSB, please visit rssb.co.uk and connect on Twitter via @RSSB_rail
Biography

George Bearfield was appointed RSSB Director of System Safety in 2014. He is responsible for the analysis and reporting of GB rail's safety performance and risk, and for supporting the industry in all aspects of its safety management processes and capabilities. This understanding of risk helps the industry to manage safety in an evidence-based way. George joined RSSB in January 2006 and prior to this, worked for six years at Atkins Rail. His background is in the consultancy and railway supply sectors.