Connectivity: An important part of providing a high-quality travel experience
Nowadays passengers expect equally good levels of internet network access when onboard a train as they do at home. In Norway this is achieved by delivering a combination of onboard mobile repeaters and Wi-Fi solutions. For Global Railway Review, Øystein Risan, CEO and Linda Marie Venbakken, CFO at Norske tog AS, describe the work involved in deploying connected technology onboard Norway's rolling stock to ensure passengers' internet demands are met.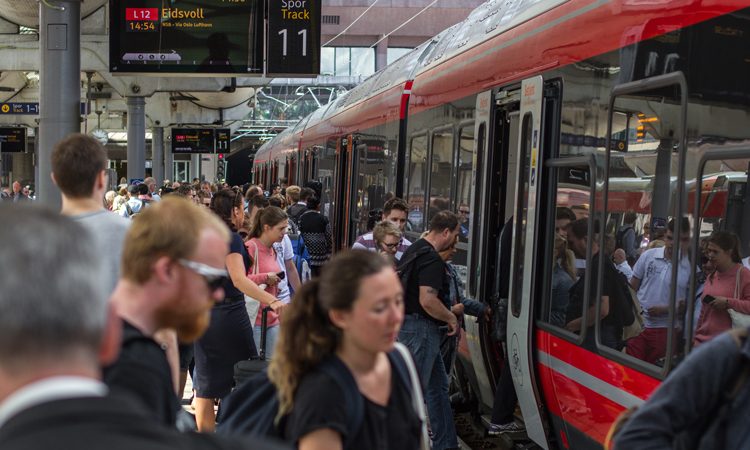 Glowing screens. Passengers deep in concentration. Silence. During morning hours, these are all common to witness onboard Norwegian commuter trains. Norwegians are substantial users of smartphones and mobile data, and just like many countries, we are used to carrying internet-enabled devices in our pockets. Consequently, we expect stable internet connections and access to digital services not only at home and at work, but everywhere we go.
Therefore, when onboard internet coverage is lost, the atmosphere in the commuter train quickly becomes uneasy. Unfortunately, this happens more often than Norwegian train passengers would like.
Establishing good internet access on any railway is no easy task, and that's especially true for Norway with its scattered settlements, high mountains and deep valleys; we have a total of 688 rail tunnels cutting through our landscape on 3,867km of railway lines. Although 4G coverage in Norway is generally good, analysis performed by Bane NOR – the state-owned rail infrastructure owner – showed that coverage along train tracks can be varied.
If we are to make travelling by train more appealing, then we must make it easy for people to access fast and reliable internet connections during their journey. The solution can be found in providing a high-quality mobile network along our tracks and deploying onboard technology that ensures stable networks inside our trains.
For passengers, a good travel experience depends on good network coverage, good data speed and a stable network (see Figure 1).
To obtain unbiased statistics on passenger experience, Norske tog AS is cooperating with Simula Research Laboratory who have developed measurement nodes that simulate passenger experience – a so-called 'passenger in a box'. The results from these measurement nodes show that in-journey coverage switches between 4G and older technologies, and lack of coverage is resulting in bad passenger experience. A particularly big challenge is that most Norwegian rail tunnels do not carry mobile coverage at all. Investing in tunnel coverage will require the development of mobile networks in places where there is currently no coverage at all (only GSM-R coverage for rail safety).
Furthermore, even if there is good network coverage along the train lines, it does not necessarily mean that the coverage inside the train will be equally as good.
Comfortable rolling stock can be a hindrance
Modern rolling stock is built with passenger comfort first and foremost: Car bodies that reduce noise and vibrations and high-quality windows that shield the sun and reduce heat loss. Manufacturing rolling stock this way positively increases passenger travelling comfort, but unfortunately reduces the strength of outside mobile signals entering the trains.
Today's advances in technology have enabled the following solutions to provide internet services onboard trains (see Figure 2):
Onboard repeater solution which amplifies the available signals provided by the telecom operators outside the train and send them out again as traditional mobile coverage inside the train
Wi-Fi solution where an indoor Wi-Fi system via several modems captures the coverage of the telecom operators outside the train and converts these signals to indoor Wi-Fi coverage
High-quality windows that do not lead to signal loss.
Speed goal: Minimum five megabits per second
As our mobile habits become more advanced, the websites we surf demand more bandwidth, requiring more data capacity and speed. But not all travellers know if using Wi-Fi or accessing the internet through their own mobile subscription via a mobile repeater is best.
Both solutions have strengths and weaknesses. We believe that the best solution is to provide coverage for passengers through a mobile repeater solution – this ensures there is enough mobile signal inside a train.
Wi-Fi is an advantage for passengers who have a limited amount of data in their subscription, devices without a SIM card or a subscription without roaming agreement in Norway. However, Wi-Fi networks often become their own enemy: The more passengers connected to the network, the slower and more unstable they can be. This of course does not create optimal customer experience.
Most Norwegian mobile telecom subscriptions include unlimited voice and SMS, and are priced depending on the amount of data included. Competition between telecoms operators has led to increased data packets and speeds and lower subscription prices.
Norske tog AS has a goal to offer travellers a net speed of at least five megabits per second on all Norwegian trains, enough to enable uninterrupted video streaming. To reach this goal, mobile repeaters must deliver enough capacity.
There is also a security advantage in using mobile repeaters. In a society where an increasing number of devices are connected to the internet, it is crucial to have control over who has access to data in the same network. Today an increased number of employers demand that their employees use secure networks rather than open networks – such as Wi-Fi on trains.
Train operators want customer interaction
Although Norske tog AS believes that mobile repeaters are the best solution, we also recognise that train operators want to offer their own Wi-Fi packages to their passengers. With increasing competition in the sector and a goal to increase customer loyalty, it is important for train operators to create customer touchpoints and to offer added value. Through Wi-Fi networks, the train operators can offer increased value in the form of accessing internet and content services such as movies, newspapers and games. Wi-Fi can also provide tourists with free internet access and route-specific content, without having to buy expensive telecoms roaming packages. Therefore, it is fair to say that Wi-Fi does have a future on Norwegian trains if they are financed and managed by the train operators themselves.
An estimated NOK 3.1 billion is required
Customer analyses carried out by NSB – the state-owned train operator – show that passengers are not satisfied with network coverage and therefore significant improvements must be made. Norwegian transport ministers have addressed the challenges several times in a bid to encourage more people to choose public transport.
The Ministry of Transport and Communications, in cooperation with leading mobile telecoms operators, have been working to upgrade the mobile network along train lines.
The Norwegian Railway Directorate recently recommended that a coverage strategy be put in place that involves deploying modern onboard repeater solutions, as well as improving coverage on the mobile telecoms operators' networks and in Bane NOR's rail tunnels. The strategy will be gradually implemented and coverage gaps in high-traffic areas will be prioritised. The coverage strategy has a cost-estimate of NOK 3.1 billion.
The Ministry has given Norske tog AS the task of renewing the onboard mobile repeaters and our Stadler FLIRT trains have been retrofitted with one 4G repeater to cover the entire trainset. This has already resulted in considerably better onboard coverage. The FLIRT trains that will be delivered from August 2019 will have upgraded mobile repeaters and Wi-Fi equipment. It is expected that the capacity of the mobile repeater solution will double, while the capacity of the Wi-Fi is estimated to increase four to six times compared to the current solution. Norske tog AS currently has a tender in the market for new onboard repeater systems for its older rolling stock.
The key is the mobile network
NSB invested early in free Wi-Fi access for passengers, therefore most of the rolling stock that Norske tog AS now own have Wi-Fi installed. But as Norway's telecoms operators prepare to shut down the 3G network and replace it with 4G technology, we will only come to benefit from more reliable and faster networks. And of course, we must also prepare for the rollout of 5G.
It is very clear that good network coverage makes travelling by train in Norway more attractive; if you do not want to enjoy the calm and the nice views outside!
Onboard the new FLIRT trainsets  
On-board repeaters:
Two four-band mobile repeaters (2×2 MIMO)
Wi-Fi:
Four CAT6 modems (three in the first trainsets)
Better antennas and modems (4×4 MIMO)
Access points upgraded to 802.11ac (Wi-Fi-5).
The Norwegian Railway Reform
Following the railway reform in 2016/2017, the Norwegian state-owned railway sector has undergone extensive reorganisation. Passenger train ownership was transferred from the state-owned train operator NSB to Norske tog AS as an independent company owned by the Ministry of Transport and Communications. The passenger trains are now rented out to train operators who win geographical bids – so-called 'traffic packages'. Recently, British company Go-Ahead won the bid for Sørlandsbanen, and several packages will be awarded over the next few years. The train operator is responsible for operation and maintenance of the vehicles they lease from Norske tog AS. The state-owned company Bane NOR is responsible for the infrastructure and signalling.
Biographies

Øystein Risan has a Civil Engineering Degree from the University of Glasgow and has been the CEO of Norske tog AS since September 2016. Øystein joined NSB in 1995 as a Consultant and was responsible for train drivers, conductors and transport management at NSB Persontog Drift (2002-2010); responsible for transport management, IT traffic and quality at NSB Persontog Trafikk (2010-2014); and Director of NSB Persontog Traffic and Planning (2015-2016).

Linda Marie Venbakken has been the CFO of Norske tog AS since October 2016. She joined NSB in 2005 and worked as Group Treasurer from 2006. Prior to working for NSB, Linda was at RBS plc in London as a Financial Controller in the Group Treasury Department. Linda has also worked as a Management Accountant for Kohn Pedersen Fox and Controller for King Sturge and studied Business Studies at the University of Westminster in London.