Smart tracks, drones, VR and much more at Infrabel's Digital Days
Infrabel – the Belgian railway infrastructure manager – recently hosted its 'Digital Days' event and welcomed more than 1,000 visitors to discover the latest digital technologies for the 'track of the future'. Carel Jonckheere, Infrabel's Digital Railway Programme Director, provides an overview of the event which immersed participants in live demonstrations on the use of drones, predictive maintenance, artificial intelligence and ultra-modern measuring trains.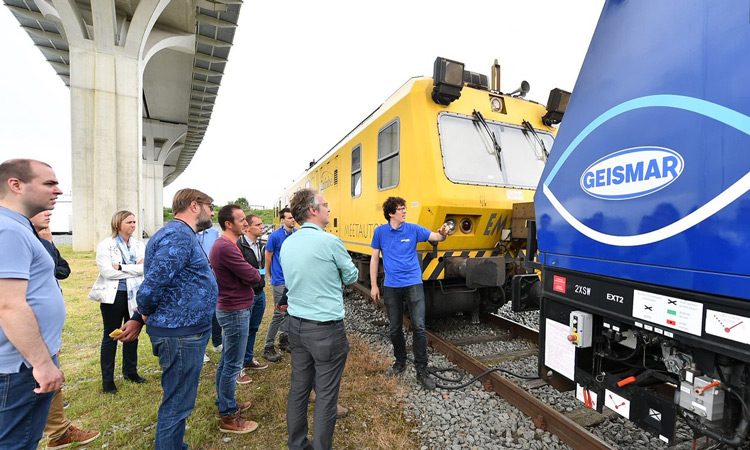 At a workshop in Schaerbeek on 3-4 June 2019, Infrabel's Digital Days event took place with 20 expo stands and live demonstrations to showcase all parts of our digital transformation programme which has been under way for several years at Infrabel, and which makes us one of the front runners in Europe.
Predictive maintenance for rail infrastructure using sensors and measuring trains
With big data, the Internet of Things (IoT) and cloud technology, the digital evolution and revolution is in full swing and can be felt across all industries around the world, not least the transport and mobility sector. The Belgian railway network is one of the busiest in Europe, with 6,500km of main track. There are 4,000 trains (passenger and goods trains) travelling around our country every day. To guarantee safe, reliable and punctual rail traffic for its customers, Infrabel must regularly check, maintain and, where necessary, renew its rail infrastructure.
Our Smarter M(aintenance) programme aims to deliver a more efficient and more targeted maintenance of the various parts (or assets) of the rail infrastructure. At the beginning of 2014, Infrabel began the digitalisation of the entire Belgian railway network with the Smart Railway project. We are making our rail infrastructure (switches, signals and level crossings) smarter by installing sensors everywhere. Special inspection trains equipped with sensors and measuring equipment are also used to identify the maintenance requirements of the rails and catenaries.
These measuring trains and sensors collect all the data in a central database. This information is sent through to the tablets of the technical teams on site. This helps them in their maintenance tasks and allows them to add data so that there is one big database containing all the relevant information about the most recent status of all rail assets. On this basis, we can predict when the rail infrastructure will need to be maintained and renewed. Thanks to this 'predictive maintenance' Infrabel can anticipate problems even before they occur and integrate this into the work programmes.
Smart Railway is one of the largest digitalisation projects in Belgium and Infrabel has been granted with several international awards for this project and is one of the European leaders in the field.
A variety of digital applications
The visitors at the Digital Days event had the opportunity to discover other digital applications such as:
The 'warehouse of the future' which will be managed by using new technologies such as automation and robotisation, and where warehousemen will receive their orders via a pair of virtual reality glasses
Drones are already being used to check rail infrastructure (GSM-R masts and engineering structures such as bridges, tunnels and catenaries) and in time – as legislation evolves – drones may possibly also be used for surveillance operations in the fight against cable theft
Cameras to detect potential trespassers and to take the necessary operational and safety measures in real-time
Smart watches for track interventions
Mobile applications for measurements and inspections
The design and management of technical plans.
Furthermore, we had two multifunctional trains on display at the event which were equipped with the most modern measuring systems:
The EM130 is an advanced measuring train that includes an innovative measuring and video system that controls switches automatically while moving, in a safe, quicker and more accurate manner
The EM201 is a multifunctional measuring car that specialises in catenaries and is equipped with visual detection systems to display and analyse the condition of the catenary.
Modern traffic management and technology to serve customers
Infrabel also pursues the digitalisation of another core activity. In 2016 we launched a modern and new traffic management system which 'follows' all rail traffic in real-time, giving automatic reliable predictions for each train journey and flags up possible conflicts on the track. This is carried out based on various data (type of train, rail infrastructure, authorised speed, scheduled works, etc.) and all the data is also sent through to the rail operators' IT systems for communication to the passengers.
This brings several applications and advantages and the new technology is part of our 'New Traffic Management' policy which sets out to evolve towards modern traffic management and a gradual concentration towards 10 modern traffic management centres.
Transparent Open Data policy: Part of the digital transformation
In April 2019, as part of the digital transformation and our commitment to full transparency, Infrabel launched a new website for Open Data. Currently, the 60 available data sets about the rail network (including tracks, level crossings, train paths, energy consumption, punctuality, etc.) are the first step in the development of Open Data within Infrabel. Over the coming months, more new and additional data will be published.
Digitalisation within all domains encourages an innovative company culture
Infrabel is not only digitalising its core activities but also its support processes such as Human Resources and financial policy. Administrative processes are being automated wherever possible. We are also making use of new technologies in the training of personnel. So, for example, the sentries (the personnel who monitor the safety of the maintenance teams during works) have been using a 3D simulator since 2017 to realistically simulate work situations on site allowing the sentries to practise.
The digital transformation within Infrabel is also a calling card and a major asset in the recruitment of new personnel: We are currently still looking for 300 new colleagues for 2019, especially in the technical 'bottleneck' jobs.
Digitalisation is thus contributing to a new and refined approach to activities within Infrabel. As a state-owned company, being open to the evolutions in society and implementing those in our day-to-day business is part of an innovative culture. By permanently looking for ways of improving its work processes and assets, Infrabel takes a rational approach to efficiently managing its means of production in order to also keep costs under control. This approach is not only profitable for Infrabel but also improves the safety and quality of the Belgian rail network for the benefit of customers and passengers.