Great infrastructure, great mobility, great Europe
Monika Heiming, Executive Director of the EIM, the European Rail Infrastructure Managers association, writes that the question is not if rail can play a crucial role in the future of transportation, but how and explores where the industry is now and what it should strive for.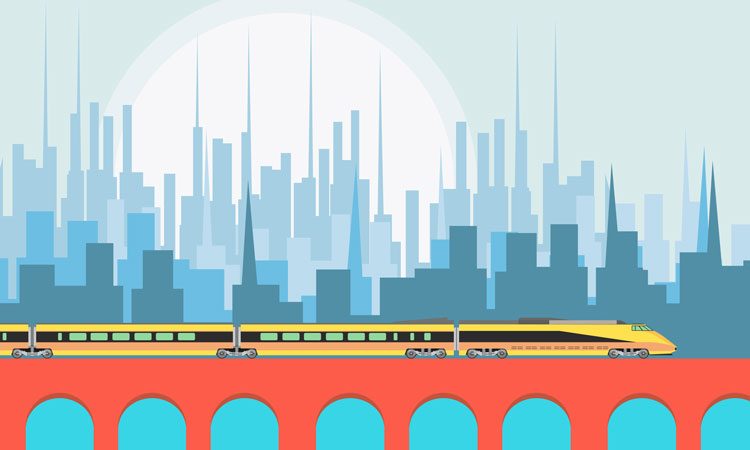 Transport and mobility of people and goods have become a key challenge all over the globe. There is a clear ambition to move more, longer and faster and to make rail the preferred option for travelling distances up to 800km, at least in the EU. But ubiquitous mobility has limiting factors and causes consequences for our societies and the planet. They must be managed carefully to keep our world liveable for us in the future.
The main limiting factor is the space available, at least in agglomerations. Whereas we could afford, in the past, transport systems competing with each other in the same area, we now need to consider inefficient use of space as an unacceptable waste of resources. With growing environmental responsibility we might soon see 'jam-shaming', recognising that an average 1:1 car seat occupancy in rush hours is the reason for the inefficient transport citizens complain about.
The same goes for the other consequences of endless mobility: We consume unseen amounts of energy and we stuff our environment with vehicles, emissions, noise, litter and side effects such as accidents for example.
As widely recognised, the only solution in perspective for responsible and efficient use of all resources for transport (including time) is the intelligent connection of the transport modes (multimodality), all serving at the place where they are naturally strong and delivering wider economic and social benefits. But we also need to prepare them for new important boundary conditions: Growing climate extremes, increased individualisation, connectivity to everybody and everything at any time as standard expectation. We face an ageing society and a gradient between regions and cities, but also potential geopolitical threats for the EU territory.
EU policymakers have clearly understood the challenges and have set the objectives of a sustainable, zero-emission EU by 2050, a physically and digitally connected EU, a protecting EU also ensuring military mobility, and a competitive EU to meet the challenges by cutting-edge innovation. All transport modes must contribute to these objectives in the future.
The question is not if rail can play a role but how in this future context. Rail's inherent environmental advantages, coupled with a high safety record, forms an integral part of the EU transport system.
The challenge is now to define what is needed to ensure rail delivers the expectations of all relevant stakeholders.
What we must do
Undoubtedly the backbone of all transport is infrastructure. Rail infrastructure is the conditio sine qua non for train operations. It connects ports, terminals, hubs, stations and parts of the rail infrastructure form pan-European networks (TEN-T) and rail freight corridors (RFCs) which are meant to cater for civil (passenger and freight) and military trains alike in the future. This will require rail infrastructure managers to invest in their physical but also digital assets.
By the same token, infrastructure capacity has become an increasingly rare asset with more and more bottlenecks to be removed (such as in stations, wherever possible) as they determine network performance. To allow for seamless network planning and operations, the European Commission is eager to make national rail infrastructure management more European and to allow for a corridor-related infrastructure governance structure.
What we must rethink is the main objective for rail infrastructure. As part of a connected system, rail infrastructure must be first and foremost highly reliable. All benefits derive from this main key feature: Only a reliable rail infrastructure is performing efficiently, operating cost-efficiently and in a safe and green manner. Reliability enables rail infrastructure to be a strong actor in the entire transport chain. Hence, the future tasks for rail infrastructure managers will be to invest further in strong contingency and crisis management, avoid variations in performance while ensuring stable operative earnings and refinancing of their CAPEX (capital expenditures) via digitalisation and innovation.
We need to focus on European rail infrastructure management in all phases (design, build and operate) to enable the system to operate under all potential conditions. This includes a design for robustness and protection against manipulation, built-in interoperability, easy maintainability and upgradeability, and smart and flexible operation, using all possibilities offered by modern IT. The necessary CAPEX will allow for highest availability and therefore lowest OPEX (operational expenditures), achieving finally optimised, lowest lifecycle costs (LCC).
The key elements for answering these requirements are:
Robustness
Design of the different components for extremely low MTBF (mean time between failure) and capacity increase as e.g. via ETCS (European Train Control System) Level 3; ensuring a permanent communication possibility of trains, passengers and goods during the trip, e.g. via 5G communication. Resilience against adverse weather conditions (storms, heat, flooding, etc.) including reinforcement of identified weak network points (physical and communicational) is key to prevent sudden infra failures due to such events.
Protection against manipulation
Besides the purely physical robustness and attack-resistance, appropriate cyber-security will be key for avoiding large-scale shutdowns or even accidents.
Built-in interoperability
Off-site testing procedures before deploying assets in-situ, especially for CCS (Command Control and Signalling) elements, such as ETCS, allowing for immediate operation without interoperability surprises.
Maintainability and upgradeability
As far as possible modularity and standardisation for civil engineering assets (e.g. bridges) and for CCS components (ERTMS/ ETCS), allowing for a broader supplier basis, quick exchange and flexible spare parts supply. ETCS especially needs to become upwards and downwards compatible in order to operate it across various installed versions. Future digital interlocking generations need to offer the same 'future-proof' properties. Assets condition must be permanently and remotely monitored (as precondition for condition-based and, later, predictive maintenance) to avoid sudden breakdowns and to minimise MTTR (mean time to repair).
Smart and flexible operation
Largely IT-supported, potentially AI-supported, smart train scheduling and routing (also for corridor management/coordination) in an ERTMS in its final status as real traffic management system; disruption preparedness by well-trained contingency/perturbation recovery plans.
All the above must be supported by minimising further existing environmental impacts of infrastructure by, for example, the use of non-toxic substances for maintenance and vegetation control, measures for minimising noise emissions and other externalities.
Supporting measures
The aforementioned measures require an appropriate railway infrastructure manager able to finance at least its CAPEX. Safeguarding the financial equilibrium of the rail infrastructure manager via adequate national and EU funding, charging and private funding rules are indispensable to make the current rail system fit for the future.
The necessary funding will be balanced off by lower overall LCC and by reduced external costs. Overall, a modern, state-of-the-art rail infrastructure manager generates added value on micro- and macro-economic levels and contributes to making the EU a competitive economic area for its societies and the environment: A great infrastructure for great mobility for a great Europe.
Biography

Monika Heiming has been Executive Director of EIM since October 2011. Monika has been active in Brussels as a lobbyist and manager of international associations and groupings for several years. She studied languages at the University of Cologne, and holds a Master's degree in European Management from the University Faculties in Brussels and an Executive MBA from the Belgian Solvay Business School. Among her previous experiences, Monika helped develop the UNIFE association in Brussels from 1993 to 1997. She also managed and marketed the engineering activities of European engineering group Europengineers EEIG from 1999 to 2004, before being made Secretary-General of ERFA in January 2005.