International Level Crossing Awareness Day (ILCAD) 10th June 2021 (online event)
Date: 10 June 2021
Website: www.ilcad.org
Network Rail and the International Union of Railways (UIC) are pleased to be co-organising an online international conference to launch the 13th International Level Crossing Awareness Day (ILCAD) on 10 June 2021.
This conference attracts railway industry representatives, road authorities, academics, and many others from around the world who are working to raise awareness about the dangers surrounding level crossings.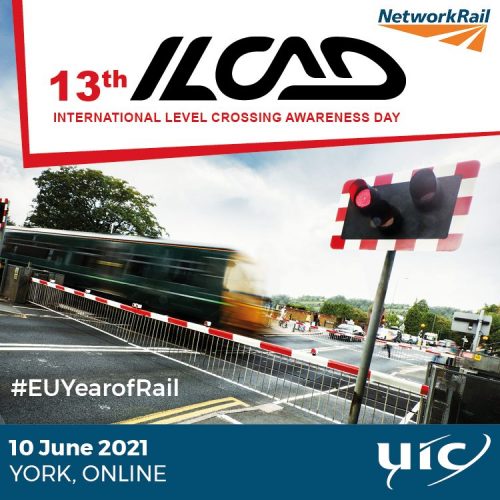 The ILCAD 2021 theme is 'Distraction' with the motto 'Distraction kills!'
The themes of the remote 2021 launch conference are:
Technology – What technologies could help to educate people, raise awareness, and ultimately prevent accidents at level crossings?
Distractions – We live in an age of multi-tasking, with distractions coming from smartphones, video games, and other electronic gadgets, as well as stress, fatigue and other factors. One might be also distracted because of an appointment to respect, kids to pick up at school, a train to catch. What new initiatives are there to counter ubiquitous distractions?
Enforcement/Regulations – Joint initiatives of the railways, with local authorities, police forces to encourage people to respect the highway code
Community outreach – What are the best means of making people aware of the safety risks at crossings?