First stage of electrification work completed on time
Network Rail has completed the first stage of work to electrify the railway between Manchester Victoria & Liverpool Lime Street…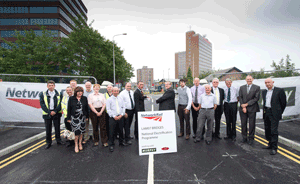 The first bridge to be rebuilt so that overhead power lines can be installed on the railway below. centre left Paul Buchanan, project manager, J Murphy & Son Ltd, centre right - Cllr David Lancaster, deputy leader, Salford City Council
Network Rail has completed the first stage of work to electrify the railway between Manchester Victoria and Liverpool Lime Street, following a £3m investment to rebuild three bridges between Eccles and Patricroft stations.
Albert Street bridge has reopened after a 20 week closure, with Old Wellington Road and Chadwick's footbridge expected to reopen in the next few days. This marks the completion of early work to modify key structures along the railway in the Salford area before overhead power cables are installed next year.
Electrifying key rail routes across the north west will deliver more reliable journeys for thousands of passengers with much needed additional capacity. It will allow diesel trains to be replaced by much cleaner and quieter electric trains, helping improve air quality in pollution hot spots such as city centres.
Jo Kaye, Network Rail's route director, said: "Electrification presents a huge opportunity and is vital for Britain's long-term, low-carbon economic growth. The opening of Albert Street bridge marks the first major step in a programme of work that will improve rail links across the north west, better connecting our towns and cities."
Work to the bridge has been carried out in consultation with Salford City Council and Urban Vision.
Councillor Charlie McIntyre, Salford City Council's executive support member for planning said: "This is a key route that links Salford with Manchester and Liverpool and I'm pleased to see the completion of the work which will improve journeys for people across the region."
Network Rail is still at an early stage with the electrification project and over the next few months will be holding exhibition road shows along the route so that passengers and local residents can find out more about the investment. Further information about this will be announced over the coming weeks.
Work to electrify the railway between Manchester and Liverpool via Newton-le-Willows, is expected to be completed by 2014, with the wider programme of work across the North West to be delivered by 2016.
Related organisations
Related people