Russian Railways place two orders with Siemens and partners
Russian Railways (RZD) have placed an order for further Desiro RUS type regional trains with Train Technologies…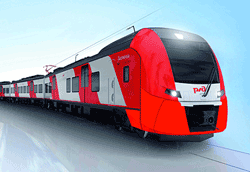 The Siemens Desiro RUS type trains for regional rail service can operate at a top speed of up to 160 km/h. In Russia, they go by the name of Lastochka ("Little Swallow"). The first units are due to enter service in Sochi in autumn 2013 (photograph shows a design study).
Russian Railways (RZD) have placed an order for further Desiro RUS type regional trains with Train Technologies, a joint venture of Siemens and the Russian rail technology manufacturer Sinara.
The order, for which a preliminary contract was signed in June of this year, is for the delivery of 1,200 cars and is worth about two billion euros. Production in the Ural Locomotives factory near Yekaterinburg is due to begin in 2013. RZD has also awarded Siemens a 40-year maintenance contract, effective 2013 and covering a total of 54 trains of the same type that RZD had already ordered in 2009 and 2010. This maintenance contract is worth around 500 million euros. The relevant agreements were signed by Peter Löscher, Siemens CEO, Vladimir Yakunin, RZD President, and Dmitriy Pumpyanskiy, President of the Sinara Group, at the international rail business forum "Expo 1520" in Shcherbinka near Moscow.
Starting in 2013, the 1,200 new cars ordered by RZD for the Desiro RUS type regional train are to be built in the Ural Locomotives plant near Yekaterinburg, where Siemens has been manufacturing electric freight locomotives since 2010 under the terms of a joint venture. "In all, we shall be investing more than 200 million euros in the Desiro production setup – in modern buildings, machine tools and personnel training," said Siemens CEO Peter Löscher. "Siemens is the most successful non-Russian supplier of railway technology in that country. By localizing production activities, we are strengthening this market position and securing our close ties with the Russian railway industry." Hans-Jörg Grundmann, CEO of the Siemens Mobility Division, added, "The trains will be delivered in the period from 2015 to 2020 and deployed above all in Russia's rapidly growing metropolitan regions. This order clearly shows that conurbations are a huge growth market. Studies forecast that worldwide around five trillion euros will be invested in urban transportation systems by 2035." With the latest order for nearly 300 Desiro trains, Russia is creating the basis for modern and eco-friendly urban transportation for the future.
These new regional trains will offer enhanced comfort for the passengers and the train personnel alike. Besides that, compared to the trains currently operating in Russia, the new Siemens trains will consume roughly 30 percent less energy. Going by the name of Lastochka ("Little Swallow") at RZD, the Desiro RUS can operate at a top speed of up to 160 km/h. The vehicle is a development of the Desiro ML and has been specially adapted to the demands of the Russian market. This means not only resistance to temperatures as low as -40° Celsius, but also carbodies and bogies that are built for 1520-millimeter broad gauge track.
Siemens takes over maintenance of Russian regional trains for 40 years
The first 38 Desiro trains were ordered by RZD back in 2009. They have been in production at the Siemens plant in Krefeld-Uerdingen, Germany since April 2011. Another 16 were then ordered by RZD at the trade fair for transport technology "InnoTrans" in September 2010. As of the end of 2012, this second batch of trains will be manufactured with increasing localization in Yekaterinburg. And starting in 2013, Siemens will take over the maintenance of a total of 54 vehicles for the period of 40 years. The depots in Adler near Sochi and in Moscow and also the maintenance personnel will be made available by RZD, while Siemens will be responsible, among other things, for the management of the service work, for the logistics and for the supply of spare parts. The 40-year contract includes preventive maintenance of the Desiro RUS – involving activities such as checking the brake and passenger comfort systems – and all inspections which have to be conducted at different intervals. In peak-load periods, as many as 80 people will be working on the trains in both depots.
Since 2009, Siemens has been responsible for maintenance of the eight Velaro RUS type high-speed trains known as Sapsan ("Peregrine Falcon"). The availability of this fleet – in some cases even under extreme climatic conditions – is consistently above 98 percent. The Desiro RUS should achieve equally first-class availability results. The first units are due to enter revenue passenger service in Sochi in autumn 2013. Then, in February 2014, they will transport the athletes and spectators quickly and safely to the competition sites in the mountains for the Olympic Winter Games. To do this, the trains will have to negotiate gradients on certain line sections that are as steep as four percent. And the trains are already slated to provide service for the FIFA World Cup 2018 in Russia.
The Desiro RUS is part of Siemens' green portfolio, which enabled the company to post revenues of approximately 28 billion euros in fiscal 2010. This makes Siemens the world's biggest supplier of environmentally friendly rail technology. In that same period, Siemens customers using those kinds of products and solutions were able to cut their carbon dioxide emissions by 270 million metric tons, which equals the CO2 produced annually by Delhi, Hong Kong, London, New York, Singapore and Tokyo together.
Related organisations
Related people