Sir Richard Branson's vision for UK rail
Sir Richard Branson, Founder of the Virgin Group, has set out his vision for continuing growth for rail travel in the UK and potentially overseas…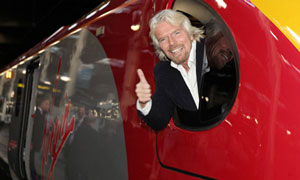 Sir Richard Branson: "Bids should be a beauty parade of innovation and quality and not simply judged on bottom line results."
Sir Richard Branson, Founder of the Virgin Group, today (7 December 2011) set out his vision for continuing growth for rail travel in the UK and potentially overseas as Virgin Trains welcomed record numbers of passengers. Sir Richard joined staff and customers in a celebration at Euston station.
Virgin Trains is expected to carry 30 million customers in the current year, more than double the number seven years ago.
Sir Richard said that innovation and quality had been key drivers in growing passenger numbers on West Coast and made clear that a strong bid would be submitted when the franchise comes up for renewal in 2012. "Bids should be a beauty parade of innovation and quality and not simply judged on bottom line results. If you just go for the bottom line you will have the cheapest of everything and that's not what people want. We are waiting to see whether the new franchise will be based purely on the bottom line, but are hopeful that the Government will be taking innovative ideas into account."
Sir Richard was speaking alongside Sir Brian Souter, Chief Executive of Stagecoach Group, Patrick Kron, Chairman and Chief Executive of Alstom, and Tony Collins, Chief Executive Officer of Virgin Rail Group.
Asked about plans for UK High Speed rail Sir Richard said there were many good points about HS2 and that Virgin would like to be involved in discussions about developing plans for urgently needed extra capacity. Tony Collins added: "We desperately need extra capacity in the rail network and anything that gives us that extra capacity has to be a good thing." He added that to be a success a new High Speed route would need to be connected to the existing network.
Sir Richard said there were potential opportunities overseas, where other Governments had seen the success of Britain's railways and were currently looking at opportunities to involve the private sector.
Alstom's Patrick Kron praised Virgin Trains for helping his organisation change from an engineering into a full service company. He went on to say that Alstom always uses Virgin Trains as the showcase for other potential customers. "I'm proud of the fact that other operators from around the World visit our UK operations to see how we work together with Virgin," he said.