SBB reflects on the impact of the pandemic on its business during 2020
Over the course of 2020, SBB experienced losses of 1.32 million passengers per day and a decrease of 28.9 per cent in passenger revenues.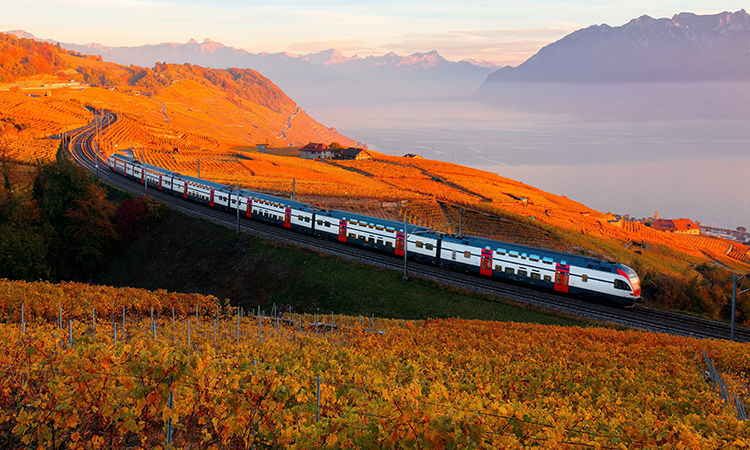 Swiss Federal Railways (SBB) has looked back on an extremely challenging year; after a good start to 2020, the coronavirus pandemic hit SBB very hard.
An average of 843,000 passengers were transported per day – more than a third less than in 2019, representing 1.32 million passengers lost per day. Passenger kilometres fell by 40.6 per cent – in long-distance traffic, they dropped by 43.7 per cent and in regional traffic, by 32.4 per cent.
The sharp drop was due the measures imposed by authorities to combat the pandemic: many commuters worked from home, while leisure passengers from Switzerland and abroad also travelled significantly less because of travel restrictions.
For international passenger traffic, demand fell even more sharply – by 51.2 per cent in passenger kilometres compared to 2019 due to the travel restrictions and reductions in services.
In addition, fewer passengers and the imposed closure of shops led to a sharp decline in customers at stations – a third less than in 2019 overall.
In 2020, the same number of passengers held a Half Fare Travelcard as in 2019, 2.72 million in total. By contrast, 439,000 people still held a GA Travelcard, 12.2 per cent fewer than in 2019 (500,000). Significantly, more than half of all tickets were purchased via the SBB.ch and SBB Mobile digital sales channels (61.4 per cent compared to 52.8 per cent in the previous year).
A very tense economic situation
The decline in demand has had severe financial consequences; compared to 2019, there were lower passenger revenues (a decrease of 28.9 per cent); lower third-party revenues in stations (a decrease of 26.8 per cent); lower train path revenues for infrastructure (a decrease of 12.1 per cent); and less freight transport (a decrease of 2.4 per cent in freight tonne kilometres).
During the national lockdown, SBB waived or reduced rents and, together with the public transport industry, implemented extensive goodwill measures for travelcard customers.
All of this is reflected in the consolidated result of a loss of CHF 617 million (compared to an increase of CHF463 million in 2019). It is the biggest loss since SBB was extracted from federal administration and became a public limited company. Despite the very tense financial situation, SBB wants to keep ticket prices stable and, thus, ensure the attractiveness of public transport.
The interest-bearing net indebtedness increased by CHF 1.5 billion. Due to the low operating cash flow (Earnings Before Interest, Taxes, Depreciation and Amortisation (EBITDA)) and the increased debt, SBB's debt coverage ratio is 21:6 and, thus, clearly above the maximum limit of 6:5 required by the Swiss Confederation.
Cost-cutting measures and support from the Swiss Confederation and Cantons
In spring 2020, SBB reacted to the revenue shortfalls with cost-cutting measures, such as a hiring freeze or similar restrictions in administration; the reduction of flexitime and holiday credit; and the postponement or cancellation of projects and investments. These measures saved hundreds of millions of Swiss francs. The operation of rail services and safety are not affected by the cost-cutting measures.
To safeguard solvency, the Swiss Confederation has increased SBB's credit limit by CHF 550 million. In addition, in the second half of 2020, the Swiss Confederation and Parliament approved support for public transport in order to cushion the coronavirus-related revenue losses for transport companies in the areas of infrastructure and regional traffic eligible for compensation, as well as in freight transport. In its own commercial areas of long-distance traffic and real estate, SBB has to bear revenue losses itself.
Customers are satisfied with SBB's quality
With the provisionally reduced service offer, SBB implemented four timetable changes in 2020, a feat of strength by its employees. SBB continued to work intensively on the quality of its services under difficult conditions. The opening of the Ceneri Base Tunnel concluded the "New Rail Link through the Alps" (NRLA) – a historic moment for Switzerland and for Europe.
Safety, punctuality, customer satisfaction and image (2020: 66.6 points, 2019: 64.7 points) have also improved. SBB recorded fewer occupational, shunting and train accidents in 2020 than in 2019. Customer punctuality was 93.4 per cent (2019: 90.6 per cent) and train punctuality 95.7 per cent (2019: 94.2 per cent). Cargo consignment punctuality also improved compared to 2019 (2020: 93.5 per cent, 2019: 91.9 per cent). In addition to lower demand, improved construction site planning had a positive effect on punctuality.
At 76.3 points, overall customer satisfaction is higher than in 2019 ( an increase of 0.5 percentage points). Customer satisfaction has improved in passenger traffic (an increase of 1.5 percentage points), as well as in stations (an increase of 1.0 percentage points). However, the satisfaction of freight traffic customers decreased (a decrease of 3.4 percentage points).
Staff satisfaction (2020: 70 per cent, 2019: 66 per cent) and staff motivation (2020: 77 per cent, 2019: 73 per cent) for SBB employees have increased compared to 2019, as has the number of full-time employees (2020: 33,498, 2019: 32,535).
The shortage of skilled workers increased in 2020 because of the pandemic. Train connections were cancelled due to a shortage of locomotive staff, for which SBB apologises. From mid-2021, the situation will ease, as training classes are currently full. Locomotive drivers will be trained for more routes and more vehicle types in the future, which will increase flexibility.
SBB continues to focus on quality while the financial situation remains very tense
In 2021, SBB will continue to focus on quality for its customers. Timetable stability and better construction site planning remain key. SBB is investing in its core business, in particular, in new rolling stock.
SBB's financial situation will remain constricted in the coming years, but the operator will consistently continue to implement cost-cutting measures and raise cost awareness at all levels.
Demand will pick up again after the crisis, and SBB is preparing for it. Mobility remains a basic requirement for professional and social life, and climate-friendly rail remains a popular means of transport. SBB will, therefore, continue to strengthen its environmental advantage; with its goal of becoming climate-neutral by 2030, and with the modal shift from road to rail, SBB is making a significant contribution to achieving the Swiss Confederation's climate targets.
Related organisations
Related regions