CFL awards contract to Thales for advanced Driver Advisory System
By upgrading to an advanced Driver Advisory System, Thales will enable CFL to pave the way to automatic train operations.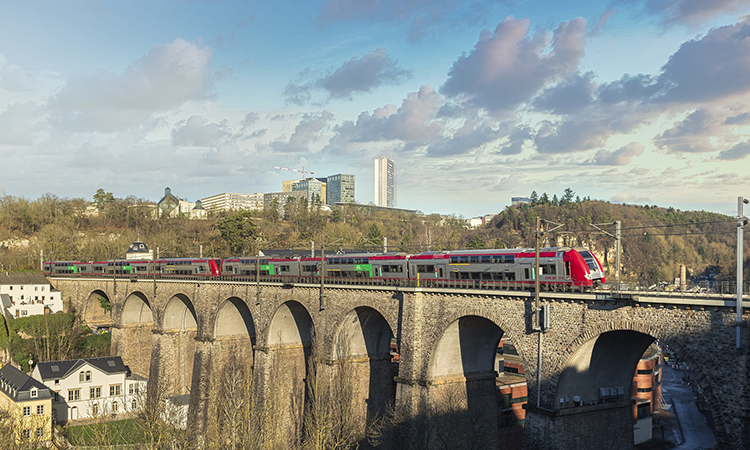 Credit: Thales
The CFL ambition is to deliver a safe, innovative, high quality performing railway service to ensure customer satisfaction, as well as delivering economic and ecological benefits to the Grand Duchy of Luxembourg and cross border operations. CFL has a history of innovative approaches – with Luxembourg being the first country to offer free public transport – and now, via GreenSpeed™, is paving the way to automatic train operations. 
For many years, Thales has been providing safe and reliable signalling solutions to CFL, and recently concluded a fifth Framework Contract. Branded as 'Digital Transformation', CFL strives to continuously improve the operation of its network by evolving in close collaboration with industry peers. Subsequently, CFL has awarded Thales the contract to upgrade the Thales Traffic Management System, ARAMIS™, with the Aramis C-DAS module – powered by GreenSpeed™. 
The Thales Driver Advisory System (C-DAS), known as GreenSpeed™, is an advanced Driver Advisory System developed according to industry standards, such as SFERA, to favour interoperability while laying down stepping stones for Autonomous Train Operations (ATO). 
GreenSpeed™ provides unparalleled operational excellence by closely linking the existing traffic management within ARAMIS to the real time situation of the users of the network. Respecting schedules and timing points, the optimal speed profile is presented to the train drivers as simple to follow advice in an intuitive and customised interface.
The algorithm-based driving advice ensures improved punctuality and reduced energy consumption, as well as reduced maintenance cost. It is important for both passengers and train operators to save energy and reduce CO2 emissions, and the ARAMIS C-DAS module is a great way to ensure that those expectations are met. 
In addition to delivering driving advice, the ARAMIS C-DAS module collects journey data such as speed, position and estimated time of arrival (ETA). This data is available in OCC and in ARAMIS C-DAS BackOffice to provide a framework for streamlining the entire traffic operation by analysing and identifying suboptimal conditions. This leads to further commercial improvements by optimising timetables, dwell times and timing points on an informed basis and brings valuable understanding of driver performance. 
"CFL is pleased to be working with Thales, as we expect the ARAMIS C-DAS module to contribute to our efforts in continuous improvement and customer satisfaction. With regards to rail operation, the ARAMIS C-DAS module represents an additional milestone that will enable us to deepen our efforts in punctuality improvement and energy efficiency. This system may also act as a catalyst in the context of CFL's ATO implementation," said Henri Werdel, CFL's Director of Infrastructure Management.
The C-DAS works together with ARAMIS™ to optimise the traffic flow and to provide the ideal speed curve, ensuring strict adherence to the timetable and thereby providing a smooth journey, which is energy efficient, as the C-DAS ensures punctuality with the least amount of traction energy used. 
"By deploying ARAMIS C-DAS, CFL is acquiring a future proof, standards-based system that paves the way to an ATO operation. Furthermore, the deployment of the C-DAS will enable CFL to optimise their current infrastructure usage, providing customer satisfaction via a smooth and punctual service and its stakeholders by delivering energy efficiency and reduced CO2 emissions," said Dr. Yves Joannic, Managing Director of Thales Main Line Signalling.