REFER achieves goal for accident reduction at level crossings before established date
Since 1999 the number of accidents has been reduced by 84%…

Safety at level crossings (LC) is one of REFER's main priorities as regards railway safety.
Using the framework set out by Portuguese legislation in this matter, published in 1999, REFER put into practice a strategy focusing on accident reduction.
Starting with 2.494 LC, 154 accidents and 26 fatalities in 1999, medium/long term objectives were established.
Accordingly, in 2006, in the "Strategic guidelines for the railway sector", a reduction of 60% in the number of accidents at LC was set by the Portuguese Government as the goal for 2015, based on the 72 accidents which occurred in 2005.
On 25th of June 2009, on the European Level Crossing Awareness Day, REFER signed the European Road Safety Charter, setting the same goal – less than 29 accidents in 2015.
As a result of the ongoing suppression and upgrading of LC (today there are 1049 LC, 58% less than in 1999), of risk mitigation and awareness and education campaigns organized by REFER, there has been a constant reduction in the number of accidents.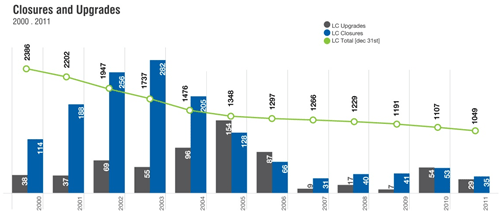 The success of the strategy adopted can be seen through the results achieved in 2011. In this year a total of 25 accidents were registered, 7 of which were significant, resulting in 4 fatalities.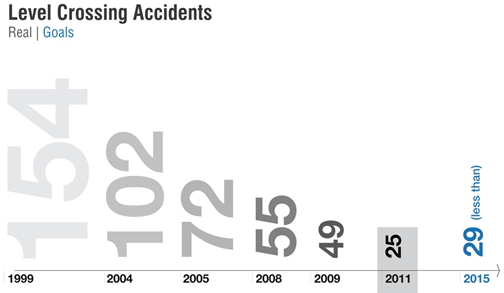 Thus the achievement of the goal set for 2015 was anticipated and surpassed by four years – less than 29 accidents in 2015.
This figure represents a reduction of 84% in the number of accidents at level crossings when compared to 1999.
REFER maintains its commitment to continue to reduce the number of accidents at level crossings through the improvement of safety conditions and by continuing its awareness and educational campaigns.