Siemens is supplying 20 regional trains for the British regional intercity rail network
20 additional electric multiple units are to be added to the fleet of Desiro UK regional trains…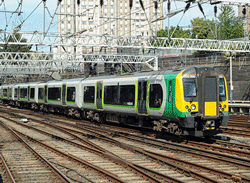 20 additional electric multiple units (EMU) are to be added to the fleet of Desiro UK regional trains. The operators London Midland (LM), First TransPennine Express (FTPE) and the leasing company Angel Trains Ltd. (ATL) have placed an order with Siemens Rail Systems for the trains. The order is worth around EUR 170 million including maintenance contract. The EMUs will be employed to strengthen existing London Midland services and to replace First TransPennine Express Diesel Multiple Units on services which connect Manchester Airport with the Scottish cities of Glasgow and Edinburgh. The units will be built at Siemens' rolling stock plant in Krefeld, Germany. The delivery period ranges from the end of 2013 until summer 2014.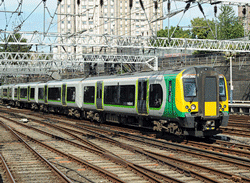 Siemens Rail Systems is to supply a further 20 electric multiple-unit trains for the United Kingdom, writing another chapter in the success story of the Desiro UK. Ten Class 350/3 EMUs will belong to London Midland and ten Class 305/4 to First TransPennine Express. "We are proud that our Desiro UK fleet has now delivered over nine years of reliable service to passengers in Great Britain. We are delighted that the fleet will now be strengthened with these additional units. This is a sign of just how satisfied our customers are with Desiro UK trains and a testimony to excellent record of reliabilty that these trains have," said Hans-Jörg Grundmann, CEO of the Siemens Rail Systems Division.
The units for First TransPennine Express are intended for regional inter city rail services on the West Coast Main Line linking Manchester Airport to Edinburgh and Glasgow. The London Midland units will be employed to strengthen existing commuter services into London and along the West Coast Mainline. These four-car EMUs will be maintained at the Siemens depot in Manchester respectively.
They are designed for a maximum speed of 110 miles per hour and for operation on a line voltage of 25 kV AC. Both fleets are also capable of feeding the energy created during braking back into the overhead line system and provide driver advisory information to optimise power draw, thereby saving power and reducing CO2 emissions.
The Desiro UK has already won a number of awards in the United Kingdom, including the Modern Railways magazine's Golden and Silver Spanner Awards for reliability on numerous occasions. The most recent award – a Golden Spanner – went to the Class 350/2 fleet just last year. The fleet covered a total of 615,000 kilometers in four weeks without a single technical fault, setting a new British record for a passenger train.
The success story of the British branch of the Desiro trains family began back in 2003 when First Great Eastern (now Greater Anglia) put the first Desiros into service between London and East Anglia. These units were purchased by Angel Trains Limited, which in the meantime has purchased a total of 243 units, including the trains covered by this new procurement. The total of Desiro trains running in the United Kingdom is over 370 operating on routes across the country. These trains, which number almost 1,500 carriages, are maintained at the depots built and operated by Siemens in Acton, Northam, Manchester, York, Northampton and Glasgow.
Related organisations
Related people