HS2 launches its first tunnel boring machine in the Midlands
The giant 2,000 tonne tunnel boring maching (TBM) will dig a one-mile long tunnel under Long Itchington Wood in Warwickshire.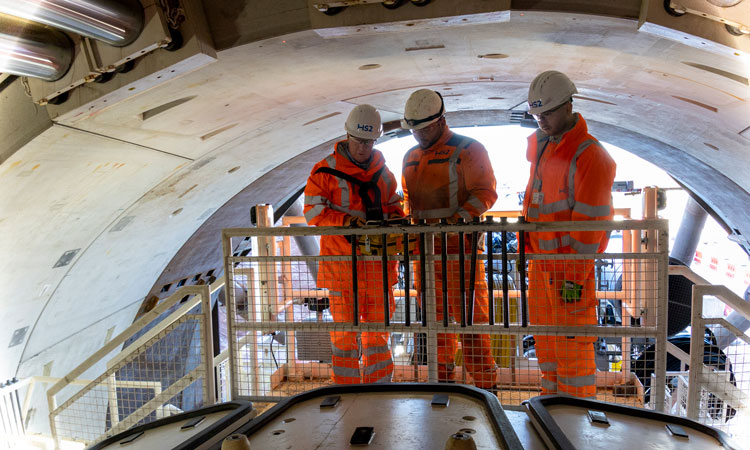 HS2 CEO Mark Thurston pushes the button to start the TBM. Credit: HS2 Ltd
On 2 December 2020, HS2's CEO, Mark Thurston, pushed the button to start HS2's tunnel boring machine (TBM) on its one-mile journey under Long Itchington Wood in Warwickshire, marking the launch of the first TBM on the Midlands section of HS2.
Around 170 engineers have been working on the 2,000 tonne, 125m-long TBM during its construction and assembly. An expert tunnelling team will now work around the clock in shifts to operate the machine for around five months as it excavates the first bore of the one-mile tunnel.
HS2 Minister Andrew Stephenson, said: "This is yet another vital landmark in our journey towards a better connected Britain and with the launching of 'Dorothy' today in Warwickshire, shows real progress in helping transform journeys across our country. It also underlines how our £96 billion Integrated Rail Plan – the largest ever investment in our rail network – is instrumental in creating jobs and economic opportunities, and ensuring more people reap the benefits of better rail journeys."
This will be the first HS2 tunnel to be completed on the project, with the machine set to break through its first bore at the south portal in Spring 2022. It will then be disassembled and taken back to the north portal to dig the second bore, which is due to be completed in early 2023.
The tunnel, which will preserve the ancient woodland above, forms a key element in how HS2 is managing environmental impacts through the design of the railway, preserving Britain's precious wildlife habitats. These woods are classified as a Site of Special Scientific Interest (SSSI) and have complex ecosystems that have taken hundreds of years to establish.
The machine will remove a total of 250,000 cubic metres of mudstone and soil which will be transported to the on-site slurry treatment plant where the material is separated out before being reused on embankments and landscaping along the route.
The final section at the south end of the tunnel will become a 'green tunnel' – also known as a cut and cover tunnel – where a soil 'roof' is built around the tunnel entrance to integrate the portal into the natural landscape.
In total there will be 10 HS2 TBMs on Phase One, working to create 64 miles of tunnel between London and the West Midlands for Britain's high-speed rail project.