Amtrak debut new environmentally friendly locomotives
The new cleaner, faster and more efficient locomotives are now in service, with more set to be delivered up to 2024.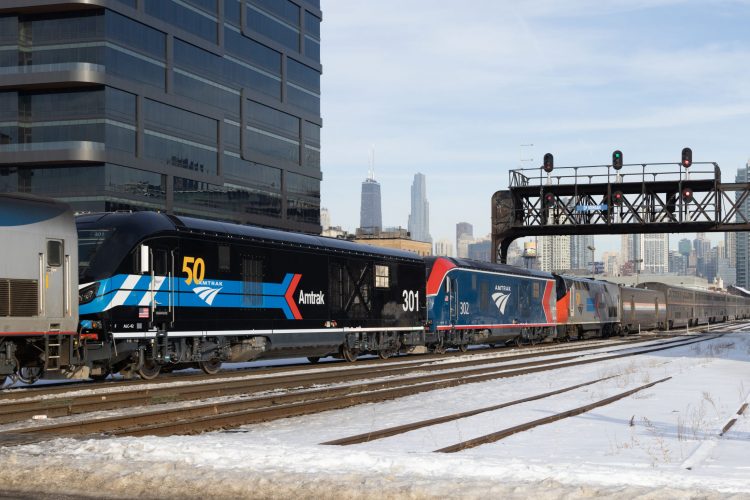 Credit: Amtrak
New Amtrak locomotives have started service, pulling the famous Amtrak Empire Builder train westbound from Chicago to Seattle. Locomotives 301 and 302 are among the first of 75 locomotives being delivered through 2024.
These ALC-42 locomotives are an important part of Amtrak's sustainability initiative and are considerably more environmentally-friendly than their 1990's predecessors. They reduce emissions of nitrogen oxide by more than 89 per cent and particulate matter by 95 per cent, while consuming less fuel than the locomotives being retired and reaching a greater top speed of 125mph.
"We take our commitment to sustainability seriously at Amtrak. We're focused on being the solution to get people out of cars and planes and onto rail for greater emissions reductions," George Hull, Vice President and Chief Mechanical Officer for Amtrak, said. "While railroading is a small portion of the emissions picture nationally, we want to take these steps to be the cleanest passenger railroad operating diesel trains in North America, commuter or interstate. We are dedicated to continuously seeking new and innovative technologies that provide solutions to meet transportation needs while reducing health and climate impacts."
A team from Amtrak and Siemens Mobility developed this locomotive series for heavier and longer trains traveling thousands of miles in a single trip, spanning the U.S. from Seattle to Miami, Los Angeles to Boston. Hull indicated Amtrak is working with Siemens to order more of these locomotives to meet needs in the Amtrak network, particularly for the long-distance trains.
"From the first ACS-64 in 2014 to the latest Charger Locomotive, Amtrak is a leader in sustainable travel for Americans," Michael Cahill, President of Rolling Stock for Siemens Mobility North America, said. "Siemens Mobility is a proud partner in its efforts and we are looking forward to seeing these Chargers safely transport millions of Americans across the nation, whether it be seeking new adventures or connecting to economic opportunity,"
These locomotives are Buy America compliant and built at the Siemens Mobility's rail manufacturing hub in Sacramento, Calif. Powered by the sun with two megawatts of solar energy and 2,200 employees, the facility has been in operation for 30 years. It is part of Siemens Mobility's larger US manufacturing network, with eight facilities, more than 4,000 employees and 2,000 American suppliers. Siemens Mobility has a robust US supply chain to support locomotive production, including Cummins, which manufactures the Tier-4 complaint diesel engines in Seymour, Ind.
Amtrak is paying for the new locomotives and supplemental multiyear maintenance support with an estimated $850 million in funding set aside when the order was placed in 2019. The new locomotives will primarily replace the Amtrak P40 and P42 locomotives, some of which have been in service for more than 25 years on some state-sponsored routes.