Amtrak unveil the interiors of the new Acela trainsets
Amtrak and Alstom have unveiled the interiors of the Acela trainsets; this new fleet aims to deliver a better service on the Northeast Corridor.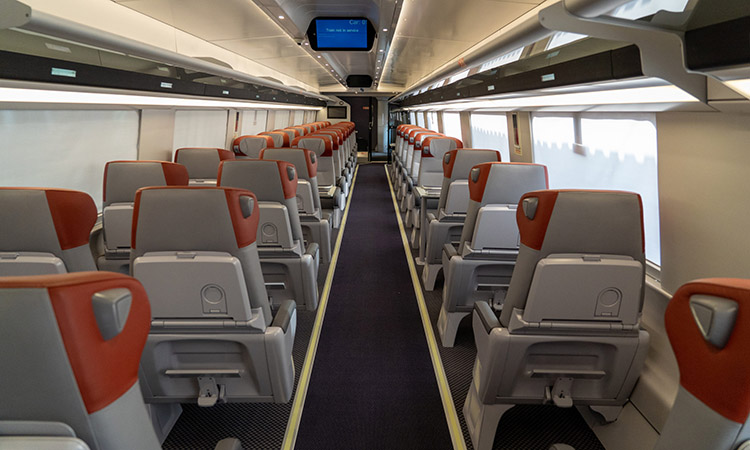 First Class seats provide more space, leg room and personal tray tables. Credit: Amtrak
Amtrak and its supplier, Alstom, have reached another milestone in the development of the new Acela trainsets, unveiling the interiors of the fleet that will better serve Amtrak's Northeast Corridor travellers.
The new Acela trains will deliver better, modern, and smoother service between New York, Washington and Boston. Amtrak is upgrading the experience for millions of passengers and setting the stage for the next generation of train travel in America and on the Northeast Corridor. Elevating the travel experience, the new Acela offers enhancements in comfort, technology, innovation, and safety on Amtrak's most environmentally sustainable fleet of trains to date.
"Between the sleek design of their interiors, state-of-the-art technology, and sustainable amenities, and innovative safety features, our new Acela trains will help revolutionise American train travel," Stephen Gardner, President and CEO of Amtrak, said. "Thanks to the hard work of Alstom, Amtrak employees and our other partners, travellers will experience improved, modern, and smoother service on the Northeast Corridor and provide this country with the type of modern train travel we deserve when these trains are ready for service next year."
"Thanks to Hornell's world class workers at Alstom, America is now in the fast lane for the high-speed state of the art train system it has long needed," Charles Schumer, New York Senator, said. "The new trains, which come built straight from the heart of New York's Southern Tier, will transform Amtrak's Northeast Corridor line, improving service, safety, and getting passengers to their destinations faster and more efficiently than ever before."
"We are thankful for our partnership with Amtrak and excited to bring the world's most technology advanced high-speed trains to the United States", Michael Keroullé, President of Alstom Americas, said. "These high-speed trains are proudly built by our team in Hornell, in partnership with the International Association of Machinists, and rely on a strong domestic U.S. rail supply base with nearly 250 suppliers in 27 states."