Deutsche Bahn record highest percentage growth in revenue since 2019
Although Deutsche Bahn's performance in 2021 was affected by the pandemic, increasing passenger numbers have resulted in the highest percentage growth in revenue since 2019.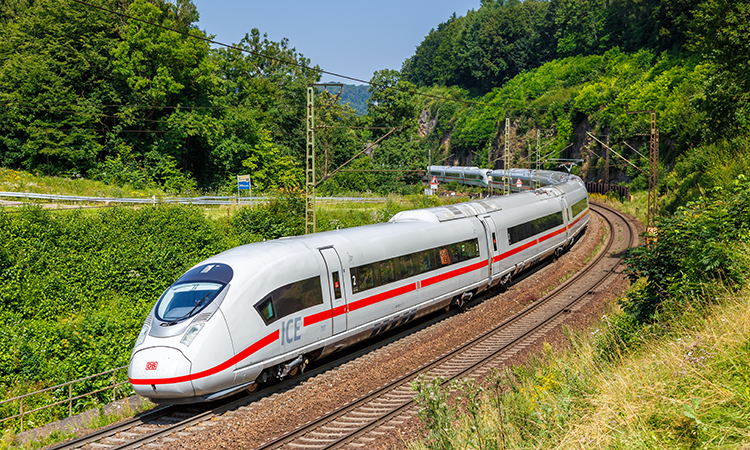 Deutsche Bahn (DB) has seen a double-digit percentage growth in revenue, exceeding the level achieved in 2019, the year before the pandemic. DB Group revenues rose 18.4 per cent year on year, to €47.3 billion in the 2021 financial year. The pandemic has meant that DB closed out 2021 with another operating loss, totalled at €1.6 billion. The loss was considerably lower than in the previous year, however (€-2.9 billion in 2020).
"We need rail more than ever. Each person who chooses rail, and each freight train that runs, helps fight climate change," Dr. Richard Lutz, CEO of DB in Berlin, said. "People want to travel by rail, companies want to shift more traffic to rail, and policymakers want to continue supporting this shift."
More passengers took DB's long distance trains in 2021 than in 2020. Revenues from DB's core business grew on the whole, with DB Cargo experiencing growth again as well. DB Schenker, DB's logistics subsidiary, saw the biggest uptrend. It generated the highest EBIT in its history, €1.2 billion, which stabilised DB Group's financial position. Despite the pandemic, DB invested more than ever before in shifting more traffic to rail, in better products and services for customers and in climate-friendly growth.
Punctuality in rail passenger service fell overall by 1.4 percentage points to 93.8 per cent. Long distance trains had an on-time rate of 75.2 per cent (compared with 81.8 per cent in 2020). Irregular events, such as disastrous flooding and strikes by the German Train Drivers' Union, GDL, had a negative impact. Capacity shortages in the rail network and more construction will remain the biggest challenges in the coming years. Demand for rail freight transport rose. In 2021, DB Cargo increased its freight carried by 6.3 per cent and its volume sold by 7.9 per cent. The volume produced on DB's rail network rose by approximately 4 per cent to 1.1 billion train-path kilometres.
DB increased its capital expenditures once again, despite the pandemic. Gross capital expenditures rose 6.8 per cent to €15.4 billion last year, setting a new record. Net capital expenditures were up 7.7 per cent to around €6.3 billion. Roughly 95 per cent of gross capital expenditures was invested in rail, DB's core business.
In 2022, DB expects to generate an operating profit and increase its revenues to over €48 billion. There is of course a great deal of uncertainty associated with any type of forecast in light of the unforeseeable impact of the war in Ukraine and other developments. Since the war in Ukraine began, DB has launched the largest-scale relief effort in its history to help ease the suffering of the people who have been affected. The effort has included transports of supplies to Ukraine via a rail bridge, essentially an airlift by rail, and special trains, additional buses and free tickets for refugees.