Rail Baltica study offers recommendations for synergies along railway corridor
Rail Baltica commissioned Ineco to deliver a study which identified the opportunities to maximise synergies from infrastructure developments along the railway corridor.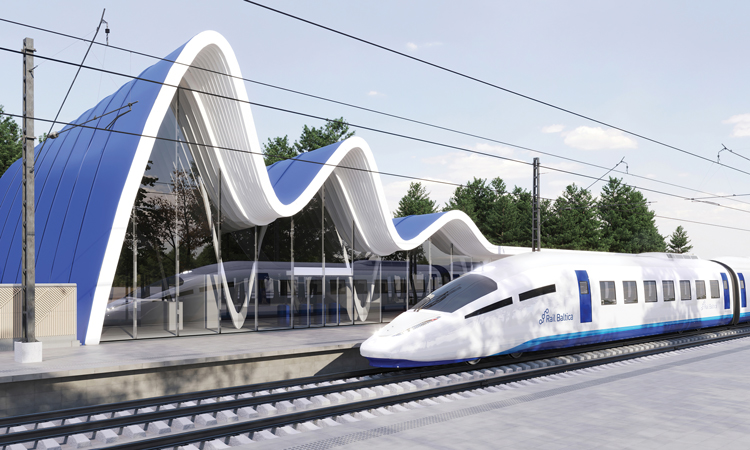 Ineco, the Spanish infrastructure consultancy, has delivered a landmark study on the opportunities to maximise the synergies from the simultaneous deployment of various infrastructure developments along the Rail Baltica greenfield railway corridor. Commissioned by the Rail Baltica joint venture RB Rail AS and rooted in the international best practice "Dig Once" philosophy, the study provides actionable recommendations to Baltic and European authorities on leveraging the 800+km long cross-border railway corridor to co-create other synchronised and complementary infrastructure along this emerging connectivity backbone in North East Europe.
The study rests on extensive international best practice benchmarking, ranging from mobile communication and fibre network solutions in railway megaprojects in Australia and Israel, international 5G case studies on Cooperative, Connected and Automated Mobility (CCAM), Industry 4.0 and Smart City developments and installation of renewable energy generation sources along railway networks in Spain, Belgium, Finland and Austria to electrical vehicle infrastructure approaches in North America, Scotland, as well as freight development and industrial connectivity principles in Germany, France, Spain and United States. The proposed recommendations are also fully in line with the EU's ambitious "Fit for 55" green transition package.
"Rail Baltica is not just a railway, it is a generational opportunity to create a new multi-infrastructure cross-border connectivity backbone for Northeast Europe," Kaspars Briškens, Head of Strategy and Development for Rail Baltica, said. "Alongside delivering the new multimodal transport corridor itself, Rail Baltica must also be used as a "Dig Once" platform to co-deliver a new standard of digital, energy and industrial connectivity, an example other megaproject in the future may follow, in Europe and beyond."
Practical recommendations are provided in areas such as the deployment of cross-border 5G mobile networks and fibre optic backbone networks (based on a neutral host approach), the implementation of smart stations (including to support smart city developments), the deployment of edge computing infrastructure, installation of renewable energy generation solutions (including solar and wind), utilisation of traction substations to transfer renewable energy to the electrical grid, development of electrical vehicle infrastructure (both battery and fuel cell based), as well as the construction of capillary connections to the Rail Baltica mainline to facilitate accessibility for relevant industrial, defence and/or logistics areas. In addition to infrastructure solutions and functionalities, the study also provides insights into potential future business cases, as well as encouraging the synergies between various funding programmes to enable complementary infrastructure developments with the delivery of the Rail Baltica megaproject.     
Below is a graphic containing some of the synergies that Rail Baltica identified.