ZSSK RegioPanter fleet to grow by another five units
Slovak state-owned passenger train company, ZSSK, have ordered five additional four-car low-floor electric RegioPanter units.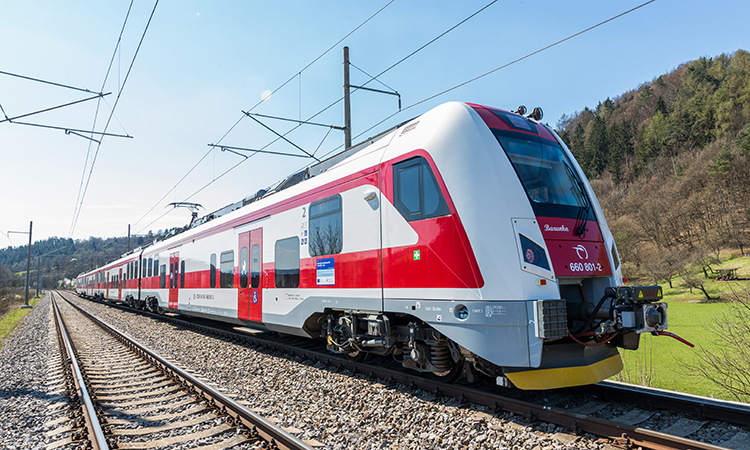 Credit: Škoda Group
Železničná spoločnosť Slovensko (ZSSK) has ordered five more four-car low-floor electric RegioPanter units.
ZSSK previously signed a contract in September 2021 with the consortium of Škoda Group and ŽOS Trnava for the delivery of nine electric units, with an option for another 11 units. The delivery of the five new units will take place during 2025.
ZSSK plans to deploy the first nine new four-car sets in the Košice and Prešov regions. It has now decided to exercise part of the option and purchase five more units. This order is a continuation of the successful cooperation between Škoda Group, ŽOS Trnava and Železničná spoločnosť Slovensko. In the past, Škoda together with ŽOS Trnava has produced and delivered 25 trains of the same type to its Slovak partner. Thanks to the new order, the Slovak fleet of RegioPanters will grow to 39 units.
"The Slovak railway is modernising significantly, and we are very happy to be part of it," Tomáš Ignačák, President of CZ/SK Region at Škoda Group, said. "We very much appreciate our long-term cooperation with Železničná spoločnosť Slovensko. Slovakia is a key country for our group where we have been developing our activities for a long time and we cooperate very intensively with our Slovak partners. This train is proof of the very good Slovak-Czech cooperation, and it is very important to highlight the excellent cooperation with ŽOS Trnava, with whom we are also developing cooperation on other projects outside Slovakia. Škoda Group products are visible in Slovakia both on the railways, where passengers can ride not only RegioPanters but also electric units 671 or push-pull trains, as well as our trams in Bratislava have significantly helped to modernise Bratislava's urban transport and passengers can also use Škoda trolleybuses in several other cities."
"I am very pleased that we are starting to actually draw down funds from the Recovery and Resilience Plan of the Slovak Republic," Andrej Doležal, The Minister of Transport and Construction of the Slovak Republic, said. "This is the first ever project under the Ministry of Transport that has signed funding from the Recovery Plan. We want to spend the maximum amount of funds that have been allocated to us and this is the first step towards achieving that goal."
"These five additional electric units are a signal that we are serious about modernising the ZSSK fleet," Roman Koreň, Chairman of the Board of Directors and CEO of ZSSK, said. "I am pleased that we are contributing to improving the quality of transport again in the Eastern part of Slovakia, where the first new electric units will soon be available."
The Panter vehicles will be deployed on the lines of the Košice and Prešov regions, specifically on the line section Čierna n/Tisou – Košice – Prešov. Prešov – Košice (line No 188) and Košice – Michaľany – Slovenské Nové Mesto – Čierna n/Tisou (line No 190).
Key characteristics of the electric units
The RegioPanter electric units are delivered to Slovakia as two-system units, for 3kV DC or 25kV 50Hz with a capacity of 343 seats. They are designed for operation on regional lines with a standard gauge of 1,435mm and a maximum speed of 160km/h. They offer passengers a fully air-conditioned, open-plan area with comfortable seats. Power sockets, Wi-Fi connectivity, and an audio-visual information system are also essential features. For fast, safe, and comfortable passenger changes, the trains have low-floor boarding and 1,500 mm wide doors. The sets also include multifunctional compartments for disabled passengers, prams, or bicycles.