LTG Cargo to launch a new intermodal connection in Poland
LTG Cargo are launching a new intermodal freight connection between Kaunas in Lithuania and Sławków in Poland.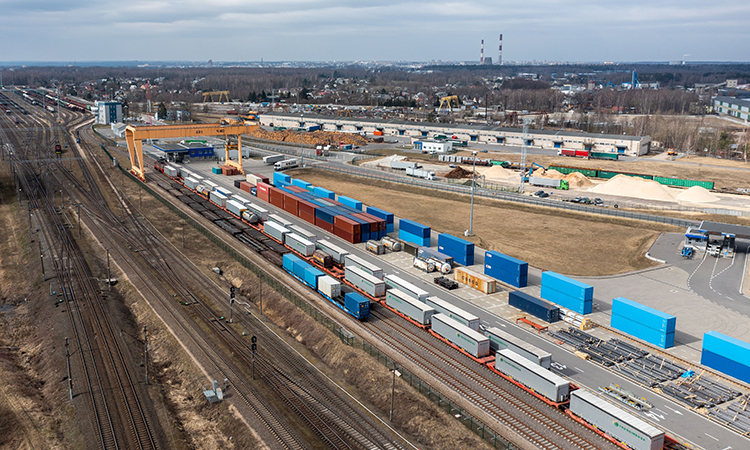 Credit: LTG Cargo
LTG Cargo, the freight transportation company of Lietuvos Geležinkeliai Group (Lithuanian Railways Group), are to launch an intermodal freight train to transport containers between Kaunas Intermodal Terminal and Sławków in Poland. The terminal, which is situated close to Katowice, is an important hub of Poland's broad gauge railway network, which connects the railway lines between Lithuania and Poland and Ukraine and Poland. Freight trains also run regularly from this terminal to Schwarze in Germany, to Maddaloni in Italy, to Koper in Slovenia and to Gdansk in Poland.
It is planned to launch a regular connection with two pairs of trains a week. On request of the customers, freight services could also be transported to the port of Klaipėda. LTG Cargo will ensure transport in Lithuania and LTG Cargo Polska, a subsidiary company of the LTG Cargo, will carry out transport operations in Poland.
"Our continued focus is on westward diversification and expanding our network of freight transport connections in the West," Eglė Šimė, CEO of LTG Cargo, said. "This new connection will enable us to shift even more goods still carried by road freight transport between Lithuania and Poland to rail. Thanks to intermodal rail freight service it will be possible to efficiently distribute even individual containers of our customers for onward transportation to other major terminals in Poland and Europe, and increasingly more carriers will therefore be able to choose more sustainable logistics solutions."
The new Kaunas–Sławków route will be 740km long with a freight capacity of up to 93 TEUs (twenty-foot equivalent unit) per journey. LTG Cargo and the Group's subsidiaries are currently focusing their efforts on active diversification towards the West. Intermodal freight is currently transported from Lithuania to Duisburg in Germany. The company also provides competitive freight forwarding services to Lithuanian customers and arranges the carriage of agricultural produce and petroleum products between Lithuania and Ukraine.