TX Logistik order 115 new wagons for intermodal transport
TX Logistik AG has ordered a further 115 double pocket wagons of the T3000 type for intermodal transport.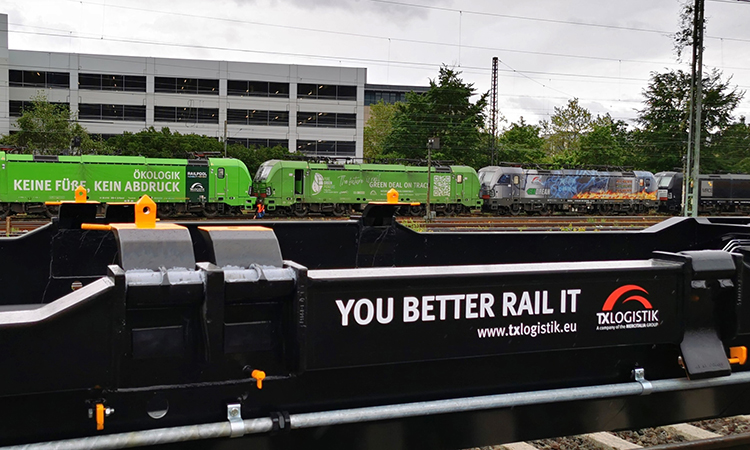 New T3000 wagon in front of TX locos - Credit: TX Logistik
TX Logistik AG, the rail logistics company which belongs to Mercitalia Logistics (Gruppo FS Italiane), has ordered a further 115 double pocket wagons of the type T3000 for its intermodal transport. Delivery of the first wagons is scheduled for late summer 2023.
The modern pocket wagons are produced by the Slovakian manufacturer Tatravagonka. They have a 30-foot container suspension, fast-acting brakes and thermostable wheelsets of the latest generation. The T3000 is increasingly becoming the standard wagon in intermodal transport, according to TX Logistik, with which both semi-trailers and containers can be flexibly transported at a maximum speed of up to 120 kilometres per hour. In addition, the model is particularly well adapted to the TX transhipment system NiKRASA, with which non-craneable semi-trailers can also be easily loaded onto the rail. The recently introduced new version 3.0 does not need a terminal ramp anymore, is stackable and has been optimised once again for the rail transport of megatrailers.
With the new order of the T3000, TX Logistik is fulfilling the company's strategic goal of increasing its own share of freight wagons for intermodal transport to 50% overall. In this segment, the continuing market demand for transport by rail, driven not least by the political goal of expanding the share of rail freight to 25% by 2030, has led to a shortage of rolling stock. With access to its own wagon capacities, TX Logistik AG will thus be able to react even more flexibly to intermodal demand in its European network in the future.