Over 3,000 formerly unemployed supported into jobs on HS2
HS2 have confirmed that 3,221 people who were unemployed have now secured jobs on the project.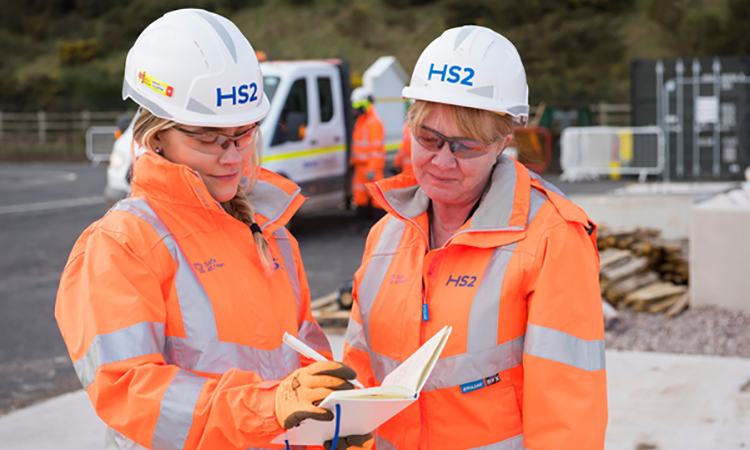 Credit: HS2
HS2 is celebrating another major milestone as it confirmed that over 3,000 people who were unemployed have gone on to secure jobs on the project.
The drive to support the unemployed and upskill people ready for work with HS2, its construction partners, and the wider supply chain, has now led to 3,221 people launching a new career. This represents 10% of the workforce supporting HS2's construction.
The geographical reach of HS2's growing supply chain, which currently encompasses over 3,000 UK-based businesses, means people who were out of work in Wales, the North West, North East, Yorkshire and Humber and the South East are among those to have secured jobs helping to build Britain's new railway.
"Helping more than 3,000 unemployed people into work is a huge achievement and it gives me great pride to see this revolutionary infrastructure project generating thousands of high-skilled jobs right across the UK," Huw Merriman, Rail Minister, said. "Not only is HS2 helping people develop new, exciting careers, but once delivered, it will transform rail journeys for generations to come by connecting our communities and offering a greener way of travelling."
Through partnerships with local authorities, employment support services and charities, HS2 is working collaboratively to support people who want to work but need additional support or training. Dedicated HS2 Skills Academies, run in partnership with local training providers and colleges, are delivering hundreds of free training programmes to help people build new skills. In tandem, HS2's contractors provide work trials to give prospective candidates an insight into the industry, helping them to understand the career pathways and progression opportunities. Training programmes have so far helped candidates to launch careers in ecology, planning, CAD and Design, engineering, plant operations and support functions including finance and community engagement.
"We're exceptionally proud that we've helped over 3,000 unemployed people in England and Wales start a new career on HS2," Natalie Penrose, HS2's Head of Legacy, said. "Whether through apprenticeships, specialist fast-track training programmes, or referrals from our partner agencies, every candidate has gained new skills and vital work experience that will put them on track for a promising future."
HS2's construction has also played a pivotal role in helping University graduates to transition straight into careers aligned to their specialist subject areas. Over 250 students moved straight in to graduate-level roles with HS2's construction partners after finishing their studies.