Siemens to supply electronic interlockings for DB's Hannover– Uelzen line
As part of the extension of the Hannover–Uelzen line, Siemens are awarded contract…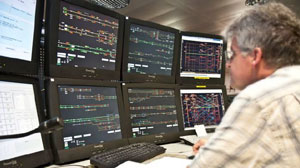 Siemens is to supply electronic interlockings for the Hannover– Uelzen line. More and more electronic interlockings are replacing conventional mechanical and electro-mechanical systems, making it possible to control rail traffic from centrally located operations control centers.
As part of the extension of the Hannover–Uelzen line, Siemens has been awarded the contract by DB's railway infrastructure provider, DB Netz AG, to install the latest control and safety systems. The core element of this order is the electronic interlocking subcenter (ESTW UZ) at Celle with five further distributed interlockings. The first commissioning is scheduled for the summer of 2014.
On completion of this project, DB expects a sustainable improvement in the availability and performance capacity of this line. The innovative Simis D interlocking technology from Siemens, operated from the operations control center in Hannover, offers the ideal opportunities for this. Six electronic interlockings replace the conventional systems on the line. The order also includes the supply and installation of the AC100 axle counting system with over 350 counting heads, more than 120 S700K point machines and over 300 MSTT signals.
Both the hardware and the software of the Simis D electronic interlocking (= Siemens fail-safe microcomputer system for Deutsche Bahn AG) are of modular design. This enables small (regional or line interlockings) as well as very extensive (junction) interlockings to be tailor-made using standardized technology. The Simis D interlocking platform offers standardized and powerful interfaces for the control of signals, points and blocking devices. These interfaces allow simple modifications and low-cost adaptations to be made. The computers of the Simis D interlocking can, if required, also be positioned on a distributed basis in order to reduce the distance between interlocking and field elements or to minimize the cabling costs. In terms of its economy of dimensions and wiring requirements, the cabling concept of the Simis D system is a trendsetter for Germany. It is based, among other things, on distributed element controllers such as the MSTT signal. This allows the interfacing of the signals with just four wires per signal. The Simis D interlocking platform is very easy to convert or expand. The use of integrated and distributed element operating modules considerably reduces the space required by the new interlocking technology. It even allows the connection of the operator's own existing systems, technologies and components. The software design conforms to the latest requirements, making the system extremely flexible and reliable. The generic approval granted for the interlocking system means that no system-specific certification is required even for the first implementation and also ensures short construction and commissioning times.