ÖBB signs contract for 100 regional trains
The contract has been signed to supply Austrian Federal Railways (ÖBB) with 100 Desiro ML mass transit and regional trains…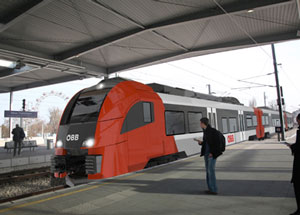 Desiro ML-type trainsets are flexible and reliable vehicles which, thanks to their conception as single-car trains, can be individually adapted to passenger volumes.
The contract has been signed to supply Austrian Federal Railways (ÖBB) with 100 Desiro ML mass transit and regional trains.
The three-unit trainsets are to be delivered from late 2015 onwards. Thirty trains are intended for suburban services in the Austrian capital of Vienna and Lower Austria while the other 70 are earmarked for regional services in Upper Austria and Styria. The order is worth some 500 million euros.