Bombardier wins order to supply TALENT 2 trains for National Express
Bombardier Transportation has won an order from National Express Rail GmbH…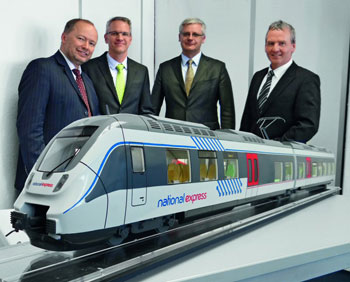 (from left) Tobias Richter, Managing Director, National Express Rail GmbH; Volker Kregelin, Vice President Business Development, Bombardier Transportation; Norbert Hübner, Sales Manager, Bombardier Transportation; Wolfgang Schuster, General Manager, National Express Rail GmbH
Rail technology leader Bombardier Transportation announced today that it has won an order from National Express Rail GmbH, a German subsidiary of the British National Express Group (NX), to supply 35 BOMBARDIER TALENT 2 EMUs for regional service. A consortium of National Express and IntEgro Verkehr won the licence in a Europe-wide tender to operate services on the lines RE 7 "Rhein-Münsterland-Express" and RB 48 "Rhein-Wupper-Bahn". The order is valued at approximately 170 million euro ($221 million US) plus spare parts.
Bombardier will supply three-car and five-car TALENT 2 trains with a comfortable interior design. The modern vehicles set a high standard in ecological sustainability, which is proved by a certified product declaration according to the European system EMAS (Eco Management and Audit Scheme). Almost all the materials used can be recycled, thereby optimising energy and resource efficiency. The aerodynamic electric trains can reach speeds up to 160 km/h and feature many doors with improved access for people with restricted mobility. The motor cars include a separate driver's door.
The air-conditioned TALENT 2 trains offer ample and comfortable seating in the first and second class sections while multi-purpose areas provide space for prams, wheelchairs and bicycles. Other interior features include passenger information monitors showing details on connecting trains, video monitoring as well as large, disabled-friendly toilets and an extra standard toilet in the five-car vehicles. National Express will operate the trains, equipped with an automatic coupling at every front end, predominantly in multiple traction. Bombardier will deliver the trains in 2015.
Tobias Richter, Managing Director of National Express Rail GmbH in Düsseldorf, Germany, is looking forward to the new trains. "National Express is proud of its first order in rail transportation in Germany and of its procurement of the vehicles from Bombardier. Our top priority is to offer our future passengers an excellent service. The new TALENT 2 trains provide an essential foundation for this goal. Now we are focusing on the timely start of operation of both lines between Bonn, Cologne, Wuppertal, Hagen Hamm, Münster and Rheine in December 2015."
Today's passengers expect convenient and flexible travel options that offer sustainability, easy access, comfort and punctuality. Modern vehicles like Bombardier's TALENT 2 trains meet these requirements and encourage more people to switch from road to rail.
Bombardier products such as the TALENT 2 are currently the only rolling stock in the rail industry for which continuous improvement in environmental performance regarding both production and the vehicles are certified externally according to EMAS. The product properties are documented in an EPD (Environmental Product Declaration) according to ISO 14025, validated externally in line with EMAS and the international EPD® system. EPDs are public documents summarising the ecological efficiency and environmental impact of a product over its entire lifecycle in a way that is transparent for customers and other stakeholders. Bombardier created the TALENT 2 EPD according to the rules (Product Category Rules – PCR) agreed within the Association of the European Rail Industry UNIFE and the principles of the international EPD system.
For more information about Bombardier's product responsibility strategy, visit the company's Corporate Social Responsibility website www.csr.bombardier.com.