ÖBB presents designs for its new Desiro ML EMUs
Doris Bures & Christian Kern presented the exterior & interior designs of the new additions to its fleet of EMUs…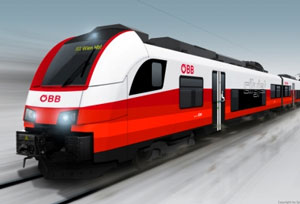 Copyright: Spirit Design
At the beginning of September 2013, Austrian Transport Minister Doris Bures and Chairman of the Board of Austrian Federal Railways (ÖBB) Christian Kern presented the exterior and interior designs of the new additions to its fleet of EMUs. The overall concept pays particular attention to the use of fresh colors, high-grade materials and a new lighting design. Branding and interior layout were conceived by the Viennese design company Spirit Design.
ÖBB placed an order with Siemens for 100 commuter and regional trains in January. The new Desiro ML units will be operated under the name "ÖBB cityjet", are built for a top speed of 160 kilometers per hour, and set themselves apart by offering passengers four different areas of very high comfort. These units are to be delivered from late 2015 onwards.
The units with a distinctive red-white-red livery are divided into four passenger areas for communication, work, relaxation, and service. The communication area has a cool open-plan layout, whereas the work and relaxation areas exude a sense of warmth and intimacy. The service area can accommodate wheelchairs, baby carriages, and bicycles.
Every seat is provided with a reading lamp, a power socket, and a folding table for laptop use. The comfort seats offer passengers plenty of legroom, adjustable seat cushions, as well as ergonomic head and arm rests. In addition, the trains will be equipped with info terminals with up to 26-inch screens.
The ÖBB cityjet is a three-car electric multiple unit with 244 seats in the commuter rail version and 259 seats in the regional rail version. Of the 100 trains ordered, 30 are to be used for commuter rail service in the Greater Vienna region and in Lower Austria, and 70 for regional rail service in Lower Austria, Upper Austria and Styria.
Special importance was placed on unrestricted accessibility inside the vehicles – be it wide portals, open and quiet gangways, or more contrasting colors for the benefit of the visually impaired. Convenient low-floor entrances guarantee easy access without ramps, also for wheelchair users and families with strollers or baby carriages. The commuter trains have six doors on each side; the regional trains, four. Thanks to its design, the EMU configuration is flexible and readily extendable by additional cars.