WiN MS installs its devices to monitor and combat wire theft across the French rail network
The first installation is the result of a long partnership between WiN MS and the railway operator SNCF…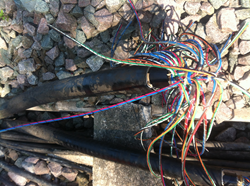 Almost 1km of signalling cable was stolen from the railway between Luton and Bedford overnight
WiN MS, a provider of innovative monitoring and diagnostics solutions for wired networks, today announces the installation of its anti-wire theft device on the French railway network. Roll-out of the device began in July. The financial terms of the agreement have not been disclosed.
The WiN MS device provides remote, real-time pinpointing of cable breaks. For the manager and the operator this means being able to bring the track back into service promptly, whilst simultaneously alerting the police to then catch the perpetrators in the act. The device also works as a deterrent.
Unlike other solutions on the market, the WiN MS automatic warning device provides an immediate response. What is more, the installation does not require any major construction work. The WiN MS device fits in with the existing infrastructure. This minimises any further disruption to rail traffic.
The company has been developing the project with SNCF for many months, gaining its full approval for the installation this year. The French company Vossloh-Cogifer is the systems integration partner responsible for rolling it out across the whole network.
"Being selected by SNCF is an endorsement of our quality. We believe that this decision will prompt European railway network operators to adopt our solution," said Arnaud Peltier, president of WiN MS.
"Following our recent round of fundraising, we are significantly ramping up the development of our railway business in France and in Europe. As part of this effort, we will be attending the InnoTrans transport technology trade fair in Berlin at the end of September. Our automatic warning device can also be used with other wiring infrastructures that are the target of theft, such as telecommunications and electrical distribution networks, highways and tunnels."
"SNCF's partnership with WiN MS reflects our common desire to implement innovative, effective solutions to secure the main signal wires in the national railway network and to reduce the impact of wire theft on the security and reliability of railway traffic," said Regis Aigouy, head of division in charge of production for the signaling department of SNCF INFRA, the operator's infrastructure branch. "The expertise that WiN MS shared was critical to the development and approval of the wire theft detection and pinpointing system."
Railway wire theft is a major problem for infrastructure managers and operators. In 2011, railway management company Reseau Ferre de France (RFF) recorded around eight thefts a day on the 18,650 miles of track that it manages on French soil. For SNCF, wire theft accounts for the loss of 350,000 working hours. This equates to nearly EUR 30 million (USD 39.4 million) lost each year and 6,000 hours of delays to train services. In Europe metal theft costs railways hundreds of millions euros (source: http://uic.org).
Related topics
Related organisations