InnoTrans 2014 set to be Nomad's biggest exhibition yet
With less than 24 hours to go until the opening day of InnoTrans, Nomad Digital has revealed the main solution areas it will explore through demonstrations, customer case studies and presentations, to showcase its business at the world's largest rail exhibition…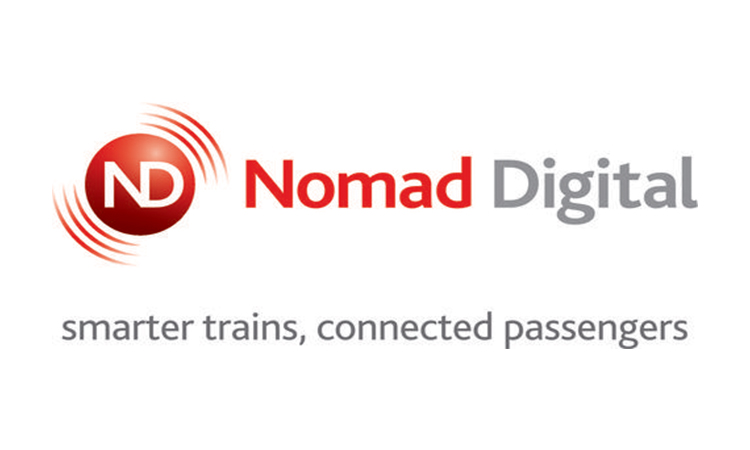 With less than 24 hours to go until the opening day of InnoTrans, Nomad Digital has revealed the main solution areas it will explore through demonstrations, customer case studies and presentations, to showcase its business at the world's largest rail exhibition.
Located at Hall 4.1, Stand 407, InnoTrans 2014 will mark Nomad's strongest exhibition offering yet, with several live demonstrations planned with some of Europe's largest train operating companies and manufacturers, partnered with the release of a rail industry survey that explores the role ICT can play in solving the major challenges rail stakeholders face today.
Enhanced Passenger Services
Nomad's innovative real-time passenger solutions will be showcased this week on the Nomad Digital exhibition area. The Nomad stand will host a large selection of LIVE passenger information screens, broadcasting the real-time content that is currently informing over 4 million passengers across the world daily. 
In addition to this, Nomad's leading Passenger WiFi and portal solutions can be experienced first hand by InnoTrans delegates, through Nomad's demonstration on board an Alstom Coradia Continental train, in the outdoor display area.
Intelligent Fleet Management
Last week the Nomad and EMEF joint venture, Nomad Tech, revealed its full InnoTrans demonstration schedule, working with some of the world's largest rail operators to explore the benefits of having a real-time, fleet-wide view of how the numerous on board systems and isolated components are performing in the field.
Demonstrations around Intelligent Fleet Management will show a detailed view of the remote condition based monitoring solutions which are being increasingly demanded by the global rail industry, as well as the extensive benefits of energy efficiency and power electronics solutions.
The Nomad Tech demonstrations will show how enhanced and in-depth intelligence allows its customers to be more proactive in managing and developing their operational and maintenance regimes.
Nomad InnoTrans Map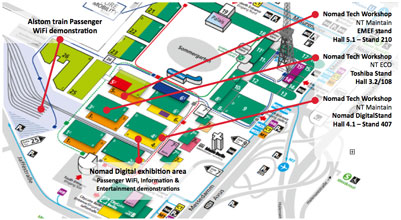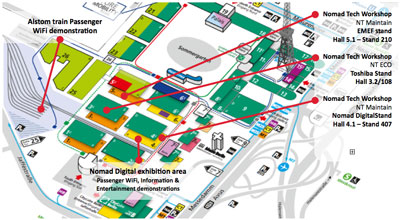 An opportunity for valuable engagements
As we count down the hours leading up to this highly anticipated rail conference, Nomad would like to extend the invitation for engagements at the Nomad Digital exhibition area – as well as the various demonstrations and events Nomad is participating in. However, if you would like to arrange a private meeting with any of our solution experts, please don't hesitate to email [email protected] – using the subject: 'InnoTrans 14'.