Maryport launches Green Screen
Maryport station has become the first station in Cumbria to offer the latest train running information via an environmentally friendly, solar powered Customer Information Screen…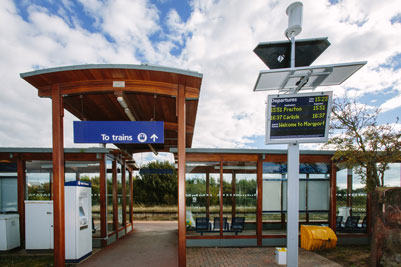 The screen has ultra-low power consumption making it an ecologically friendly way to check when the next train is due to arrive
Maryport station has become the first station in Cumbria to offer the latest train running information via an environmentally friendly, solar powered Customer Information Screen (CIS).
The "green screen" receives the most up-to-date train running information from GPS trackers which are built into Northern Rail's Cumbrian Coast trains . The screen  has ultra-low power consumption making  it an ecologically friendly way to check when the next train is due to arrive.
The first-ever screen of its kind has  been installed at Maryport thanks to a successful partnership between Northern Rail and Cumbria County Council.
Cumbria County Council funded the £27,000 project and Councillor Keith Little, Cumbria County Council Cabinet member for Transport, is delighted to have been part of the innovative scheme: "The new Customer Information Screen at Maryport station will be a real boost for passengers, providing real-time information on train arrivals for the first time. I'm delighted the county council was able to support the new screen and the fact it's solar powered is also good for the environment. This investment also complements our exciting plans to improve access to both Maryport station and the Cumbrian Coast Line, and encourage sustainable travel on the railway line, using Local Major Transport Scheme funding we've secured from the Department for Transport."
Craig Harrop, Client and Stakeholder Manager for Northern Rail is delighted with the new scheme: "The Cumbrian Coast is one of the most beautiful and rural parts of our network. As such, it has offered us challenges in communicating real-time information to our customers. These new, innovative screens are not only at the cutting edge of green technology but are welcome additions to a station which champions sustainability."