Virgin Trains' Wi-Fi upgrade
Nomad Digital, the global leader in wireless on-board passenger services, has signed a contract with Virgin Trains to undertake a fleet-wide Wi-Fi upgrade…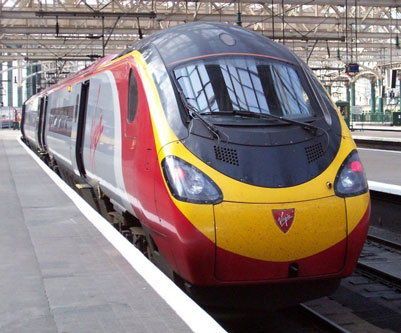 The Nomad upgrade will be deployed on 56 Pendolinos and 20 Super Voyager trains, and will offer Virgin Trains' customers significantly increased bandwidth on-board
Nomad Digital, the global leader in wireless on-board passenger services, has signed a contract with Virgin Trains to undertake a fleet-wide Wi-Fi upgrade.
The contract, which runs until March 2017, was signed on 17 October 2014 by Graham Leech, Executive Commercial Director of Virgin Trains and Jay Saw, Commercial Director of Nomad Digital.
The Nomad upgrade will be deployed on 56 Pendolinos and 20 Super Voyager trains, and will offer Virgin Trains' customers significantly increased bandwidth on-board, as well as improved connection availability across all routes.
The upgrade will see Nomad's technology delivering up to 12MBPS to passenger Wi-Fi users on the 56 Pendolino trains, with the fleet of 20 Super Voyager trains transmitting speeds of up to 8MBPS. Nomad's on-board routers are also 4G-ready, capable of providing superfast WiFi on-board in anticipation of the completion of new trackside infrastructure by Network Rail.
Nomad's solution has been developed to support the long-term Passenger Wi-Fi needs for Virgin Trains, through a scalable and future-proof platform that is already utilised by some of the world's largest rail operators, such as Amtrak in the U.S., Queensland Rail in Australia and PKP Intercity in Eastern Europe.
Nomad's General Manager of EMEAI, Jean-Philippe Tissot, said "Nomad is proud to be playing an integral role in Virgin Trains' commitment to providing fast and reliable Wi-Fi for its customers. As a service that is already in huge demand for Virgin passengers, Nomad's upgraded solution will provide significant improvements for on-board Wi-Fi speed and overall availability – partnered with 4G-ready technology that will significantly enhance the on-board Wi-Fi experience, with scalability in mind."
The Passenger Wi-Fi upgrade, which is scheduled for completion during the summer of 2015 – marks one of the largest UK train connectivity deployments to date.
Graham Leech, Virgin Trains Executive Commercial Director, said: "This work will ensure our trains and stations are equipped to cope with the demands of 21st century passengers. We know that Wi-Fi is top of the list of areas where customers want improvement so we're delighted to be moving ahead with this. From next year passengers will be able to download films, music and other content at stations and stay connected during their journey. It will give customers even more to reason to choose to travel with us."
Related topics
Related organisations