Eurostar unveils new sleek e320 train
Eurostar has unveiled its new state-of-the-art e320 train built by Siemens at London St Pancras International Station. Global Railway Review's Editor – Craig Waters – was there and one of the first people on-board…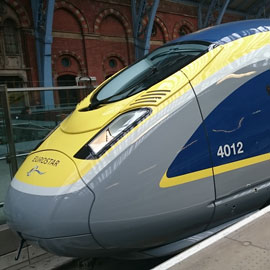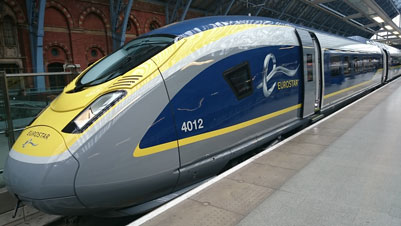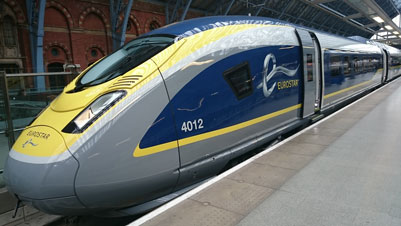 Earlier this morning (13 November 2014), on the eve of its 20th anniversary, Eurostar unveiled its new state-of-the-art e320 train built by Siemens at London St Pancras International Station. Global Railway Review's Editor – Craig Waters – was there and one of the first people on-board.
The new train is called e320 because it can reach a speed of 320kph (200mph). As well as a newly designed external livery, the interior has also been redesigned with the passenger in mind. There are ergonomically designed seats each with a power socket, free on-board Wi-Fi, touch-free glass doors between carriages, re-positioned luggage racks, plus new bright and spacious toilets – all aspects to help make the passenger journey experience more enjoyable.
Before being allowed on-board the new train, Eurostar's Chief Executive Nicolas Petrovic addressed the crowd to explain that the arrival of the new e320 into service in 2015 will herald the next generation of Eurostar services.  He said: "Having had 10 consecutive years of growth, we are seeing record demand for our services and the addition of new trains to our fleet will be key to achieving our growth ambitions."
With this, Nicolas also announced Eurostar's decision to add a further seven new e320 trains, increasing the number to 17 in total following the original order for 10 trainsets in 2010.
Nicolas explained that with passengers increasingly choosing high-speed rail over the plane for short haul travel, and demand at an all-time high, Eurostar is now set for further expansion of its services into Europe. He said: May 2015 will see the start of a new year-round direct service to Provence, stopping at Lyon, Avignon and Marseille, followed at the end of 2016 by the launch of a direct route to Amsterdam with stops in Antwerp, Rotterdam and Schiphol along the way."
Carrying 900 passengers, the e320 boosts capacity per train by 20% and boast many innovative features aimed at maximising energy efficiency and delivering an enhanced experience for travellers.  All passengers can stay connected via the free Wi-Fi service and kept informed from on-board passenger information screens. Standard Premier class travellers will benefit from USB sockets, a mirror and individual reading light, and their seats recline twice as much as the seats in Standard class. Business Premier travellers get added luxury with more spacious seat designs and they can enjoy gourmet meals designed by Michelin starred chef Raymond Blanc.
Nicolas Petrovic said: "20 years ago, Eurostar changed the way people travel. We had to work hard to grow our business and our success is down to innovating constantly. We make travelling a pleasure – an experience for the passenger – the passenger is always our focus. With the new e320 trains, we are reinventing Eurostar; bringing a new experience for our customers. We are all about the future – the new trains and the new routes."