11,000 engineers to work record-breaking Christmas investment programme in the UK
Hundreds of thousands of UK passengers and freight users are set to benefit from the biggest Christmas and New Year investment programme ever carried out on Britain's rail network…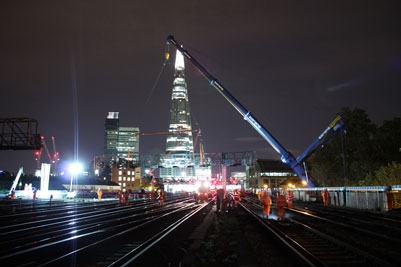 Huge signal gantry installed on the approach to London Bridge
Hundreds of thousands of UK passengers and freight users are set to benefit from the biggest Christmas and New Year investment programme ever carried out on Britain's rail network.
New station facilities, new platforms, new flyovers, new junctions and thousands of pieces of new, more reliable equipment will be installed and delivered in a £200 million investment programme that will begin late on Christmas Eve once the last trains have run.
An army of over 11,000 engineers will be spending their Christmas Day, and the days that follow, working on the railway across Britain to deliver improvements for passengers, with new facilities and new equipment designed to reduce delays, improve train performance and build a bigger, better railway for the 4.5 million people who travel on the network every day.
The work is timed to take advantage of a relatively quieter time of the year when, on average, less than half the number of people are using the railway each day (2 million compared to 4.5 million).
Mark Carne, Network Rail Chief Executive said: "Making the railway better is what we aim to do every day and our investment programme this Christmas, the biggest yet, is fully focussed on delivering a better service for passengers. With an 11,000-strong army we will deliver a huge amount of work during a quieter time for train travel. New technology and working practices mean we can keep lines open while our people work safely alongside, causing much less disruption than would otherwise be the case. We are acutely conscious that many people want to use the railway during the festive season to reunite with their friends and families. The vast majority of the network will be running normally over the holiday period with only small sections impacted by our work. I recognise and apologise for the fact that some of our essential improvement work will disrupt people's travel plans. I know that passengers can be frustrated by disruption but people appreciate that carrying out this work at a time when the railway is less busy reduces overall disruption."
The major investment schemes this Christmas include:
London Bridge
As part of the £6.5 billion Thameslink programme, London Bridge will see two new platforms opened and new track laid as the project moves to the next stage of the biggest station redevelopment the capital has ever seen, which will transform the travel experience for the station's 220,000 daily users (work starts 20 December).
Reading
One of the last pieces of the jigsaw to unblock the notorious train bottleneck around Reading station will be completed with the completion of a newly-built viaduct to the west of the station, leading to smoother, more reliable services.
Watford
Passengers will enjoy a more reliable and resilient service as a new, state-of-the-art signalling system is brought into use in the Watford area.
Stafford and Norton Bridge
A major bottleneck on the West Coast main line is being unblocked, enabling faster, more frequent and reliable services for passengers. At Christmas engineers will be carrying out essential bridge and track work at Norton Bridge, with the renewal of signalling and overhead lines at Stafford forming a key part of the overall £250 million project.
On the East Coast Main Line serving London King's Cross there are a number of engineering projects delivering significant improvements to the rail network at key points – Peterborough, Holloway, Harringay and Canal Tunnels just outside King's Cross.
While these are the biggest schemes being carried out over this very busy period, there are a further 300 projects being undertaken across 2,000 worksites across the country by Network Rail and its contractors between Christmas and New Year. The majority will have little or no planned impact on passengers, with a significant portion of this work to be completed before services resume on Saturday 27 December (no services run on Christmas Day with very limited services running on Boxing Day).
The exceptions include major improvement projects along the West Coast Main Line (Watford, Stafford, Norton Bridge), at London Bridge and in and around Reading. Passengers should check rail websites for travel information if their journeys involve passing through these locations, with the work at London Bridge and Reading continuing into the New Year.
Mr Carne concluded: "Passenger numbers have doubled since 1997 and this Christmas investment programme forms a key part of the record £25 billion being invested in our railway over the next five years to meet growing demand and improve and expand our congested railway network."
Related organisations
Related people