Crossrail's surface works now one third complete
Work on Crossrail's surface section in outer London, Berkshire and Essex is now one third complete…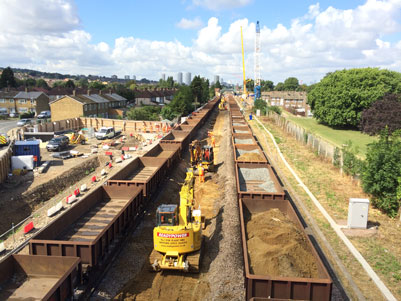 The £2.3 billion upgrade of the existing rail network for Crossrail is being undertaken by Network Rail
Work on Crossrail's surface section in outer London, Berkshire and Essex is now one third complete. The £2.3 billion upgrade of the existing rail network for Crossrail is being undertaken by Network Rail. Highlights of the work to date include:
The installation of the Stockley flyover in Hillingdon, which will improve links and increase capacity between Heathrow and central London from 2018
Work on a new rail dive-under at Acton, which will be completed next year
The opening of a temporary station at Abbey Wood to allow the construction of a new landmark, two storey station
The demolition and replacement of four bridges in west London and Slough and piling work between Hillingdon and Maidenhead ahead of the installation of overhead electric wires for Crossrail
Extensive track works across the route and preparations for the installation of two new tracks to link Abbey Wood to the Crossrail tunnels at Plumstead.
Matthew White, Surface Director at Crossrail said: "Crossrail will provide a step change in public transport right along the surface section of the route – for passengers that will mean new trains, better stations and quicker journeys. A huge amount of work has already been carried out to prepare the existing railway for the arrival of new services. Network Rail is now gearing up for a busy time over Christmas and New Year and in 2015 major station improvements will step up."
Matthew Steele, Crossrail Programme Director at Network Rail said: "£2.3 billion is being invested in the existing rail network to deliver Crossrail. Network Rail is upgrading stations, track, signalling and installing new overhead power supplies across the route to enable the new trains to run. We are also building a brand new station at Abbey Wood as well as delivering new flyovers to ease congestion between London and Heathrow airport. As we pass through this milestone the work is on schedule and within budget, so well done to everyone working within the combined Crossrail, Network Rail and supply chain team."
The Christmas and New Year period will be the busiest yet for Crossrail's surface section. Amongst a wide programme of works, bridges at Slough and Iver will be demolished, the new flyover at Stockley will be commissioned and a turnback facility will be installed at Chadwell Heath.
Major station improvements will step up in 2015 as part of the upgrade of the existing rail network for Crossrail. A number of stations in outer London will be completely rebuilt, providing passengers with brighter, more spacious ticket halls.
Across the surface section, more than 40 lifts will be installed to provide step-free access at every station and platforms at 16 stations will be lengthened in preparation for the new, longer trains. Crossrail is also working closely with local authorities along the route to improve the areas around the stations, making them more welcoming, accessible and free from clutter.
From May 2015, Transport for London (TfL) will begin operating the existing rolling stock between Shenfield and Liverpool Street. There will be staff at every station at all times that trains are running, better accessibility provision, full integration with TfL customer information channels and with TfL fares and ticketing, including cheaper journeys in many cases using Oyster or contactless pay-as-you-go. 
TfL will also put in place a phased programme of deep cleaning and painting the stations and introducing help points, CCTV, gate lines and better lighting and customer information. Ahead of the new Crossrail trains arriving on the Shenfield to Liverpool Street services in 2017, TfL will clean up the existing trains and refresh them inside and out within six months of transfer.
A video about the surface section works can be viewed here: https://www.youtube.com/watch?v=H58JDs7ZV38&feature=youtu.be
Related organisations
Related people