Alstom to supply 25 Coradia Nordic regional trains to Skånetrafiken
Alstom has been awarded a contract worth around €150 million by the Swedish operator Skånetrafiken to supply 25 Coradia Nordic regional trains for Skåne region, in the south of Sweden…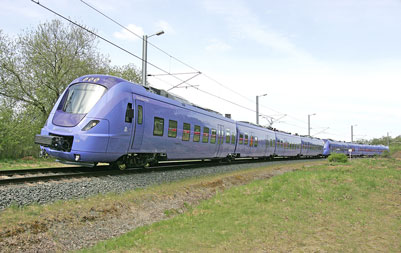 Alstom Coradia Nordic train © Alstom Transport/ B. Rosenthal
Alstom has been awarded a contract worth around €150 million by the Swedish operator Skånetrafiken to supply 25 Coradia Nordic regional trains for Skåne region, in the south of Sweden. The trains will be delivered starting April 2017. 
Alstom is in charge of the design, manufacturing, supply, installation, testing and commissioning of the 25 Coradia Nordic trains. Each train will be made up of 4 cars, about 74 m long in total, with a capacity to carry up to 510 passengers. The trains will run at a maximum operational speed of 160 km/h and will be fitted with air conditioning and passenger information systems for a high level of passenger comfort. They will be manufactured in the Alstom site in Salzgitter, Germany.
"The Påga1-train (Pågatågen) has been an institution in Skåne´s public transportation for 30 years. The new generation delivered by Alstom since 2010 is a train that suits the travelers of Skåne perfectly: a high level of performance and passenger comfort and an attractive design", says Magnus Andersson, Train Manager at Skånetrafiken. "With the new trains we are preparing to meet future expansions in the railway network and number of travelers".
The regional train network in Skåne region has had a steadily growing number of travellers in recent years and is predicted to continue growing by 5-6% per year onwards.
"The Alstom popular and well-proven Coradia Nordic regional trains continue to be appreciated by the Swedish travellers. The company is focusing on providing safe and reliable rail infrastructures and train maintenance solutions to meet the future performance demands of the Swedish railway", says Henrik Anderberg, Managing Director, Alstom Transport Nordics.
Leading supplier of regional trains in Sweden, Alstom has provided a total of 277 Coradia Nordic Regional trains since 2002 to local transport authorities, including 69 for the operator Skånetrafiken. From 2017, Skånetrafiken will own a total of 99 Coradia Trains, becoming one of the largest fleets in Sweden.
Coradia Nordic belongs to Alstom's Coradia range of modular trains which benefit from over 30 years of experience and proven technical solutions. More than 3,000 Alstom regional trains have been sold. In Europe, they are currently circulating in Denmark, France, Germany, Italy, Luxembourg, the Netherlands, Portugal, Spain, Sweden and the United Kingdom.
Pågatågen : name given to the regional trains system in Skåne region