The Hallandsås tunnel project moves forward
The railway installations have entered a new phase on the Hallandsås project, and track has now been laid in the tunnel…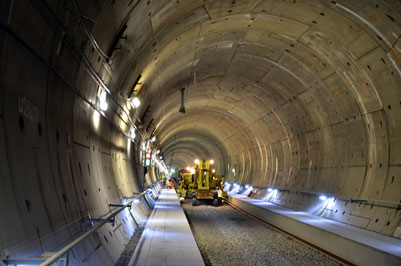 The double-track railway will open for traffic on the 13 December 2015
The railway installations have entered a new phase on the Hallandsås project, and track has now been laid in the tunnel. The laying of tracks has been carried out by a SVM 1000 which can lay 2km over 24 hours. The double-track railway will open for traffic on the 13 December 2015. The Hallandsås tunnel will be the longest railway tunnel in Sweden.
"We have started the countdown towards eliminating the single most difficult bottle-neck on the West Coast Line," says Patrik Magnusson, Project Director at the Swedish Transport Administration.
The double-track has been laid in two tunnel tubes that are approximately 9km-long. The double-track will replace the current single-track from 1,885 which, due to a steep slope and sharp curves, has caused problems for passenger and freight trains. When the double-track through Hallandsås is completed, a doubling of rail freight tonnage will be possible, and the number of trains can be increased from the current number of 4 to 24 per hour. The frequent unplanned train stops at the ridge, causing disturbances along the West Coast Line, will disappear.
"The double-track will result in a marked improvement regarding capacity and accessibility on one of Sweden's most important railway lines," says Patrik Magnusson.
About the railway installations and remaining work
During the spring the railway installations will continue in and outside the tunnel. As well as laying track, the railway installations include electricity, signal and telecommunications works. The Hallandsås project is also building new railway stations in Förslöv, Barkåkra och Båstad which will open for traffic at the same time as the tunnel.
During the spring there will be test works, and from the summer and onwards there will be training of train and rescue staff.
Related topics
Related regions